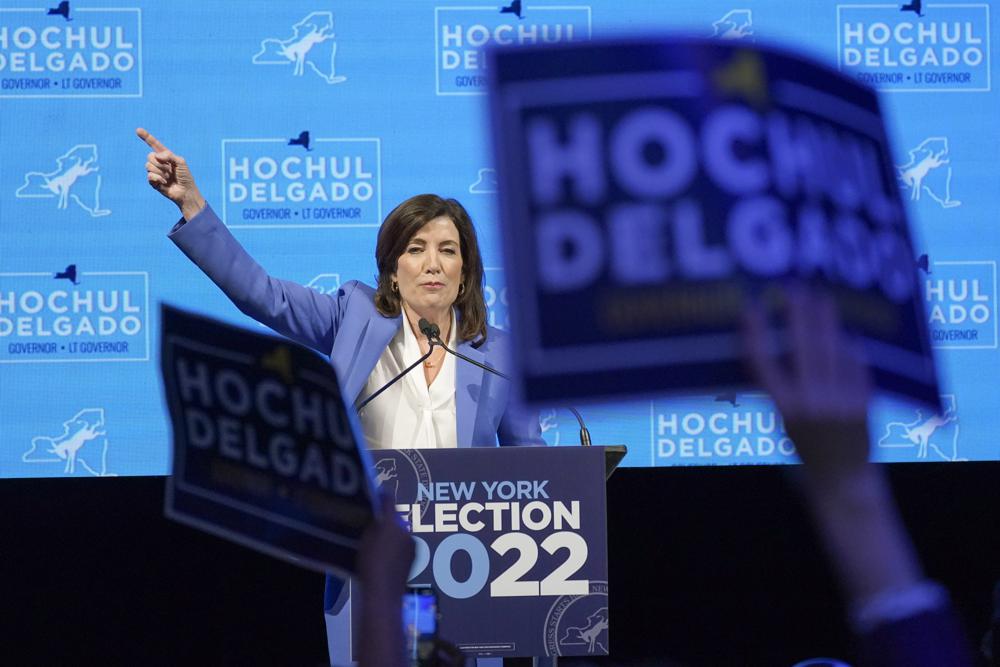 NEW YORK—There was no national "red wave," but outcomes were a bit rougher in New York State. Voters made several historic breakthroughs, kept the Democratic trifecta, and maintained the Democratic supermajority in the State Assembly.
However, the Democratic supermajority was lost in the State Senate. Republicans gained seats in the House and state legislature, and GOP vote totals for their losing candidates should alarm liberals and progressives.
Hochul makes history
Democratic Gov. Kathy Hochul is now the first woman elected as New York governor. She ascended to the office after Gov. Andrew Cuomo resigned in August 2021; getting elected was more difficult.
Cross-endorsed by the Working Families Party (WFP), Hochul won more than 3 million votes, nearly 53 percent of the total. Republican Rep. Lee Zeldin (NY-1, Suffolk County, Long Island), also endorsed by the Conservative Party, gathered about 2.7 million votes, slightly over 47 percent. The difference between the two was nearly equivalent to WFP votes for Hochul. (New York still uses fusion voting, so tallies of both rows are combined for the candidate's total vote.)
Former Republican Gov. George Pataki captured his third term in 2002 with just less than 50 percent of the vote in a three-way race. Since then, no Republican came close to Zeldin's mark. The margin of victory has not been this close since Pataki defeated Gov. Mario Cuomo in 1994.
Despite that, WFP New York Director Sochie Nnaemeka remains upbeat. "Gov. Hochul, alongside the strong, progressive state legislature, has an opportunity now to strengthen her position and decisively beat back Republican encroachment by investing deeply in housing, health care, and child care," she told People's World.
Newly elected member of the Assembly Sarahana Shrestha (AD 103, Dutchess and Ulster counties) agrees. "We still have a Democratic majority in both the Senate and the Assembly, so if Albany wakes up to the fact that people are really struggling with basic needs, like housing, utilities, and healthcare, then we can accomplish much in the next two years," Shrestha told People's World. "There are several steps we could take to drastically improve that situation and also prepare for the future," she added.
Hochul raised nearly $50 million for her campaign, a state record and more than twice as much as Zeldin's war chest. This was important because the best-funded candidate wins nine out of ten times, according to one study.
However, Zeldin's candidacy was boosted in the final weeks by two PACs, Safe Together NY and Save Our State NY. Both pounded on the recent increase in crime, blaming it entirely on various criminal justice reforms, especially bail reform. Their television, radio, and social media ad campaigns portrayed Hochul as a governor to fear.
Billionaires created both PACS. Some of these one-percenters have also given to Democrats. Most are pure GOP. All of them are trending Republican.
Who exactly? Cosmetics heir Ronald Lauder donated $9 million. Private equity investor Thomas Tisch put up $750,000. Former casino mogul Steve Wynn and his wife Andrea gave $700,000 to PACs, Zeldin, and the Republican State Committee. Howard E. Cox, Jr., from the early venture capital firm Howard Greylock Partners ponied up over $300,000 to the PACs and Zeldin. His bother, Edward F. Cox, son-in-law to former President Richard Nixon gave $252,000 to the PACs and Zeldin. Caryl Ratner, patron of New York City art institutions, handed nearly $400,000 to the PACs, Zeldin, and the Republican State Committee.
Hochul was endorsed by the state's labor unions, social change movements, and several newspaper editorial boards. Besides Republican officials and organizations, Zeldin showed only law enforcement union backing.
While trashing bail reform, Zeldin also pledged to fire Manhattan District Attorney Alvin Bragg, the first African American and first racial/national minority to serve in the post. Bragg's offense? He will not prosecute low-level offenses unless they are linked to felony charges. Zeldin's position is consistent with his rejection of Arizona's and Pennsylvania's electoral votes the night of Jan. 6, 2021.
Led by the WFP, progressive and left activists and trade unionists stepped up in the final weeks, alarmed at Zeldin's surge in the polls. Simultaneously, Hochul intensified her campaign. She spent lots of time in New York City, working to increase critical turnout. To counter the "bail reform is increasing crime" mantra, she talked about public safety. (An issue many progressives seem to be allergic to, though voters are not.) Presidents Clinton, Obama, and Biden all appeared—unusual in a state this blue.
Hochul's domination of the New York City vote (70 percent to 30 percent) compensated for Zeldin's stronger-than-expected vote elsewhere. NYC's turnout dropped from 44 percent of its registered voters in 2018 to 36 percent this year. Figures for the rest of the state stayed at their 2018 level—55 percent. Zeldin won 49 counties, many of them quite small, but far above the norm for Republicans.
"[L]ow turnout in places like the Bronx is exactly how Lee Zeldin will become governor," said Chapin Fay, political consultant to Zeldin's super PAC, before Nov. 8. Hochul's fortune was that the turnout was slightly bigger than what Fay prescribed.
Though the GOP made gains among Latinos, Asians, and Orthodox Jewish voters, the African American and African Caribbean vote went 90 percent or greater to the incumbent, at least in many City districts. Further analysis is needed in Rochester, Buffalo, Syracuse, and Albany—cities with Black populations larger than NYC's, ranging from 40 percent to 29 percent.
Cuomo ignored the absence of mathematics and reading instruction in New York's cheder and metivta schools (for elementary and high school–aged Orthodox Jewish youth). Hochul has not. This probably cost her the Orthodox Jewish vote, in both Brooklyn and perhaps Long Island and some Mid-Hudson Valley counties.
Comptroller and attorney general
Democratic Comptroller Thomas DiNapoli, also endorsed by the WFP and the New York Political Action Network (NYPAN), secured over 3 million votes to defeat Republican- and Conservative-endorsed Paul Rodríguez, 57 percent to 43 percent. Convincing, but 10 points under Mr. DiNapoli's victory four years ago.
Attorney General Letitia James, the state's first Black, Black woman, and woman of any racial or national minority group to so serve, also won her reelection. James carried the day with slightly fewer votes than did DiNapoli but her race saw fewer overall votes and a stronger Republican showing. She defeated Michael Henry, 54 percent to 46 percent. This was 19 points lower than her election in 2018.
Strong WFP and labor results
The WFP maintained its ballot line. It needed 130,000 votes, or two percent of the total, whichever is higher. As of now, the count is about 250,000 votes, over 4.3 percent of all votes. Roughly Hochul's margin of victory.
The WFP and its labor and community organizations went all out, especially after Zeldin was gaining in the campaign's last weeks. Phone banks, texting, phone calls, mailers, postcards, knocking on doors, and talking to early voters as well as those who voted the day of the election. In its strongholds around New York City, the Southern Tier's Tompkins County (Ithaca), Finger Lakes's Monroe County (Rochester), the Capital Region (Albany), Long Island, and the Hudson Valley.
Republican overperformance in N.Y.'s House delegation
Before the elections, New York's House delegation comprised 19 Democrats and eight Republicans. Had the state legislature's new gerrymandered maps held up, those figures would have changed to probably 22 Democrats and four Republicans. (The state lost a seat due to population loss.) Instead, a court-ordered special master redrew the boundaries, which were further revised based on public commentary.
Nineteen out of 27 is 70 percent. Twenty-two out of 26 is 85 percent. The final maps seemed to give the Democrats 17 seats and the Republicans five, and it made competitive the remaining four. That seat allocation is based on the blending the predictions by Nate Silver's 538, the Cook Political Report, and Race to the WH.
The state's Board of Elections most recent data reveal voter registration by political party. Democrats comprise nearly 50 percent of all voters, Republicans 22 percent, and unaffiliated about 23 percent. (Remaining voters are registered with third parties, regardless of those parties' ballot status.) Given this mix, it was reasonable to assume the four tossups could have been split for a final outcome of 19 Democrats (73 percent) and seven Republicans (27 percent)—nearly identical to the current House delegation.
Steve Phillips' New Majority Index does not use polling but instead relies on voter turnout by racial and national groups. Using this method, Phillips saw as vulnerable two Republican seats and three Democratic one. Otherwise, he forsaw five Republican victories and 15 to 16 Democrats ones. A similar outcome predicated on normal, not weak, voter turnout.
Instead, there will be 11 Republicans and only 15 Democrats. Clearly, Republicans did better than they should have. Way better. Four Democratic seats were flipped.
The WFP endorsed 15 Democratic Party candidates for the House. (DSA also endorsed Rep. Alexandria Ocasio-Cortez; NYPAN endorsed her and Rep. Jaamal Bowman.) Nine were victorious (all noted on the table), six lost. Overall, 19 incumbents ran, and only one lost.
That loser was Rep. Sean Patrick Maloney, head of the Democratic Congressional Campaign Committee, who chose to run in the safer NY-17 instead of his own NY-18. By doing so, he forced first-term Rep. Mondaire Jones to run in a different district. (Jones ran in the NY-10 primary, a contest crowded with progressives, in which centrist Daniel Goldman won.) Jones is a member of the Congressional Black Caucus and one of the first two openly gay Black members of the House (Rep. Ritchie Torres, NY-15 in the Bronx, is the other.) So Maloney's decision carried a large price tag, on several scores.
U.S. Senate
Multi-term incumbent Democratic Sen. Charles Schumer defeated his extreme rightist Republican opponent Joe Pinion and the independent Diane Sare. The WFP and NYPAN also endorsed Mr. Schumer, a regular visitor to every county in the state. Pinion, one of the GOP's many Black candidates around the country, hosted a show on Newsmax cable network and has been involved in various conservative organizations.
Given each candidate's history, this race was far too close. Schumer obtained over three million votes, 56 percent, to Pinion's 43 percent, while Sare secured less than one percent. In his four previous reelection bids, Schumer gathered between 66 percent and 71 percent.
State Senate
Before the elections, Democrats held 43 seats to the Republican's 20 in the State Senate, a supermajority that did not survive. As of this writing, Democrats captured 38 seats to the Republican's 21. Not a horrible drop, but a drop instead of an increase or maintenance.
In general, Democratic senatorial candidates performed poorly in the counties in which Hochul's vote was shoddy. The same held true for Democrats in Assembly races. On Long Island, the Republican–Democratic score has improved from 3–6 (2018), to 4–5 (2020), to now 7–2. On the positive side, WFP members are now a higher portion of the Democratic caucus, according to Nnaemeka.
The 38 Democrats include one Simcha Felder, currently representing Brooklyn's SD 17 but who ran essentially unopposed in that borough's SD 22. Democrats, Republicans and Conservatives endorsed him. A Joe Manchin on the state level.
At press time, the Associated Press had not yet called four races, with the Democrats leading slightly in all but one. Those districts are Brooklyn's SD 17, Orange County's SD 42, Central New York's SD 50, and SD 52, which spans from the Southern Tier into Central New York.
City and State N.Y. viewed only 13 of the 63 seats as competitive. Whether Lean or Likely Democratic or Republican or, better yet, Tossup, only these had drama. The outcomes? Republicans secured nine, Democrats only two, and two (SD 42 and 52) have not yet been called. Again, GOP overachievement.
Of 54 incumbents running, 49 won, three lost, and in two seats not yet called, one (Democrat James Skoufis in SD 42) was winning while the other (Democrat John Mannion in SD 50) was losing.
The WFP endorsed 41 Democrats (with DSA and NYPAN involved in some of them). In 28 of these, they prevailed. Of these winners, 26 are incumbents. One incumbent is Sen. Samra Brouk (SD 55, Rochester), notably the first woman of color in the Senate from outside New York City.
One of the two WFP-endorsed non-incumbents is Monica Martinez (SD 4, Suffolk County), who won a seat in 2018 but lost it in 2020. Born in El Salvador, Martinez garnered 51 percent of the vote in one of the 13 competitive races. The other is Kristen Gonzalez (also endorsed by DSA), representing SD 59 (Queens and Brooklyn). Gonzalez, of Colombian and Puerto Rican lineage, was unopposed but defeated centrist Democrat Elizabeth Crowley in the primary. A bevy of unions, social change organizations and progressive elected officials endorsed her.
Nine of the 41 WFP-endorsed candidates lost, including three incumbents. Of these three, two are from Nassau County—Sen. John Brooks (SD 5) and Sen. Anna Kaplan (SD 7). Rockland County's Sen. Elijah Reichlin-Melnick (SD 38) was the third. All three races were rated "competitive."
A special heartbreak loss was in the Mid-Hudson's SD 39. There, Julie Shiroishi, a new candidate from a truck-driving union family, would have been the first Japanese American lawmaker in the state.
The races of the four remaining WFP-endorsed candidates have not been called. Incumbent Sen. James Skoufis (SD 42) was winning, his lead based on his WFP votes. Incumbent Sen. John Mannion (SD 50, Oswego and Onondaga counties) was losing. mari
The remaining two candidates, if victorious, will be new to Albany. Iwen Chu (SD 17) and Lea Webb (SD 52) were both winning. Ms. Chu was born and raised in Taiwan and Ms. Webb is African American, so female as well as racial/national minority representation will be boosted.
Chu's district was considered safe for the Democrats while Webb's was one of the competitive contests. Both victories will handily be the result of the WFP vote. Webb would become the second Black woman senator (after Sen. Brouk) from outside New York City and its suburbs. She would add geographical diversity to the progressive/social democratic/democratic socialist bloc.
State Assembly
Holding 107 seats to the Republicans' 43, the Democrats currently have a supermajority in the lower chamber. Of the 145 called races, the Democrats have won 99 to the Republicans' 46, and five are yet to be called. Still a supermajority, but another decrease.
Only 19 seats were truly open with no incumbent, whether from the district in question or a different district. Of the remaining 131 spots, the incumbent secured victory 124 times. Three of them lost, and in races not yet called, three are losing and one is winning.
The WFP endorsed 59 candidates, again with NYPAN and DSA joining in some races. Fifty-two won, including 47 incumbents. The five newcomers are Juan Ardila (AD 37, Queens), Alex Bores (AD 73, Manhattan), MaryJane Shimsky (AD 92, Westchester County), Dana Levenberg (AD 95, Westchester and Putnam counties), and Shrestha (AD 103), who was also endorsed by NYPAN and DSA.
More geographical diversity to the bloc. And more racial and national diversity. Ardila, born here, has ancestry tracing to Colombia, Honduras and Cuba. Shrestha was born in Kathmandu, Nepal. Shrestha's campaign might have been the progressive prototype.
"We ended up talking to almost 16,000 voters, and we knocked on doors for a year. If we hadn't organized, which led to the recruitment of many volunteers, we would not have been able to activate the desire for change that was already there in our district," she explained to People's World.
"We let people know about the options that exist in our state legislature, and our strategy for how to win some of them in the State Assembly. When people know what the options are, and that there's a path to victory, their cynicism and anxiety turn into hope," Shrestha continued.
Six WFP-endorsed candidates lost—one incumbent and five new candidates. The disappointed incumbent is Brooklyn's AD 46's Mathylde Frontus (also endorsed by NYPAN), an agonizing loss in a race the WFP knew would be tough. In the reelection bid by Steve Englebright (AD 4, Suffolk County), the AP has not yet declared a winner.
Expecting a batting average of 1.000 is unrealistic. Nnaemeka see reasons for optimism. "We're sending some incredibly powerful new progressive leaders to the legislature, like Lea Webb, Juan Ardila, Kristen Gonzalez, and Sarahana Shrestha, as well as welcoming back long-standing champions to push on a working people's agenda in Albany," she crowed.
Republicans outworked the Dems
Given the history of midterm elections, victory is defined as the absence of a crushing defeat by the presidential party. From that viewpoint, Republicans failed on the national scene. On the state level, not so fast.
The GOP's strong showing in especially the governor's race was a point of proof. It improved its performance in the comptroller and attorney general election (and even the U.S. Senate race). The flipping of four House seats and sizeable GOP gains in the state's House delegation are more cause for analysis, as are the party's stronger Assembly and State Senate delegations.
Hochul had a staggering money and polling advantage that slipped away. Even in the primary election, Black elected officials worried about her absence in their communities, fearing the problem would continue into November. The lack of a ground game was a general problem.
The Democratic Party is not an activist organization, notwithstanding some of its dynamic elected officials and party activists, nearly all of whom are aligned with the WFP. Calling it "calcified," Ocasio-Cortez said the Democratic Party organization "relies on lobbyists and big money. And it really undercuts the ability for there to be affirming grassroots and state-level organizing across the state. And so when that languishes … you're leaving a void for Republicans to walk into."
Nnaemeka was similarly critical. "Republicans outworked the Democrats in key parts of the state. Voters need to be recruited into a shared vision and Republicans did that better than Democrats did," she explained to People's World. "That in conjunction with redistricting chaos and Mayor Eric Adams facilitating GOP talking points on crime created a kind of perfect storm."
The reference was to the mayor's posture in last year's mayoral race. The former police officer hammered on the crime increase, but now must backpedal. After all, if "crime is out of control," the voters will likely blame him. Like blaming Biden for inflation and gasoline prices. Irrational, but an unfortunate reality.
Protecting both the right to abortion (regardless of how that is phrased) and democracy—some analysis concludes those two issues are what suppressed a Republican wave. Ocasio-Cortez and Nnaemeka think that more bread and butter as well as more door-to-door mobilization were required to boost democratic-minded working class and racial and national minority voters for a better state performance.
"The governor's race and many Congressional races had no business being so close. While there were complicating factors, this must be a wake up call to Democrats that they have to run on bold and popular issues that will show working people that government has their back," Nnaemeka added. "Those are solutions like universal health care and taxing the rich—and not shifting to the center, which only makes it harder for them to differentiate themselves from their Republican opponents.
NYPAN agreed in its post-election statement. "[T]he Democratic Party establishment itself was nowhere to be seen. And the message they did convey, almost exclusively in TV ads, lacked any reference to the economic difficulties working class New Yorkers are suffering as a result of the Republicans blocking important progressive initiatives like expanding Medicare, raising the minimum wage, labor law reform, and reversing climate change."
But Hochul was the candidate, not the party leader responsible for energizing the troops. That job belongs to state Democratic Party Chair Jay Jacobs. NYPAN's statement used a sports analogy. "When a baseball team loses badly, year after year, the manager goes on the chopping block." The case was overstated. Many baseball managers are fired after a single disappointing season.
"Jay Jacobs is that manager, and the time is now," continues NYPAN. Not only NYPAN. Signed by hundreds of Democratic elected officials and state and local leaders, a letter dated November 14 demands such action.
The letter reads in part, "The writing is on the wall and has been for some time: Jay Jacobs is not fit to serve as Chair of the State Democratic Party, and it's time for Hochul to work with the party to elect a focused, determined, unifying party leader." Whether Hochul will be pressured enough to do so remains to be seen.