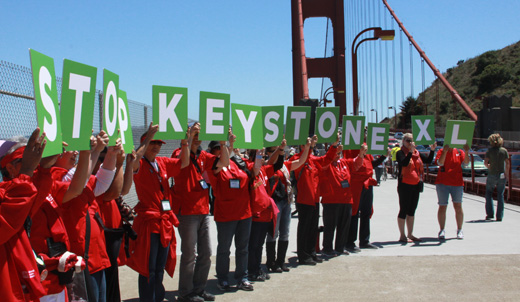 SAN FRANCISCO – Members of the National Nurses United union and environmentalist allies marched on June 20 across San Francisco's famed Golden Gate Bridge in the latest show of opposition to the proposed and controversial Keystone XL oil pipeline. Members of Unite Here, Local 2850, joined the march.
The nurses were attending a three-day conference on a wide range of causes, including taxing financial transactions and counteracting anti-union actions worldwide, along with the battle against government austerity. But Keystone, from the Canada-Montana border to U.S. Gulf Coast refineries, drew the most public attention.
That's because the pipeline would transport 800,000-900,000 barrels of oil per day from Alberta's tar sands – notoriously "dirty" oil filled with pollutants – to the coast, foes say. They contend its extraction would also endanger the water table and increase global warming. Keystone supporters dispute those claims.
The Obama administration is weighing whether to grant an environmental permit to TransCanada, the pipeline sponsor, to build the northern section. The southern segment, starting in Oklahoma, was approved. Construction unions say Keystone's assembly would create 10,000 jobs – and they would be union jobs, since TransCanada long ago signed a Project Labor Agreement with TransCanada to have unionists build it.
"TransCanada already agreed to go above and beyond the industry norm when building Keystone by agreeing to 57 safety conditions" the government recommended, Building Trades Department President Sean McGarvey said previously. The pipeline "passed every analysis and review" and "would meet all applicable environmental and safety standards. Meanwhile, additional American job creation and economic growth from this important project has been delayed," he added. "Jobs can't wait."
But the NNU and its allies contend construction workers could find employment on projects other than Keystone, such as retrofitting buildings to create energy efficiency. NNU members also warn of other harms Keystone would cause.
"We need to reduce effects of environmental factors, including climate change, that are making people sick, and endangering the future for our children. That's why we oppose Keystone," union co-President President Deborah Burger, RN, said beforehand.
"As a maternity nurse, the list of chemicals in the tar sands oil are a pregnant woman's nightmare," Oakland, Calif., RN Katy Roemer told a pre-march rally. "We are talking about impacting not only our current generation of men, women and children but also the next in the case of a spill. We do not have the capacity to adequately clean up the chemicals we know are in tar sands oil and we do not even know the full list of those chemicals. The ones we do know about are awful."
Photo:Nurses, activists, community members march across the Golden Gate Bridge with 350.org (National Nurses United).