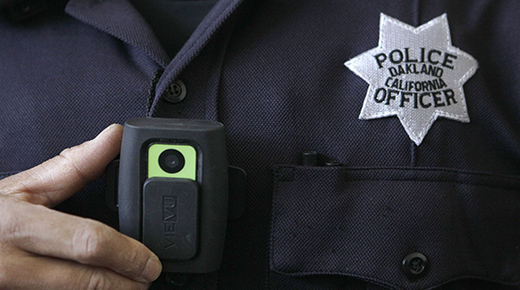 OAKLAND, Calif. – The Oakland City Council has begun a new process to examine racial disparities in the city's economy and criminal justice system. Council President Lynette Gibson McElhaney, who is leading the discussions, calls them "just the beginning of a conversation."
An intense and dramatic six-hour special Black Lives Matter City Council forum packed the council chambers Jan. 24. There, the council heard from a broad spectrum of community members including protesters who have filled the streets after grand juries failed to indict police officers in the killings of Michael Brown and Eric Garner.
Oakland, too, has repeatedly experienced police misconduct including killings of unarmed, innocent people. The Oakland Police Department has operated under federal district court supervision for the last 12 years under a negotiated settlement agreement to reform its policing.
Besides the eight council members, other forum participants included noted civil rights attorney John Burris, several local pastors, researchers studying racial disparities in the criminal justice system, Oakland police chief Sean Whent, and other area elected officials including U.S. Representative Barbara Lee, D-Calif.
A regularly scheduled City Council meeting Feb. 3 began to examine recommendations by forum participants.
Among a long list of concerns brought to the City Council was the need for truly independent review of police officers' actions.
At the forum, Rashidah Grinage, longtime community leader for police accountability, urged the council to give the Citizens Review Board sole authority to review citizens' complaints against police, instead of splitting responsibility between the board and the Police Division of Internal Affairs, as at present. She and others also called on the Council to create a ballot measure for November 2016, asking voters to approve an independent police commission with the authority to discipline officers.
Also raised at the forum was the need to press Alameda County to greatly increase funding for services formerly incarcerated people need when they return to the community, such as housing, health care, job counseling, and employment opportunities.
Darris Young of the Ella Baker Center for Human Rights told the forum that funds the county receives under California's realignment program shifting low-level, nonviolent offenders from state to county facilities are overwhelmingly going to the sheriff's department instead of reentry services.
"What can we do today to address the problem of mass incarceration?" he asked. "What we can do as a community is to welcome our people home."
A related issue concerned the presence of Oakland Police in the city's public schools. High school student and Black Organizing Project member Reginae Hightower told the forum, "I am a student, not a suspect. How am I supposed to learn when I'm afraid or I feel like I'm in prison?" Hightower called on the City Council not to take federal or any outside funds to bring more police in schools, and urged the City of Oakland to complete an overdue report to the city's School Board on police activity there.
Several participants raised the issue of police hiring, noting that few current police officers live in Oakland, and the demographic composition of the force isn't close to that of the city's population.
At the Feb. 3 council meeting, councilmembers began their responses to the community's concerns, and emphasized their ongoing commitment.
"I recently asked if we are asking potential officers anything about knowledge of Oakland and its diverse communities," Councilmember Rebecca Kaplan said. "That's not currently part of our hiring process." Kaplan said she also learned that of the 1,350 city residents who applied in the last three years, just 35 had been accepted by the Police Department.
Looking broadly at racial disparities, Councilmember and Public Safety Committee chair Desley Brooks proposed establishing a Department of Race and Equity that she said would "begin to look at each and every department within the city and make sure they look at everything from a race lens and an equity lens, to ensure that all our citizens have a meaningful opportunity to engage." The proposal is now in committee.
At the forum, noted civil rights attorney John Burris, who has represented families of many victims of police misconduct, recounted Oakland's history of difficult police-community relations. He warned that the struggle is far from over. But, he said, significant progress has been made regarding police shootings and other forms of misconduct, and police issues are being examined more seriously than before.
In her opening remarks there, Congresswoman Barbara Lee called "protests and street heat" essential to the fight against economic, social, and racial injustice. "We've got to keep pushing," Lee said, "and it's not about leadership pushing, it's about the voice of the people telling us, and holding us accountable for what we do."
Helping plan the Jan. 24 forum were the Coalition for Police Accountability, Onyx Black Organizing Project, Pueblo, Black Lives Matter, the Private Industry Council, Youth Uprising and other organizations.
Photo: AP