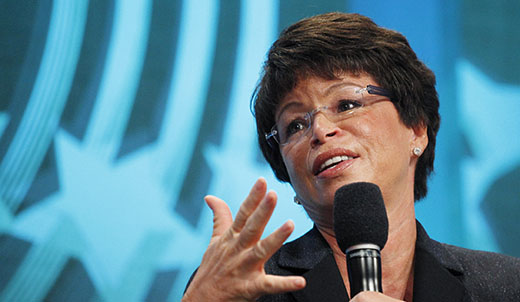 After a wave of teen suicides by gay youth recently due to bullying the Obama administration is speaking out saying no young person should have to endure a life of relentless taunts and harassment.
Speaking at the annual dinner of the Human Rights Campaign Oct. 9, Valerie Jarrett, senior advisor to President Obama said, "I want to make clear that this administration is firmly committed to working with you and other advocates. We all have to ensure that we are creating an environment in our schools, our communities, and our country, that is safe for every person, regardless of sexual orientation or gender identity."
Jarrett added, "We are not going to let up. We are going to stand with you and every young person in this country who deserves the chance to grow up, learn, have fun, and live their lives without the constant threat of violence, or ridicule. Bullying is simply cruel, abusive, and needs to be stopped."
Jarrett highlighted recent actions taken by the Obama administration to address the issue including last year's creation of a new federal task force on bullying. In August the group held the first National Bullying Summit, bringing in experts to begin mapping out a plan to tackle the issue. Also the Department of Education has reinvigorated the Office for Civil Rights to help stop harassment in schools based on race, disability, sex – and bullying of LGBT youth, she said. And the Department of Health and Human Services recently announced the National Action Alliance for Suicide Prevention bringing together a coalition of advocates to make sure people, including LGBT youth, have help and resources when they're in crisis, she said.
The tragic loss of recent youth to suicide and countless others strikes at the heart of our values as Americans, and our sense of humanity, said Jarrett.
"We all have an obligation to engage in the broader struggle to build a more perfect union – a nation where each of us is free to pursue our own version of happiness. And that means fighting discrimination in all its forms -whether in our schools, or in the workplace, on our streets, or in our moments of greatest need."
Building a more perfect union means making sure no one ever is afraid to walk down the street holding the hand of the person he or she loves, she said. It means standing against anyone trying to write inequality into our laws and our Constitution and ending "don't ask, don't tell" once and for all, she said.
"We have to keep fighting together. We must not lose hope. We cannot allow people to sow division among us – not when the stakes are so high for our country."
This depends on all of us, she said. "It depends on changing laws, and changing hearts. It depends on creating and environment in which our children feel safe to be themselves, And it depends on reaching all of our young people, and letting them know that we care about them, and want them to thrive and reach for their dreams, without fear."
Meanwhile a group of more than 70 civil rights organizations, including the Leadership Conference, the Anti-Defamation League, and the Gay, Lesbian and Straight Education Network is offering a set of recommendations for federal action.
The groups recommend the following among others:
The federal government should fund innovative policies, initiatives, education, and training for school personnel and students to prevent and respond to bullying, cyberbullying, and harassment and other school violence incidents.
The Feds should also require every state and local educational institution to adopt an inclusive anti-bullying and harassment policy (including cyberbullying) focused on restricting acts of harassment, intimidation, and invasion of privacy.
The Feds should fund and conduct strong research and evaluation about the nature and magnitude of the bullying, cyberbullying, and harassment problem in America and efforts to address it, in conjunction with behavioral and social scientists, academic institutions and non-profit community-based organizations.
The administration should promote the enactment of comprehensive legislation focusing on inclusive anti-bias education, hate crime prevention, and bullying, cyberbullying, and harassment education, policies, training, social and emotional learning, and school-wide positive behavior supports and early intervention initiatives. Anti-bullying and harassment provisions should be included in the reauthorization of the Elementary and Secondary Education Act, the Juvenile Justice and Delinquency Prevention Act, and other appropriate legislative vehicles.
Photo: Valerie Jarrett, Senior Advisor to U.S. President Barack Obama, speaks at the Clinton Global Initiative, Wednesday, Sept. 22, 2010 in New York. (AP/Mark Lennihan)