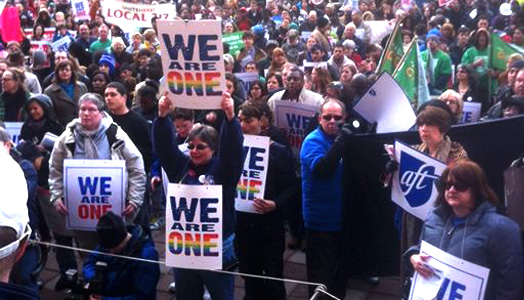 In the latest move by Barack Obama that would expand the rights of LGBT workers, the president directed the Labor Department to draft rules that clarify that the Family and Medical Leave Act (FMLA) applies to LGBT couples, even in states where same-sex marriage is not legal. FMLA allows employees to take unpaid leave to care for a sick spouse, but states that don't recognize same-sex marriage previously have been able to refuse FMLA for LGBT families.
Three years ago, the Obama administration stopped defending the legality of the Defense of Marriage Act. His Justice Department is also on the verge of announcing the completion of a review of federal law to determine what legal benefits can be extended to LGBTQ families. The administration already has acted and moved toward equal application of laws relating to health insurance, immigration privileges and tax law for same-sex couples. The White House said some benefits can't be extended to LGBTQ families because federal law prohibits it. Obama is calling on Congress to eliminate those provisions from law.
But there is still one big problem: in most states is is NOT illegal to fire someone for being gay.
The Employment Non-Discrimination Act (ENDA) is the bill that would have offered federal protection for lesbian, gay, bisexual and transgender employees. Although it passed the Senate last year it is unlikely to make it through the tea party dominated house.
The ACLU-issued a report urging Congress to pass ENDA, using the stories of workers from across the country who have experienced workplace discrimination based on sexual orientation and gender identity to make the case for passage of the bill.
Click here to download the PDF.
Only 21 states and the District of Columbia bar firing employees for their sexual orientation. Of those, 18 states and D.C also ban firing transgender employees.
The only way workers can have protection is when they have a union contract that specifies protection for ALL workers.
Barbara Russum contributed to this article.
Photo: Pride at Work Facebook page.