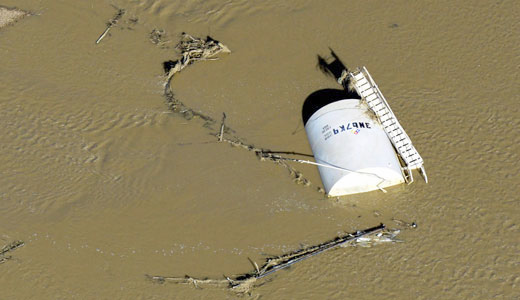 The severe flooding in Colorado is beginning to recede, but it left something toxic in its wake. The result of intense rainstorms caused by a clash of cold and hot air, the floods have left 10 dead and 200 still unaccounted for; they have destroyed at least 15,000 homes across 17 counties. They have also damaged at least 11 oil and gas locations, and now the resultant leaks and spills threaten to become a brand new disaster.
As of September 23, the Colorado Oil and Gas Commission was tracking at least "eight notable releases," including a 36-barrel spill between the towns of Evans and LaSalle, and 26 barrels of crude near Johnstown. So far, the Commission (COGCC) has confirmed a total of 27,000 gallons of spilled oil in the state. These spills are likely the results of the many oil tanks and wells that were affected by floodwaters. The COGCC is also "tracking 10 additional locations with some evidence of release of oil, such as a sheen on the water, and another 33 locations where there appears to be damage to tanks or other equipment but no [current] indication of a release."
Attempts to deploy absorbent booms to the spill sites have so far been less than successful, as in at least two cases, "it appears the oil left the site in floodwaters," according to a statement by the COGCC.
Rep. Jared Polis, D.-Colo., said the spills are a "major public health issue. In light of the serious conditions, the [oil] industry, at a minimum, must disclose all chemicals that may be contaminating soil and groundwater."
Much of the oil has found its way into the South Platte River, a source of both agricultural and drinking water. The state department added that broken sewer pipes and damaged waste treatment plants have caused some amount of sewage to spew into the river along with the oil, and that may cause a larger problem. Meanwhile, gas wells damaged by the flooding have leaked unknown amounts of fracking chemicals into the river as well.
Wes Wilson, former EPA environmental engineer and current advisor to anti-oil and gas drilling group Be the Change, said the spills will have long-term effects, even after the floodwaters have entirely receded. "We are going to have dozens, if not hundreds, of toxic sites. And they've got to be cleaned up."
And anyway, said Gary Wockner, program director for Clean Water Action, it will take days for the waters to even recede enough to gain a better assessment of the contamination. "Once it hits floodwater, it gets across a large swath of the landscape," he said. "Our big concerns are oil, gas, and fracking chemicals. We've seen photos of oil slicks on top of the water and are continuing to monitor all flooding and cleanup efforts. These chemicals are poisonous to people and animals, and could pollute farms and drinking water supplies."
Wockner seemed also to suggest that the oil and gas industries are not to be trusted in documenting the full extent of the damage, and that there is little oversight taking place on the state level. However, he noted, "It's great news that the EPA is" involved. "We have serious concerns that because the state has so few inspectors and regulators, the industry is out there 'self-policing.' We need the EPA to make sure the public and the environment are protected."
EcoWatch added, "The industry that regularly pollutes [Colorado] will now expect the people to believe that it is a credible source of information."
Noting that activism on the ground will play a large role in cleaning up the pollutants, they also added, "Our communities will continue to fill in where government and the gas and oil industry leave human health and safety behind. The tragedy we are all a part of asks us to strengthen our resolve on every level. Colorado will be changed by these enormous events, and it will be the incredible efforts of the people that place us all on higher ground."
Photo: An overturned oil storage tank lies in the swollen South Platte River. John Wark/AP