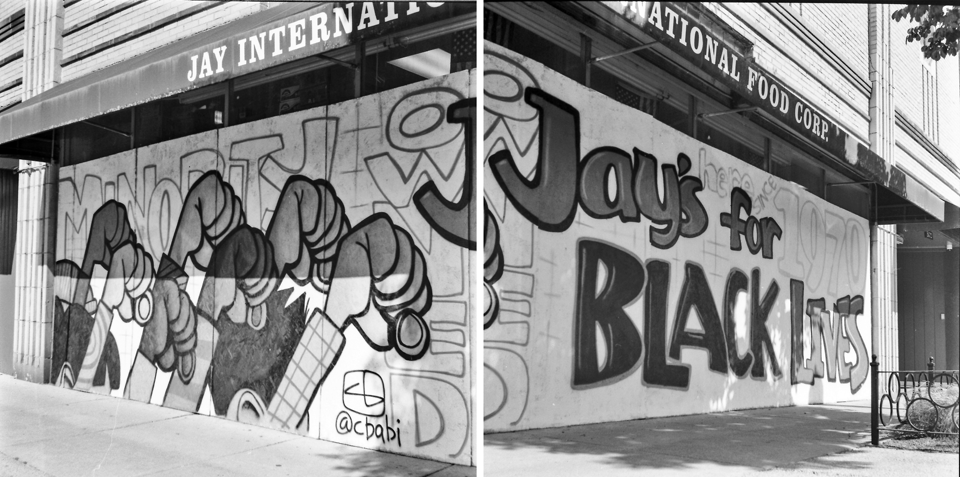 Often what our eyes see is the truth—our subjective truth, but a truth nonetheless—whilst the deception comes from what we are told, from what we hear on the evening news, from the captions explaining what it is we are supposedly witnessing.
It's been over a month since the murder of George Floyd by the Minneapolis Police Department. Over three months since the murder of Breonna Taylor by the Louisville Metro Police Department, with no arrests made of the officers involved yet, just job terminations. And only three weeks since the killing of Rayshard Brooks by the Atlanta Police Department.
Nationwide, the moral outrage and justified anger lobbed against the brutality, depravity, and corruption of too many in U.S. law enforcement has spilled onto the streets, into statehouses, and it has even laid bare this appalling truth before the White House.
Simultaneously, as the eyes of the world watch people stand together in solidarity against injustice, racism, and police brutality, they find themselves also looking at those pockets of outrage pushing in the opposite direction.
It's the conflicting narrative found in any social movement. That fine line between those prioritizing human life and those placing all value and comfort in material things—the status quo.
In the case of George Floyd, it was only a matter of days before the headlines went from "Peaceful protestors call for police reform" to "Looters and anarchists destroy property."
Those headlines focused on property destruction were used to make the privileged uncomfortable—frightened, just enough, to where they'd be fine if this and other future unjust, violent acts were quietly swept under the rug.
The theory: If social injustice is kept out of their sight, out of their comfort zones, then there's no reason to care, no reason to act, and in time the uprisings will be quelled.
Again, our eyes see the truth behind those headlines.
The pain of Black Americans, and all minority and immigrant communities nationwide, is seen within the embers of burnt-out buildings and shattered glass.
Our eyes recognize it; our hearts and minds shudder at the thought of it. In a just world, they would affect and streamline the process of real systemic change.
But as we take a second glance, those initial images of corporeal pain fade, quickly replaced by images of rioting, looting, and physical violence. Our views of the real injustices taking place become distorted.
Destruction, however, is not all we see.
The pocks and scrawls of cheap plywood dotting windowpanes and doorways across U.S. cities—some to stand in for window replacements, others to prevent damage—have become blank canvases for activist artists. Their creations are the visualizations of hope, radical change, and the power of community.
It is protest art.
And whilst we may think it's a relatively new phenomenon, the artwork of dissent can be traced back to the days of ancient Babylon where a brickmaker inscribed their name, "Zabibna," above that of King Nebuchadnezzar—an early form of direct action in the workplace.
This history of rebellious art is vast and encompasses all artistic styles.
In 1920s Mexico, muralists supporting the Mexican Communist Party—and the Mexican Revolution—painted large-scale public frescoes illustrating proletarian strife, taking their Marxist-Leninist ideals and entering the political fray through painting. They followed the maxim of Communist playwright and poet Bertolt Brecht: "Art is not a mirror held up to reality but a hammer with which to shape it."
African-American painter Jacob Lawrence illustrated works focused on historical moments of racial inequality. His magnum opus, The Migration Series, portrays the turmoil of the great migration of African Americans from the South to North Eastern and Midwestern cities caused by Jim Crow laws and their threats towards the livelihoods of Black Americans.
And so, this history goes, and goes…with every generation leaving behind bits of inspiration for the future struggles needing to be won.
So, as you take a walk through your city's streets, as you leave one demonstration and head towards another, or maybe as you head off to lobby an elected official, take a moment to look at the freshly painted, spray-painted, or chalked pieces of art that pass you by.
Some of the visuals will bring forth a smile, some a tear, whilst others may bring the simple hard truth. In any case, a momentary uplifting of one's spirits through political art rejuvenates the activist soul.
In short, "the function of art is to disturb." At least according to 20th-century French painter Georges Braque.
And in our current political climate, that occasional disturbance is a vital addition.
Suggested reading for anyone interested in the history of political art:

> Russian Avant-garde and Radical Modernism: An Introductory Reader, edited by Dennis G. Joffe and Frederick H. White. Academic Studies Press, 2012.

> Making Modernism Soviet: The Russian Avant-Garde in the Early Soviet Era, by Pamela Kachurin. Northwestern University Press, 2013.

> The Liberation of Painting: Modernism and Anarchism in Avant-Guerre Paris, by Patricia Leighten. University of Chicago Press, 2013.

> Re-Ordering the Universe: Picasso and Anarchism, by Patricia Leighten. Princeton University Press, 1989.