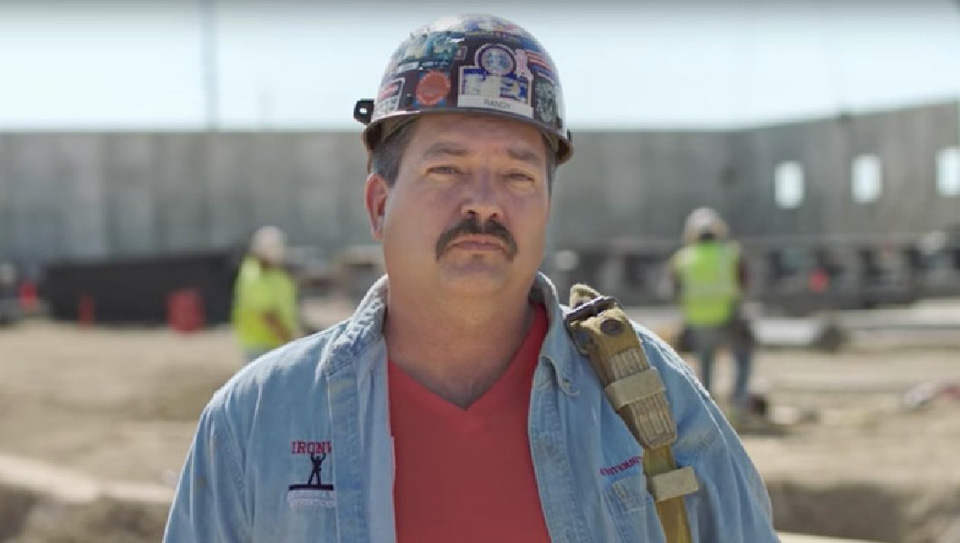 KENOSHA, Wis. — At the Gateway Diner here, it was a busy Thursday morning. "It's because it's Aug. 3," said one older woman. "The checks have arrived."
There were a fair share of seniors having their breakfast, presumably after receiving their monthly Social Security check. But there were quite a few customers who didn't look old enough to join AARP, let alone collect Social Security.
On the wall above the pie case were two flags side by side, the American and the Greek. I asked the man at the cash register an obvious question, "What do you think of President Trump's policy to limit legal immigration, given that this restaurant has a Greek flag on the wall, which I assume means the business was started by Greek immigrants?" He nodded yes, and then said, "Nothing that Canada and Australia don't do."
Translation: Canada and Australia limit immigration so why shouldn't we?
Welcome to Wisconsin, a presidential swing state and a microcosm of a contradictory America, where worldviews on immigration and dozens of other issues collide. Kenosha is in Wisconsin's 1st Congressional District, which is represented by the current Republican speaker of the House, Rep. Paul Ryan.
The district is in Southeast Wisconsin, a region that is considered "the most polarized part of a polarized state in a polarized nation," according to one Wisconsin-based study.
In the district you will find many who support immigration reform that keeps families together and provides a path to legalization, living alongside others who support Trump's wall, limits on legal immigration, and mass deportations.
In a state that is overwhelmingly white, 86 percent, according to the 2010 U.S. Census, the 1st District's population is slightly more white than that – 91 percent – with an average income of $50,372.
By contrast, Kenosha, one of Wisconsin's "rust belt" cities, is more ethnically and racially diverse than the district as a whole. Almost 100,000 in population, it is 68 percent white, 18 percent Latino, and 11 percent Black. Outside a Kenosha middle school, a sign provided back to school information in Spanish and English.
The district also contains plenty of farmland, farm workers, and suburban sprawl. Just a few miles up the road from the Kenosha school, I drove by farm workers wearing bandanas and hats to protect themselves from the sun, busy working the fields near Mt. Pleasant.
A campaign of national interest
Polarization based on fears, prejudices and anxieties has worked well for Republicans. Ryan has banked on this divide to win re-election nine times since 1998.
But Democrat and union ironworker Randy Bryce, 52, from Caledonia – a town of 25,000 in Racine County, about 25 miles northwest of Kenosha, is banking on building bridges and not walls between the people of the district. Bryce made national news in July when he launched his campaign for Congress with a poignant and personal video about health care, his mother and son, and "working the iron."
Bryce, an Army veteran and progressive activist, sports a thick black mustache, giving rise to an unforgettable Twitter handle: @ironstache. I spoke with Bryce a few weeks after the successful launch of his campaign, and decided to take a trip up to the area in early August.
If you look at the district's voting pattern and Ryan's margins of victory over the years, you would think Bryce has more of a chance convincing Ryan to "work the iron" than convincing voters to cast their ballots for a Democrat.
Yet in an era of polarized politics, made worse by Divider-in-Chief Donald Trump, Bryce's message of bringing people together, not by ignoring differences but by sticking to basic values of fairness and honesty in seeking common ground, could resonate with voters.
On some of the more divisive issues, like immigration, Bryce is forthright in expressing solidarity with immigrants, insisting that they strengthen the country. "We're stronger as a result of our diversity. Immigrants give us knowledge," he told me. "It's how the country was built." His platform includes support for comprehensive immigration reform that keeps families together.
An ironworker builds bridges
If there is a yearning for community and an all-for-one, one-for-all politics, as opposed to the Trump-Ryan brand, Bryce could fill that longing.
"There are big divisions throughout the state. I'm keeping it basic and on working people's issues," Bryce said.
"I was at the grocery store," he said, "and I see a guy who I know goes to tea party events, but he's excited about my campaign and message." Noting that Kenosha is traditionally a Democratic area but it went for Trump," Bryce said one lesson he drew is that" people want to be heard."
If he sounds unflappable about a blue-collar area giving the edge to Trump that's because Bryce has been looking for common ground in every situation.
For example, active on veterans' issues, Bryce said they need not be partisan.
"I was attending a Wisconsin Veterans' Chamber of Commerce event and I ran into a state representative who was for 'right-to-work,' proactive on it," Bryce said, referring to 2015 legislation signed by Republican Gov. Scott Walker that bars collective bargaining agreements requiring members to pay union dues.
"Once we walked through that door [of the veterans' meeting], our differences on union rights stayed out. Our common ground was to help veterans connect," Bryce said.
"It was the same with my union experience. I work with guys who voted for Trump. I'm not giving up my principles but you do common sense things so you can talk to people. You can't do much if you're divided," he said, adding that good humor helps.
"I tell them, 'Yeah, nothing like sticking it to the man by voting for a billionaire.'"
Trump-Ryan: ties that bind
The billionaire president and the wealthy House speaker are tied together on health care "reform,"and Bryce says that is a liability for Ryan.
In a campaign email, Bryce said some 50,000 district residents would lose their health insurance if the Ryan-Trump "repeal and replace" health plan became law.
"Ryan is absolutely vulnerable on health care. He's always been trying to take away what people have, like coverage for pre-existing conditions," Bryce, a cancer-survivor, told me.
Polls seem to bear that out.
Ryan's approval ratings slipped in the district after the House of Representatives passed the American Health Care Act (Trumpcare), a bill designed to "repeal and replace Obamacare." The most recent Marquette University Law School poll put Ryan's support there at 44%.
Nationally, Ryan's approval rating tumbled from 47% to 34%, according to a Bloomberg poll.
After Ryan's controversial Aug. 21 town hall meeting on CNN, the Janesville-based GazetteXtra published a scathing editorial titled, "Sick of Paul Ryan's talking points on health care," criticizing the speaker for pushing through a bill that "would leave 23 million more Americans uninsured in a decade, including 14 million from reduced Medicaid enrollment."
Janesville is Ryan's hometown. Ryan held the tightly-controlled "town hall" after Bryce criticized him for not holding a public meeting in the district for more than 600 days.
In his campaign video that went viral Bryce had criticized Ryan and Trump or the mean-spirited Republican health care bill.
Other things are also affecting public opinion here. Trump's approval rating has fallen to 33 percent in Wisconsin, according to a recent NBC News and Marist poll conducted after the deadly Aug. 12 white supremacist rally in Charlottesville, Va.
Even so, Bryce has a steep climb ahead of him. Ryan has won all but one of his nine re-elections with more than 60 percent of the vote.
A day in the life
But for an ironworker, steep climbs come with the territory. Bryce described a typical workday. "I get up before the sun does, drink coffee and check the weather so I know how to dress. Pack a lunch, show up on the jobsite at 7 a.m.," he said.
He goes home after quitting time, 3:30 p.m., unless they are short-handed and he has to work overtime. He turns on the TV and checks the weather for the next day.
"I have to do a lot of weather-checking since we work outdoors. So I'll sit on the couch after work with an icy hot patch on my back and watch the news," he said.
Bryce will be balancing running for office, spending time with his 10-year-old son  and working enough hours to keep his health coverage. Saturday night is movie night for him and his son. "We eat tacos and watch a movie," he said. "Lord of the Rings," "Star Wars," and "42" were all on the viewing list. Bryce said he was proud when his son asked to watch "Hidden Figures," the movie about the unheralded yet brilliant Black women, Katherine Johnson, Dorothy Vaughan and Mary Jackson, who worked at NASA and helped launch astronaut John Glenn into orbit.
"He gets it. He knows why it was important," he said.
"I share custody with his mom. Sometimes we go fishing. He loves fishing," he said.
As for  the campaign and the media attention, Bryce said his son is "pretty laid back about it."
"I'm just dad," he said.
Bryce is also a son. His background is Polish and Mexican. His parents have difficult health challenges. His father has Alzheimer's and his mother has multiple sclerosis (MS). His mother was featured in his campaign video, talking about her medical costs. Health care was a big reason why Bryce decided to run.
"I want it affordable," he said. "You shouldn't be considered 'lucky' because you have health insurance," he said." I think of my mom as lucky because she has health insurance – although she has MS. I consider her lucky. But it shouldn't be that way."
Bryce believes health care a right and not a privilege. He said he would like to see the country get to the point where single-payer/Medicare for all is an option.
The old and the new
Wisconsin's 1st Congressional District covers much of Southeast Wisconsin. Its southern border is the state line with Illinois. It stretches east to Lake Michigan, reaches north almost to Milwaukee, and west to Janesville.
Along with Kenosha, Janesvilleand Racine are the district's "rust belt" small cities, where over the last four decades, families and communities  have experienced the pain of layoffs and plant closings. After the 2007-2008 financial crisis, car manufacturing ceased to exist in Janesville and Kenosha. They provided good union jobs. Racine's auto-making days ended in 1938.
When you exit I-94 for Kenosha, signs of the old and the new greet you. On the west of the interstate is the iconic Mars Cheese Castle, opened in 1947, a symbol of the Dairyland State and reminder of why its residents proudly claim "Cheeseheads" as their collective nickname.
To the east is a huge Amazon Fulfillment Center with a "Now Hiring" sign. The facility opened in 2015.
Hundreds of people of all ages from Illinois and Wisconsin lined up for Amazon's "Hiring Day" on Aug. 2. Amazon said it has 1,500 openings at the Kenosha center, 80 percent of which would be full-time. Wages are said to range between $12.50 and $16 an hour.
That would be a decent wage for many, but a far cry from the wages won by unions in now-defunct local manufacturing industries like Kenosha's Rambler plant, the nation's oldest auto factory, which once employed more than 5,000.
Electronics manufacturer Foxconn has announced plans to build a plant in either Kenosha or Racine County, bringing thousands of highly-coveted jobs. Trump claimed it is part of his "Make America Great Again" agenda. However, the plan is drawing increasing skepticism. It appears he economic and environmental subsidies the state is preparing to give the electronic giant may cost taxpayers much more in the end. The state has offered a maximum of $3 billion in taxpayer subsidies if Foxconn creates 13,000 jobs. That would amount to $219,000 per job — 50 times the previous record paid by Wisconsin taxpayers, according to Politifact.
Democrat Cathy Myers, a teacher and school board member from Janesville who is also a candidate seeking to replace Ryan, said she was excited about the possibility of new jobs but had questions about the unprecedented package.
"The only way this package can be beneficial to Wisconsin, even if it does bring jobs, is that it brings enough tax revenue to meet the challenge of that $3 billion subsidy," she said in an interview at an Aug. 4 Democratic Party meeting in Kenosha.
"Otherwise, then, Wisconsin taxpayers are simply subsidizing somebody's business. I want to know what kind of return we are going to get on this kind of investment."
During his Aug. 21 "town hall" meeting, Ryan defended the taxpayer subsidy for the Taiwan-based company. Foxcomm has also been slammed by labor rights groups for abusive working conditions. Bryce said he's opposed to rushing the deal through. "Let's make sure we know exactly what we're in for," he said.
Bryce and others have pointed out that Ryan has done nothing to stop union jobs from leaving the district.
Union, yes!
Five minutes down the same road where the Mars Cheese Castle and the Amazon distribution plant are situated, you'll find  the office of United Auto Workers Local 72, a one floor, ranch-style union hall. Just yards away from the city's cheery "Welcome to Kenosha" sign, the large parking lot in back was once full of the local product: Rambler automobiles.
Kenosha has a long and proud history of auto-making and workers organizing. Kenosha's Nash autoworkers preceded their Flint, Mich., GM brothers' famous sit-down strike by four years, using the tactic in 1933 to win union recognition.
Before the unions, auto, steel and other manufacturing jobs were dangerous and low-paid work. They became considered "good jobs" because of the power of collective bargaining, a labor right now under attack in Wisconsin and nationally.
I interviewed two union retirees here: UAW Local 72 President Peggy Applegate-Peplinski, and the former president of UAW Local 1007, Linda Horton, both from Kenosha.
My conversation with Applegate-Peplinski and Horton ranged from the opioid epidemic to immigration to the 2016 elections to the 2018 elections to the precipitous drop in union jobs and membership to abortion, race and LGBT workers rights.
The two women are good friends as well as union sisters. They finish each other's sentences and share a similar work experience: women in nontraditional (so-called male) jobs.
Applegate-Peplinski worked for 31.5 years, first at a TV factory in Zion, Ill., and then at Chrysler. She said she started at Chrysler crawling in and out of the cars to put the trim in and went on to a number of other jobs from fitting doors to testing electrical components in dashboards, to the cushion room, where she helped make the seats.
Horton worked at Western Publishing, where among other things, the famous Little Golden Books for children were manufactured. She held several jobs throughout her 34 years of service, including driving a forklift and pushing around 2,000-pound bales of paper scraps.
Horton, whose father was in the 1933 sitdown strike and was a founder of Local 72, remembers the stories her mother would tell about bringing food in a basket and passing it through the factory window to her father.
"I've been coming to this union hall since I was 5 years old," she said. Horton walks a little slower now, but her passion for all things union is still fresh and vibrant.
Horton and Applegate-Peplinski said they thought the $3 billion tax giveaway to Foxconn was too big. They were also concerned about the environmental impact on Lake Michigan and the marshland habitat, which provides a home for migrating birds. Foxcomm is expected to use millions of gallons of water a day in the production of LCD display panels, and the Republican-controlled state government wants to exempt the company from environmental regulations.
The conversation quickly shifted to Ryan's hometown, Janesville. "They lost their GM plant there, which is in Ryan's district," Horton said.
"He did nothing when they were closing," Applegate-Peplinski said.
General Motors announced it would close the Janesville plant in June 2008. In 2012, as Mitt Romney's vice-presidential running mate, Ryan blamed Barack Obama for the closing, even though Obama was only a candidate for the Democratic Party's nomination at the time.
Lyin' Ryan
This was just one of Ryan's many lies and misrepresentations over the years, earning him the nickname Lyin' Ryan. In his 2012 vice presidential nomination acceptance speech at the Republican convention, Ryan told five big lies about President Obama and his policies, Factcheck reported. He continues to tell whoppers about Obamacare.
During his recent town hall, he claimed "dozens of counties" have no insurance company offering plans because of the so-called collapse of Obamacare.
When a nun asked him how he squares his Catholic values with a Republican Congress "not willing to stand with the poor and working class as evidenced in the recent debates on health care and the anticipated tax reform," Ryan gave his standard vague response about eliminating government-funded safety net programs and providing "mobility, economic growth, equality of opportunity," code words for  "trickle-down" economics — tax cuts for billionaires and corporations.
Taking Ryan to task, the Janesville GazetteXtra politely pointed out his  hypocrisy. Many "see a dissonance between Ryan's words and the bill adopted by the House," the editorial said.
Ryan paints himself as a working-class guy because it resonates with his constituents. But in reality, Ryan comes from a wealthy and well-connected family. He in fact also owes much to the government-funded social safety net that he now seeks to cut – Social Security benefits enabled  him go to college and  Social Security and Medicare helped his grandmother who had Alzheimer's.
Ryan hides the truth behind words that sound sincere, Horton commented, like when he said, "'I will never do anything to hurt my mother.' Well his mother didn't have to worry about Social Security. His mother didn't have to worry about health care."
"Yes we can" spirit lives on
I asked the two retirees if they thought Bryce had a chance to win.
"I sure the hell hope so. I'm gonna work for him," Horton said.
"The man is honest. He's sincere," she said adding, "He cares about people and he cares about issues."
Horton has known Bryce for years and said she prefers him to the other Democrat. In order to face Ryan in the general election, Bryce first has to win the Democratic primary next August 14, 2018.
Myers is currently the only other candidate running. David Yankovich, who moved from Ohio to the district to run against Ryan because of the health care issue, dropped out of the race in early July and endorsed Bryce.
Myers is optimistic about Democrats' chances in 2018.
"Democrats can win the 1st Congressional District. Obama won the 1st Congressional District. We just need to get out and talk to people," Myers said.
The district did go blue for Obama in 2008, but it went red in 2000, 2004, 2012 and 2016.
Bryce has run for local office three times and lost. But this time around he has at least one campaign veteran, with a slew of wins and upsets, backing him. Bryce has drawn unusually wide national media attention, and an enthusiastic social media following. And the video that put Bryce on the political map helped to raise $430,000, mainly in small donations.
He was able to run ads on CNN challenging Ryan during Ryan's town hall meeting, and has been endorsed by United Food and Commercial Workers Local 1473, representing over 15,000 members in Wisconsin and Upper Michigan, Service Employees (SEIU) Wisconsin State Council, VoteVets, NARAL and the Ironworkers union, along with a number of state lawmakers from the area.
Bryce says of his primary race, "I don't see other candidates as opponents, and I don't look at anybody as an enemy. We are running because we have an interest in getting rid of Paul Ryan."
Win or lose, Bryce hopes his campaign will inspire others to be candidates.
"One of the things I hope to do is encourage other regular people to run for office," he said."Teachers. Police. Firefighters. It would be important to have working people making decisions about issues that affect our lives. Don't wait for a perfect candidate. Run and be the perfect candidate."