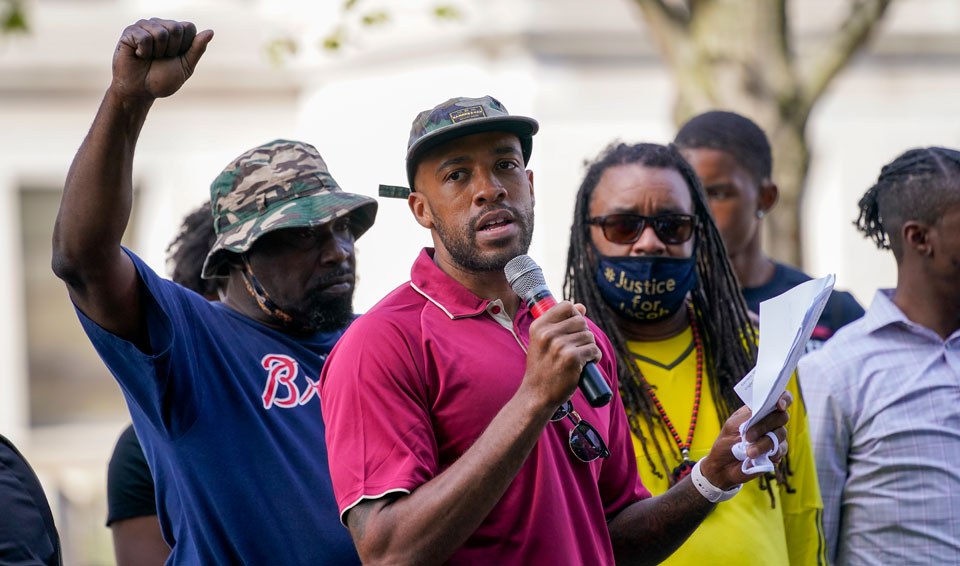 Wisconsin is the focus of a titanic 2022 mid-term elections battle. The stakes are enormous. The outcome could determine control of the U.S. Senate, elimination of the filibuster, the ability to block GOP schemes to steal the 2024 presidential election, and the future of democracy itself.
In the August 9 state primaries, Democrats nominated incumbent Gov. Tony Evers for a second term against Trump-backed millionaire Tim Michels and state assemblywoman Sara Rodriguez for Lt. Governor against Roger Roth. Current Democratic Lt. Gov. Mandela Barnes will take on incumbent and deeply unpopular billionaire GOP Sen. Ron Johnson for one of Wisconsin's two Senate seats in Washington.
The choice couldn't be starker: Electing state and federal representatives who reflect popular majorities supporting climate and social justice, reproductive choice, gun safety, and constitutional democracy or MAGA extremists who spread the "Big Lie" that Democrats stole the 2020 election and support Trumpism's assault on democracy, bans on abortion, and global warming denialism.
Evers, Barnes, Rodriguez, incumbent Attorney General Josh Kaul, and Secretary of State Doug La Follette are attempting to mobilize the anti-MAGA majority that won the state in 2018 and 2020 for Democrats. They are backed by a broad and growing multi-racial coalition of organized labor, farmers, youth, anti-gun violence and environmental groups, and other grassroots progressive organizations.
Barnes would make history as Wisconsin's first Black senator if elected. "The other Mandela," was raised in a union household in Milwaukee's Northside African American working-class community. He is the son of a union autoworker and union teacher who named him in tribute to the late South African anti-apartheid leader and president.
Barnes cut his political teeth as a community organizer for MICAH, an interfaith social justice coalition, and as a state representative fighting GOP Gov. Scott Walker's assault on democracy, union rights, and social benefit programs. He has served as Lt. Governor for the past four years, responsible for implementing some of Gov. Evers' policies.
Barnes chaired the Task Force on Climate Change, which made recommendations to address the impact of the climate crisis, environmental justice, and transition to green energy.
Barnes is also tapping into the outrage over the GOP-dominated U.S. Supreme Court striking down federal protections for abortion rights. His latest television ad features his mother, Lajuan, courageously discussing her wrenching decision to end a complicated pregnancy. "It was my decision, not some politician's," she says.
If elected, Barnes vowed to support the elimination of the filibuster so Democrats could pass sweeping legislation to reform electoral laws, protect voting rights, the PRO Act, abortion, LGBTQ and immigrant rights, and address the climate and ecological crisis.
"Let's be clear: The filibuster has been weaponized by the GOP—and they're destroying our democracy," said Barnes. He believes federal election reform would eliminate extreme gerrymandering, which the GOP has wielded to cement control of the Wisconsin legislature and allowed Republicans to put extremism on steroids.
Barnes opposes Johnson, one of the Senate's nuttiest and most extreme Republicans. Johnson's support remains in the low 40th percentile in most polls, a horrible place for an incumbent to be. Even before the primary, polls showed Johnson losing to three of four potential Democratic candidates.
Johnson was deeply involved in Trump's multi-pronged conspiracy to carry out a coup and overturn his 2020 election loss. Johnson continues to spread QAnon lies and disinformation that Democrats rigged the vote and that the January 6th attack was "an inside FBI job."
Johnson was one of six Republican senators who objected to the electoral vote certification. He attempted to delay the vote to allow insurrectionists to assault the Capitol, halt the count, and sow chaos for Trump to declare martial law. The January 6th hearings exposed his attempt to pass a list of knowingly fake electors from Wisconsin to Vice President Mike Pence on January 6th, a potential felony.
Johnson voted against COVID relief, joined every Republican in voting against the Inflation Reduction Act, the infrastructure jobs act, which he didn't bother to read, gun control legislation following the Buffalo and Uvalde massacres, and a cap on insulin prices.
He and other Republicans voted against medical aid for veterans exposed to toxins from Agent Orange and burn pits. Angry veterans and the public forced him to backtrack. He advocates making Social Security and Medicare a part of discretionary spending, subject to yearly cuts with the eventual aim of total dissolution of the programs.
Inexplicably, Johnson also opposed manufacturing the next generation of USPS trucks in Wisconsin, instead outsourcing production to a non-union plant in South Carolina. The Wisconsin AFL-CIO blasted him, "He is so out of touch that he won't even lift one finger to help secure over 1,000 good union jobs for his hometown of Oshkosh."
Evers' veto is the firewall against a fascist GOP-dominated state legislature, including nine anti-abortion and 12 voter suppression bills. He has confronted a gerrymandered GOP state legislature since before taking office. They obstructed Evers from cleaning up the mess left behind by Walker by passing a law weakening his authority. They've attempted to block Evers' actions as governor, including statewide COVID mandates during the height of the pandemic.
The Wisconsin GOP has so gerrymandered the state election maps that despite losing the governorship in 2018 and the presidency in 2020, they still control two-thirds of the legislative districts. In addition, the GOP controls the state Supreme Court.
With this consolidated power, the Republican Party hopes to pass legislation to control election administration by empowering the secretary of state, a position they hope to capture, to certify election outcomes. Incumbent Democrat Doug La Follette is standing in their way.
Michels, the millionaire challenging Evers, is a construction magnate who lives part-time in mansions he owns in New York and Connecticut. He received Trump's backing after promising to throw out the 2020 Wisconsin election results if elected, something he knows he can't do. He embraced Wisconsin's 1849 abortion ban but pledged to eliminate exceptions in cases of rape.
Were Michels to win, he and a GOP-dominated state legislature would be in place for the 2024 elections. The state legislature could try to overturn a Biden victory and approve GOP electors undemocratically.
Rodriguez, a registered nurse, won in a traditionally GOP assembly district in 2020, signaling extremist Republicans are losing moderate voters. If she wins lieutenant governor, she will be Wisconsin's first statewide Latino elected official.
The multi-racial alliance of labor and social and environmental justice groups with the state Democratic Party has methodically been building since the GOP takeover of the state in 2010, notching several vital victories in the process.
The Wisconsin Democratic Party has rejuvenated over the past six years. Led by Ben Winkler, the party adopted the organizing and movement-building strategy developed by Stacy Abrams in Georgia. That strategy includes year-round organizing, contesting in all parts of the state, building broad alliances with labor and social justice organizations, and organization at the grassroots among Wisconsin's racially diverse communities and at the precinct level.
The work paid off with a string of victories, including electing Evers and Barnes in 2018 and Biden in 2020. Progressives have won eight of the last nine statewide elections and flipped two assembly seats, including Rodriguez's.
Now comes perhaps the biggest test yet. In addition to electing Evers, Rodriguez, La Follette, Kaul (who has vowed not to enforce the Supreme Court ruling striking down Roe v. Wade), and Barnes in November, a big turnout could flip Congressional seats from Republicans and narrow GOP majorities in the state legislature.