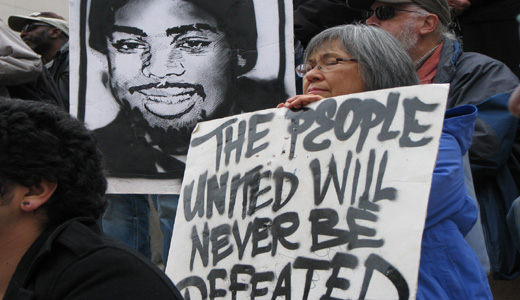 OAKLAND, Calif. – Hundreds marched and rallied peacefully here June 12 to protest the release from prison of Johannes Mehserle, the former Bay Area Rapid Transit police officer who killed passenger Oscar Grant III on New Year's Day 2009, after Mehserle had served just one year in prison.
Protests were also held in Los Angeles, where Mehserle had been incarcerated.
Mehserle, 29, was originally convicted of involuntary manslaughter and sentenced to two years in prison. He was released after midnight June 13, after a judge ruled he had earned credit for time served and good behavior
Originally facing a possible 14-year term for second-degree murder, Mehserle claimed at his trial that he meant to draw his taser, not his pistol. Fellow BART passengers used cell phones to record the scene as Mehserle shot the unarmed Grant in the back while the 22-year-old passenger lay face down on the station platform. Their videos went viral.
From the start, protesters and commentators have asserted that racial profiling was involved in the incident, as Grant was black, and Mehserle is white.
At Sunday's protest, demonstrators carried a coffin in a mock funeral procession and shouted, "We are all Oscar Grant."
Family members addressed the crowd. Grant's mother, Wanda Johnson, who was with Grant's now six-year-old daughter, Tatiana, told the protesters, "She was robbed of her father and I was robbed of a son." Johnson expressed her gratitude for the turnout at the protest.
Tatiana Grant has received a $1.5 million settlement from BART.
A civil lawsuit is still in progress against Mehserle and several other officers involved in the shooting.
Noted civil rights attorney John Burris, who serves as the Grant family's attorney, called on demonstrators to continue educating the public about other officer-involved shootings around the state.
"There's still a chance for us to continue our public outrage through public speaking and demonstrations," he said. "We need to get this message out and help get justice for people in other communities."
Though at previous protests a few demonstrators had caused significant damage to nearby shops, only one arrest, for painting graffiti, was made at the June 12 march.
Photo: Protesting the murder of Oscar Grant (pictured). Marilyn Bechtel/PW