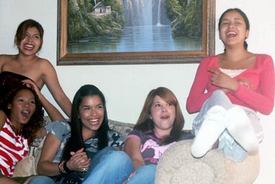 MovieREVIEW
Quinceañera
Directed by Richard Glatzer and
Wash Westmoreland
R, 90 min., 2006
In a scene halfway into "Quinceañera," a film directed by Richard Glatzer and Wash Westmoreland, Carlos (Jesse Garcia), an 18-or-so-year-old Mexican American troubled youth, dope smoker and car washer, is kicked out of his parents' house in Los Angeles. He takes sanctuary at his tio's (uncle's) home.
The uncle (Chalo Gonzalez) has a tiny yard that is mystical and spiritual. The camera never shows us the whole yard. But there are a million dangling things that sparkle and spit light everywhere in the midst of his green lush plants. Tio's place is in the middle of the "barrio." But the barrio appears to be on borrowed time.
In the film, working-class families, mostly Mexican immigrants, sense that their neighborhood is slowly being gentrified as land values surge.
Like thousands of working families everywhere who toil in factories using their hands, they see new arrivals in their community. Some of the new arrivals use their hands to write TV and movie scripts about working-class neighborhoods.
Magdalena (Emily Rios) is 14. She's in the midst of preparing for her quinceañera, which is the traditional Mexican celebration of a girl's transition to womanhood. She is pregnant and has been kicked out of her parents' home. Her mother's sister has a daughter who celebrates her quinceañera as the film opens. Carlos is the daughter's brother.
Magdalena moves into Tio's place. After some tension and competition, we begin to recognize how Magdalena and Carlos share similar feelings of being social outcasts. That moment is subtle, underplayed, with barely a nod, but it's exactly what makes "Quinceañera" a really good movie, rather than merely OK. Instead of a sweet simple and romantic movie, we get a "Crash" of issues of class, sex, gender, drugs and religion.
The film came about as a result of the directors' experience of being asked to photograph the quinceañera of their tenant's 15-year-old daughter. The directors were blown away by the preparation and pageantry.
"Quinceañera" isn't a 10, it's a reel 15.