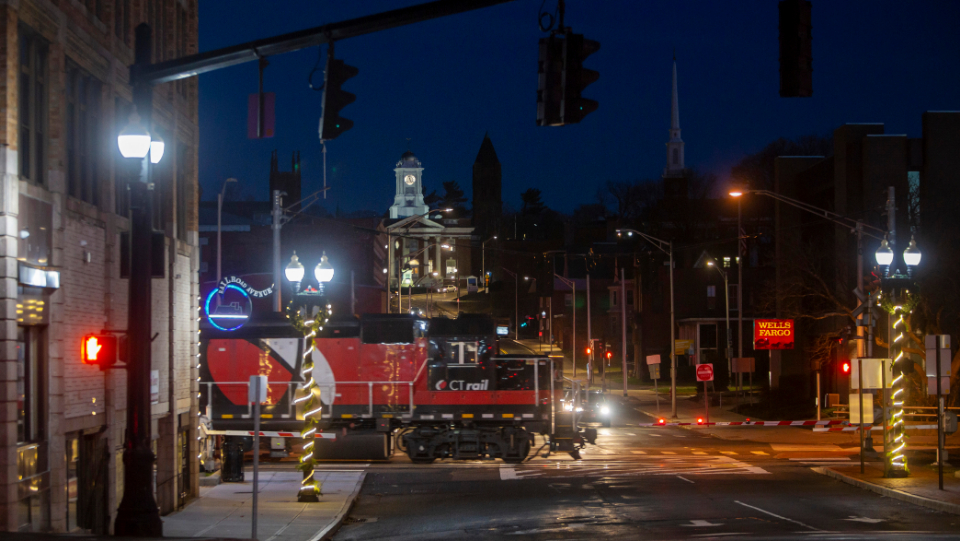 WASHINGTON (PAI)—Crunch. And a shortage of everything. That's the warning rail union leaders are sending to consumers as the nation approaches the holiday season.
Expect, they said, a repeat of last year's fiasco, where gifts were delayed for weeks or months as cargo ships backed up outside the Port of Los Angeles-Long Beach, the major import point for containers of toys, clothes, gadgets, games—or anything else arriving from Asia.
It wasn't just because the ports themselves had problems. It was because the nation's supply chain onshore, and especially its railroads, had virtually broken down.
That collapse delayed not just consumer goods but products vital to the U.S. economy, like transistors and microchips for cars and cellphones and personal protective equipment workers and shoppers need to combat coronavirus.
Delays were so bad that Democratic President Joe Biden convened a White House conference on the mess, and ordered L.A.-Long Beach to run 24/7. Which still didn't prevent thousands of gifts from arriving weeks and months after the December holidays.
And guess what? Leaders warned at a roundtable AFL-CIO Transportation Trades Department President Greg Regan convened in early August that it's going to happen again. The railroads have only themselves to blame, the group agreed in the hour-and-a-half session on August 12.
And the reason is corporate greed.
"Rail workers have not received a single raise in three years," Regan said in opening the TTD's "Town Hall," on railroad problems. "During that time they have performed heroic work, delivering food, fuel, things that kept our country going during the pandemic.
"But since 2005, seven major railroad companies have made $146 billion in profit, more money than in the history of railroading, on the backs of these workers. More money than even during the Gilded Age, when the robber barons ruled the roost. Yet during that same time, they've laid off 45,000 employees… and offered the remaining workers a net pay cut in their contract negotiations."
The result?
"It's chaos," said Bruce Verna, legislative director of the Brotherhood of Locomotive Engineers & Trainmen, part of the Teamsters Rail Conference. Added Kyle Loos of Machinists District 19 about the rail workers: "We're being asked to do more with less."
Days after TTD's rail session, on August 17, CBS News aired a daytime story with the same caution for consumers—and for at least one of the same reasons, too few railroaders.
"Happy almost holiday season!" CBS began (their emphasis). "While the final days of summer swelter on, now is a really smart time to start your Christmas shopping. No, seriously.
"Starting your holiday shopping in August may be a good idea…The 2021 holiday shopping season was riddled with challenges, including supply-chain disruptions leading to low stock on the season's hottest gifts. This year, CBS News is already anticipating more supply chain and shipping delays stemming from railway staffing shortages."
Why? "The railroads slashed and burned" workers, freight cars and lines, one TTD session panelist said. "They're being run by Wall Street," added shipper Herman Hoksteen.
"The workers want to deliver" the goods "but they're being hamstrung," said Regan. "Every person in the country relies on an efficient and well-functioning rail system, and we don't have that."
The discussion exposed quite a few failures in freight rail operations:
Too few workers for the freight they must handle. The big Class I freight railroads cut 45,000 workers in eight years. They're now short locomotive engineers and conductors, signal operators, rail rights of way maintenance workers and specialized track testers and engineers who solve traffic, mechanical and routing problems, among others.
"This is not much of a mystery," said Martin Obermann, chair of the federal Surface Transportation Board, the much less powerful successor to the old rail-regulating Interstate Commerce Commission. "These problems have all been precipitated by reductions in the rail workforce for the past seven years before the pandemic" and further cuts since then.
Obermann has first-hand knowledge of what can happen when freight trains are backed up. As a former Chicago alderman, he and his colleagues had to deal with backups and tie-ups in the nation's rail hub and their impact on the city and on workers.
In Chicago, long freights often sit on main lines running west from the Loop all the way out to and through the city's western suburbs, tying up freight cars, products, and railroad grade crossings. "At one point trains were backed up 26 miles into Chicago," one speaker said.
Starting in 2015, railroads imposed "Precision Scheduled Railroading" (PSR). It lets trains, governed by computers and radio transmissions to the engine cab, run at pre-set speeds on stretches of track—faster on straightaways, slower on curves.
Railroads view PSR as a way to save money on workers and save time by not being forced to run freights on "slow orders." It's failed, the rail union leaders said. There have been crashes, more delays, and derailments when the communications—some of them ancient—fail.
"It's not precise. It's not scheduled. And it's certainly not railroading," said Verna.
PSR is so computerized, one unionist said, that a train carrying goods for a particular shipper could roll by that firm's siding "four or five times" on the way back and forth to other enterprises before it finally delivered the appropriate freight.
Added Hoksteen, president of the Private Rail Car Food and Beverage Association: "I testified before Congress this PSR isn't working. We're not getting service." He also took that message to the Surface Transportation Board but did so when Republican Trump regime appointees were a majority. "They said 'Give it a chance,'" Hoksteen said.
What he didn't say in TTD's session is that some 50 Democratic lawmakers are listening, and have introduced legislation to restore the old powers of the STB—when it was still the Interstate Commerce Commission—over every facet of the rail freight industry.
The big Class I rail freight carriers themselves declare they can handle the increased cargo, but their actions belie their words, the railroaders retort. Freight trains are now four or five miles long, and can't be shunted to sidings built only for mile-long trains.
So monster trains must sit and wait on main lines for tracks ahead to clear—and those long waits back up other trains behind them. Moving all those backed-up trains "takes a lot more work and slows the process down" of shipping freight, said Jared Cassidy of the Smart Union's Transportation Division, which represents that union's rail workers.
In a simple word, gridlock.
A shortage of rail freight cars, mostly because so many are stuck on the stalled trains. As a result, railroads have had to shut down entire long-range routes, especially running southwest to Los Angeles, because of no cars. And now the port is too small.
"We have lack of (rail) chassis, lack of tracks, and lack of capacity" at L.A.-Long Beach, said Frank Ponce de Leon of Longshore Workers Local 13, whose stevedores unload the freighters there, at the nation's busiest and biggest port. "Our docks are fully congested."
Shippers are screaming they can't get their goods to market. One, a big poultry processor in California, said it couldn't get grain from the Midwest to feed its chickens because the railroads claimed they lack freight cars and stopped serving the firm. It took its case to the Surface Transportation Board, which ordered that carrier to find cars and serve the company.
"We also ordered all the carriers to give us their recovery plans" to solve the backups and car shortages, within six months of President Joe Biden's order to speed up the rail freight system, Obermann said. "Their first effort was insufficient—and that's a euphemism."
Despite record profits, and high pay for their CEOs, the nation's big freight railroads stubbornly refused to discuss a reasonable contract for the remaining 115,000 rail workers, represented by a 13-union coalition, with another union as a parallel ally. The workers haven't had a new pact, or a raise, since before the coronavirus pandemic hit.
The carriers' latest offer: A five-year contract retroactive to July 1, 2020, with raises of 2%, 2%, 6%, and 3%. That's effectively a pay cut, said Regan. The 14 unions proposed 6%, 6%, 8%, 4% and 4% retroactive to Jan. 1, 2020.
Federal mediation failed, and the whole mess is now before a three-person Presidential Emergency Board, which is due to recommend a settlement to Biden and Congress this month.  When it does, that triggers another 60-day "cooling-off period," under rail labor law. During that time the carriers can't lock the workers out and the workers can't strike.
A collateral result: 15-20-year veterans leave rail labor jobs early, taking with them expertise and institutional knowledge of how to keep freight trains running.
The freight railroads are overworking the remaining unionized employees, with weeks on the road for freight crews and short-staffed yards for maintenance, repairs, and safety checks of rail cars, the unionists said. "Conductors are doing (rail car safety) inspections" which they aren't trained for, Smart Union's Cassidy pointed out.
Inspections are rushed—two to three minutes per complex freight car—and so is training, he added. Maintenance has deteriorated, leading to more accidents and derailments, said Kyle Loos of Machinists District 19.
"It's made an already tired and burned-out workforce even more tired and burned out," said Verna of the Brotherhood of Locomotive Engineers & Trainmen. "This isn't sustainable."
And young workers, looking at the freight rail firms' attitudes, aren't taking rail jobs and replacing the retirees.
The net result is that everybody loses, except maybe the rail carriers. Peter Kennedy of the Brotherhood of Maintenance of Way Employees/Teamsters summed it up:
"The railroads haven't met their capacity" and legal responsibility to carry the nation's freight, he said. "The workers are paying for it. The nation's infrastructure is paying for it. And the American public is paying for it."
The whole session can be viewed here.