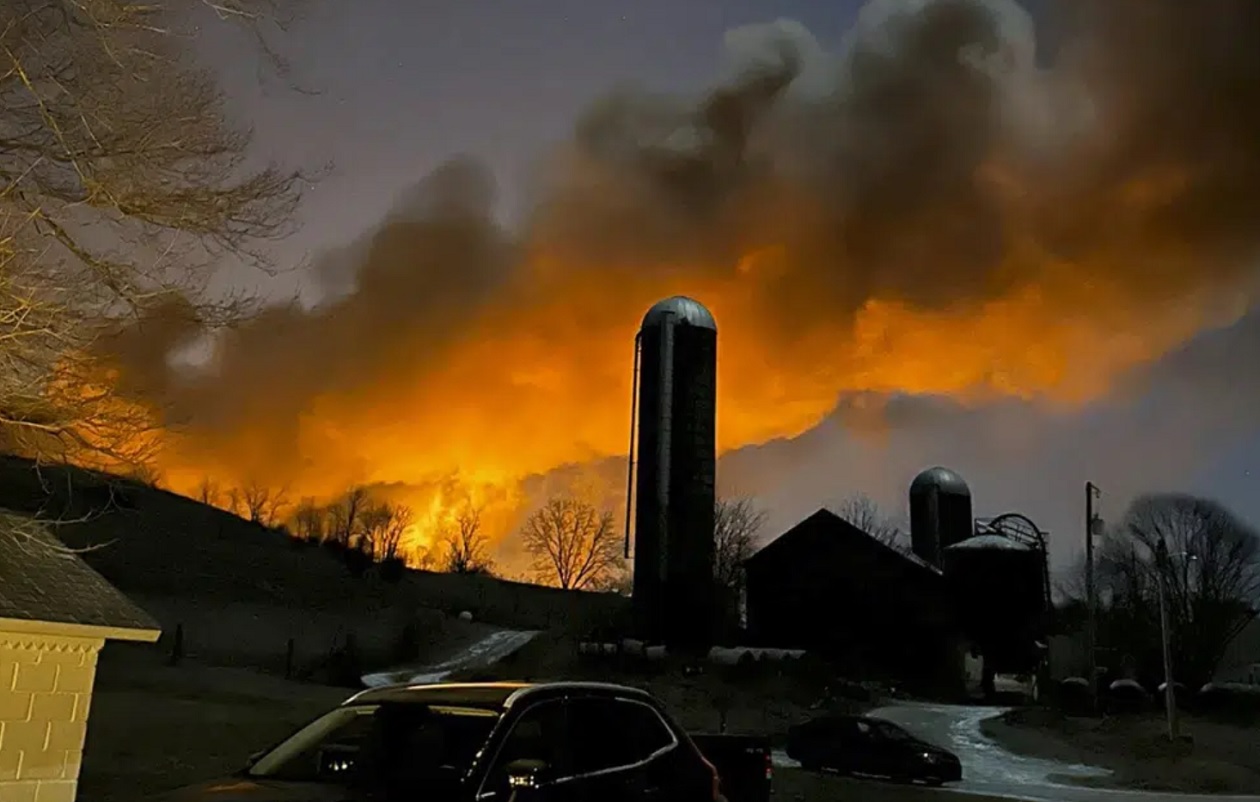 EAST PALESTINE, Ohio–A catastrophic derailment of 50 train cars on Feb. 3 has led to a mounting humanitarian and ecological disaster that continued to develop in the days since the crash. The immediate result of the wreck was an enormous fireball looming over the border of Ohio and Pennsylvania, necessitating the evacuation of at least 500 residents.
In an attempt to avoid an even larger explosion and the expansion of ongoing fires at the wreck site, on Feb. 6 emergency crews vented from the burning tankers thousands of gallons of phosgene and hydrogen chloride gas. These gasses were once used as weapons of mass destruction in the battlefields of Europe during the First World War.
Initial reports on local news and social media show dead wildlife and livestock in the area of the wreck. Other cars were known to be carrying vinyl chloride, a potent carcinogen with effects on liver health that may not manifest for years. These lethal gasses are now dispersing across an area at least two miles in radius with unknown consequences to local residents.
Ohio Gov. Mike DeWine offered advice to residents in the area of the wreck, "You need to leave, you just need to leave. This is a matter of life and death."
It's also a matter of catering to corporate greed. The disaster in East Palestine is the direct consequence of this private control of essential transportation infrastructure and the subsequent profit-seeking behavior of its ownership class.
Under current federal safety regulations, weakened as a result of intensive industry lobbying, the 9,300-foot-long Norfolk Southern train that crashed in East Palestine was not considered a high-hazard flammable safety concern prior to the crash.
Initial reports suggest the derailment may have been caused by overheated wheel bearings, an accident facilitated by the shameless profit-seeking behavior of the national railroad cartel. Norfolk Southern, the company responsible for the wreck in East Palestine, has frequently underfunded track maintenance.
Norfolk Southern's 2021 annual report to shareholders shows the company invested $250 million in track maintenance, a decrease of 9% from the previous year, and installed 458 miles of new track along its total operating length of 35,300 miles.
The average age of Norfolk Southern's locomotive fleet is nearly 27 years, exceeding the industry standard of 15-25 years. The risks of train derailment were apparently well understood within the highest levels of the company, as stated in the annual report: "Transportation of certain hazardous materials could create catastrophic losses in terms of personal injury and property (including environmental) damage and compromise critical parts of our rail network."
All-time record profits
Yet Norfolk Southern reported all-time record profits of $12.7 billion in 2022.
Along with cost reductions from reduced track maintenance, Norfolk Southern maximized profits for its owners by pursuing relentless overwork and understaffing among railroad workers while refusing any concession to the railroad unions.
And following an industry-wide trend, Precision Scheduled Railroading (PSR), developed by the hedge fund financiers of the nation's railroads and implemented through Trump-era changes in regulations, Norfolk Southern increased the number of freight cars per train.
This train had 150 cars—and the heavy oil-laden tank cars were at the rear, with lighter cars between them and the three engines. That's because PSR determined which cars were placed where on the train. But the result was the cars in between crumpled on the downhill slope and jumped the tracks.
Norfolk Southern, again catering to Wall Street, has cut nearly 4,000 workers since 2019. That's a trend throughout the industry starting in 2015. The remaining railroad workers have been forced to accept long working hours and chronic fatigue as the new baseline under these PSR policies. For investors, this brutal policy of understaffing and pushing rail systems past their safe limits has enabled consistent increases in annual profits despite a nationwide decline in rail freight tonnage.
A review of the company's highly paid board of directors shows extensive ties to finance capital with executives holding previous or concurrent positions within the real estate industry (Mesa Capital), Big Pharmaceutical (Eli Lilly and Co.), fossil fuels (Marathon Oil Corp., Arch Coal), defense (Northrop Grumman Corp.), and finance (Morgan Stanley Bank).
The evacuation order was lifted late in the evening of Feb. 7, with officials from the Ohio Department of Health and U.S. Environmental Protection Agency insisting that data collected from air monitoring studies was "unconcerning." A broadcast reporter was arrested while doing a stand-up during DeWine's remarks at the news conference announcing the end of the evacuation order. The reporter was charged with disorderly conduct and criminal trespassing and held overnight in the local jail.
Again, Norfolk Southern's own words to shareholders make the position of owners clear: "Future national labor agreements, or renegotiation of labor agreements or provisions of labor agreements, could significantly increase our costs for health care, wages, and other benefits." This hostility to the provision of even basic health care and paid time off is remarkable given that Norfolk Southern railroad workers moved an average of 9.7 million paid ton miles of freight each in 2021 alone.
Frustration among railroad workers with the greed of the corporate owners nearly culminated in a nationwide railroad strike in the fall of 2022 before President Joe Biden and the Democratic-run Congress sided with railroad executives and finance capital by signing legislation to prevent the strike.
The fight by railroad workers continues. Last year, Railroad Workers United (RWU), a coalition of rank-and-file rail workers spanning all rail crafts, officially adopted a position calling for "the public ownership of the rail infrastructure of the US, Canada, and Mexico, to be operated henceforth in the public interest, placed at the service of the people of all three nations."
And in a clear sign of a worker-led push to advance the struggle, rank-and-file members of the Brotherhood of Locomotive Engineers and Trainmen, who voted 99.5% in favor of last year's strike, ousted their longtime president in favor of a fellow engineer after the former union president supported Biden's forced contract.
The only acceptable course of action in East Palestine is the timely restitution of all damages, the adoption of fair wages and safe working conditions for all railroad workers, and environmental restoration and protection in all affected areas.