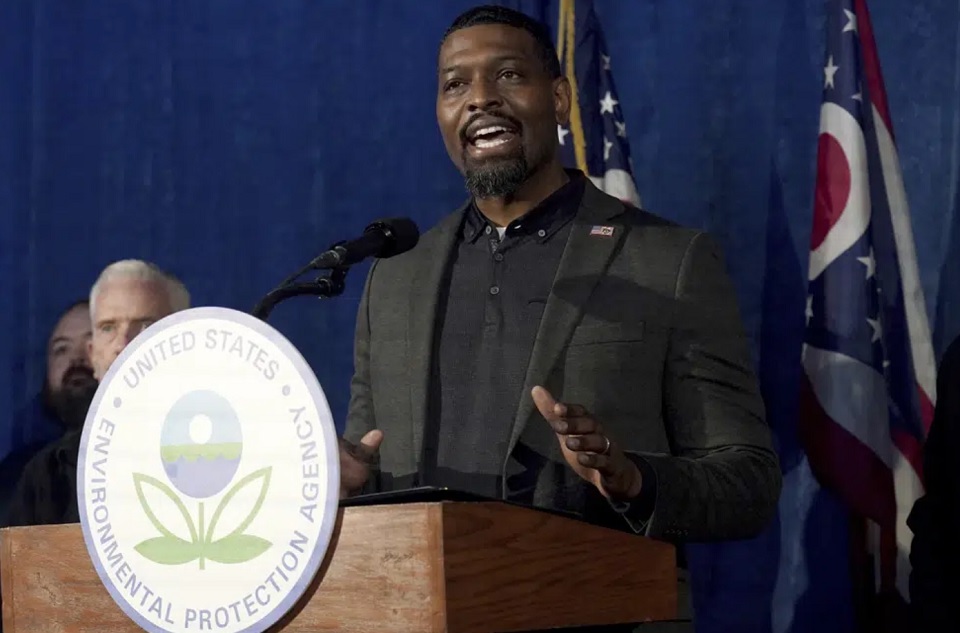 EAST PALESTINE, Ohio—The growing uproar over the massive chemical contamination of the air and water from the Norfolk Southern freight train wreck in East Palestine, Ohio, shows—once again—the need to nationalize the railroads and run them in the public good, not for profits, Railroad Workers United says.
And now they're joined by the United Electrical Workers and the Northern Nevada Central Labor Council—whose region includes major east-west rail lines to and from the San Francisco Bay area.
Meanwhile, Environmental Protection Agency Administrator Michael Regan ordered Norfolk Southern to clean up the whole mess at its own expense. If it didn't, he added, EPA would—and charge the freight railroad triple the cost.
"Norfolk Southern will pay for cleaning up the mess that they created and the trauma that they inflicted on this community," Regan told a Feb. 21 press conference in East Palestine.
"Locomotive, rail car, and infrastructure maintenance have been cut back" by the nation's freight railroads," says RWU, a top organization of rank-and-file railroaders cutting across all rail crafts. "Health and safety have been put at risk. Morale is at an all-time low. The debacle in national contract bargaining last fall saw the carriers–after decades of record profits–refusing to make even the slightest concessions to the workers who have made them their riches.
"Since the North American private rail industry has shown itself incapable of doing the job, it is time for this invaluable transportation infrastructure–like the other transport modes–to be brought under public ownership."
"It is time once again," as it was during World War I, "to put an end to the profiteering, pillaging, and irresponsibility of the Class I carriers. Railroad workers are in a historic position to take the lead and push for a new fresh beginning for a vibrant and expanding, innovative, and creative national rail industry to safely, efficiently, and properly handle freight and passengers.
"Please join us in this historic endeavor," RWU asked other unions, environmentalists, civil rights groups, and concerned citizens—including those concerned about global warming. RWU provided an online link to their resolution explaining why railroads must be nationalized and their petition to do so, available HERE.
The new push for nationalizing the railroads, a drive RWU started last fall, comes amidst new developments in the saga following the Feb. 3 wreck, which contaminated at least 15,000 pounds of soil and 1.1 million gallons of water, according to Norfolk Southern. They include:
The first rail union president to speak out about the crash, Eddie Hall of the Brotherhood of Locomotive Engineers and Trainmen/Teamsters, laid some blame for the wreck on freight railroads' operating systems, called Precision Scheduled Railroading (PSR).
PSR lets freight railroads cut thousands of workers who could have prevented the disaster through tougher inspections and flagging flaws in advance. It also lets the freights put the heavy tank cars at the rear of the 150-car 9,300-foot train, where they crunched lighter cars, including the one whose axle failed and caught fire, throwing it and the others off the tracks.
Pushed dangerous plans
"Rather than properly staffing trains, railroad CEOs have pushed for a transition from two-person crews to one and to even use remotely-operated trains. This is a mistake. Incidents, like the one we just witnessed in Ohio, would likely have been far worse if there had been only one crewmember present," said Hall. "The 'S' in PSR is not about safety…It (PSR) needs to be eliminated or reformed."
The National Transportation Safety Board, the government's official investigator of the causes of air crashes, rail wrecks, and the like, said it's beginning its own probe of the East Palestine disaster. The law lets it name a representative of workers to accompany the investigating team, and it did: The Locomotive Engineers and Trainmen.
The law also bars such accompanying representatives "from speculating about the possible causes of the accident," BLE&T admitted—thus virtually shutting Hall up. His union has half of the nation's 115,000 unionized railroaders. The other Teamsters rail sector union, the Maintenance of the Way Employees, has yet to comment on the East Palestine wreck.
At the East Palestine press conference, Gov. Josh Shapiro, D-Pa., said he told his successor as state Attorney General to pursue suing the railroad for environmental damage and the public health threat. Gov. Mike DeWine, R-Ohio, said his state "would do whatever it takes" to hold the railroad accountable. State environmental officials later "made a criminal referral" against the railroad to the AG's office, CNN reported.
Following days of flak from the Twitterverse, featuring many calls that he quit or be fired for inaction, federal Transportation Secretary Pete Buttigieg announced moves by DOT, whose Federal Railroad Administration is supposed to regulate rail safety. Much of the Twitter criticism of Buttigieg so far has charged he's rolled over to industry lobbying.
Buttigieg has yet to go to East Palestine, a 4,700-person town close to the Ohio-Pennsylvania border and north of the point where the Ohio River divides that state from the tip of West Virginia. He says he will when probes are done and he can announce concrete action.
But Buttigieg demanded tank car owners speed up deploying safer and stronger cars, which they previously promised. He also demanded rail firms offer paid sick leave to all their workers. They adamantly refused to do so in the recent contract they got Congress to impose. The Biden administration, which includes Buttigieg, pushed the pact.
Buttigieg will speed up approval of a DOT rule mandating two-person crews on all freight and passenger trains. Those rules have been pending for almost a year. Over strong worker protests and rail unions' lobbying, the railroads have lobbied for years for one worker per train or, in some cases, none. They've also lobbied for replacing human rail inspectors with machines. Buttigieg told them to stop resisting safety improvements.
And Buttigieg will ask lawmakers to increase the fines DOT can impose on railroads for breaking safety rules and to stop the railroads from disciplining whistleblowers. The current maximum fine is $225,455.
Though Buttigieg didn't say so, one reason Norfolk Southern's East Palestine wreck didn't immediately kill anyone was because its three crew members were able to detach the freight train's locomotives from the rest of the cars, preventing a much-worse blast and fire.
"Secretary Buttigieg is correct in saying, 'Profit and expediency must never outweigh the safety of the American people,'" said BLE&T's Hall. "However, he didn't say anything specifically about 'PSR," the operating model adopted by the nation's largest railroads designed to cut corners and boost profits. I assure you the 'S' in PSR is not about safety. Precision Scheduled Railroading…in itself is an oxymoron."
People's World has an enormous challenge ahead of it—to raise $200,000 from readers and supporters in 2023, including $125,000 during the Fund Drive, which runs from Feb. 1 to May 1.

Please donate to help People's World reach our $200,000 goal. We appreciate whatever you can donate: $5, $10, $25, $50, $100, or more.