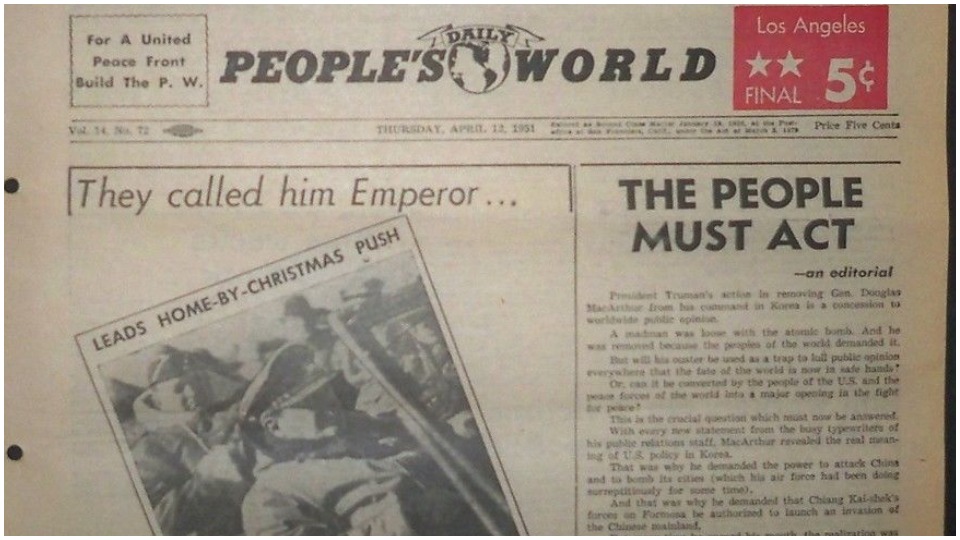 I grew up on the DAILY People's World. In fact, I learned to read while sitting in my grandfather's lap listening to him read the evening news from People's World (no TV in those days).
Al Richmond, Adam Lapin, Lee Coe, and a slew of other PW personalities often sat around our dinner table in Oakland as we planned fund-raising and "awareness-raising" events in the San Francisco Bay area in the 1940s and 50s.
I remember PW even had a Sports page back then. That's where I first read about black ballplayers like Artie Wilson, Luke Easter, Larry Doby, and others.
Grampa always wrote checks to People's World, and because he had a political "machine" of his own, he'd bring a carload of Yiddish-speaking socialists to events and meetings in the LA or SF area (wherever he was living at the time).
Why am I writing to you? Because I was just reading a play review by Ed Rampell, and I looked up his bio…and, apparently, he writes for you! I had not heard any mention of PW in over 50 years! Not since the print paper closed up in the SF Bay Area so long ago. Though, I do recall that a boyhood friend of mine (Conn "Ringo" Hallinan) was for a time was associated with the PW.
Ah, the good old days…
Brian Flaherty
California
Editor's Note: Brian will be glad to know that PW once again has a Sports page, that Ed Rampell's reviews appear regularly, and that his boyhood friend Conn "Ringo" Hallinan is still sharing his foreign policy expertise with readers. If you appreciate the content you find in People's World, why not write out a check like Brian's Grampa always did? Join the People's World Sustainer Campaign today.