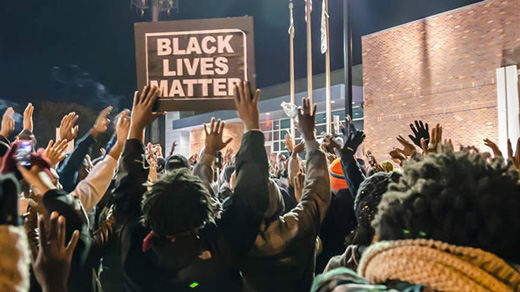 "Who are we? Mike Brown!" "Who are we? Mike Brown!"
"Hands up! Don't shoot! Hands up! Don't shoot!"
"We're young. We're strong. We're marching all night long!"
These are some of the chants I heard on the night of August 19, 2014, ten days after 18-year-old Ferguson resident Mike Brown was shot to death by police officer Darren Wilson. I was in Ferguson that evening to cover the mass protests for People's World.
Seeing the news this week that the Ferguson City Council has finally, after much legal pressure, voted to accept all the terms of the Justice Department's consent decree, I was reminded of those scenes from over a year and a half ago.
With the unanimous 6-0 vote, the city now begins the long and costly process of implementing sweeping reforms to its criminal justice system. If the changes eventually result in setting a national model for criminal justice reform, as some believe they may, we will all owe a debt of gratitude those who took to the streets of Ferguson during those warm August nights.
I count myself lucky to have been there to bear witness to the birth of their movement – a movement of teachers, fast food workers, nurses, students, fathers, mothers, veterans, restaurant owners – of working people, of black young people, who in their protests for justice for Mike Brown created a way to honor the victims of police crimes.
They stood up and in a simple act, spoke his name – Mike Brown.
Others have since stood up and spoken Tamir Rice's name, Rekia Boyd's name, Eric Garner's name, Sandra Bland's name, LaQuan McDonald's name, and far too many more.
That movement finally took the name Black Lives Matter, a spinoff of a hashtag used to honor Trayvon Martin. A new generation found their voice and power.
As it turned out, August 19 was the first night after nine days of protest that police did not use tear gas. They didn't hesitate to continue their reliance on pepper spray, though. Mass and often arbitrary arrests also carried on.
The national guard had been deployed for a week. Military vehicles were parked in the shadows of Auto Zone on West Florissant Avenue. As we left our car in the StopNShop parking lot, we made our way past police barricades, past the Hunan Chop Suey restaurant with its boarded up windows that had the word "Open" spray painted on them, past a delivery truck with "No Shoot, No Loot" written in tape on its sides, past Sam's meat market and liquor store with its police-edited security video that made it look like Mike Brown had stolen cigars.
Eventually, we made our way to Canfield Road, the same street where Mike Brown was shot and killed. A block and half away were the still visible stains from the teenager's blood, a grim memorial that seeped into the road like that August seeped into the consciousness of America.
Up and down West Florissant Avenue, a commercial street like any other in cities across America, dotted with fast food restaurants, convenience stores and small businesses, marched protesters – three blocks long – they marched up one side, on the sidewalks, and down the other side chanting, "Hands up, Don't shoot," carrying signs with Mike Brown's photo, wearing t-shirts that said, "Don't Kill Us." Marching past a carnival like Peace Train playing Marvin Gaye. Marching past police that congregated off to the side with their nightsticks and shields, military-style weapons still in the shadows.
I talked to many protesters that night, trying to get their stories out to the wider world. By then the corporate-run media would pair the word "violent" with the word "protests." But what I saw that night were people pridefully and nonviolently standing up for themselves and for Mike Brown.
There were four young fast food workers who weeks before had been organizing at the McDonald's on West Florissant for $15 an hour and a union. They were in the parking lot armed – not with weapons – but spray bottles with a cloudy mixture of water and milk of magnesia to wash peoples eyes if tear-gassed. These young workers, who had cut their teeth with a new kind of labor movement, were fearless and savvy as they joined their efforts with this new civil rights movement.
There were parents, fathers and mothers with their sons and daughters, who had stories of their own police harassment, being pulled over for no reason, being told they can't congregate in front of their own house. Instead of giving their kids what's often called "the talk," that night they were showing how to "talk," how to speak up. How to be – as Kendrick Lamar says – "alright."
Protesters were frustrated with the media not recognizing that the demonstrations were peaceful and not recognizing the police role in instigating violence. As one young mother, a nurse, and her husband, a teacher, put it: the police "initiated" the violence but the media "flip flops it," blaming the protesters instead.
She said, "We have a right to stand and march wherever we want."
The protesters weren't only demonstrating for justice for Mike Brown or taking a stand against police crimes. They were fighting for their constitutional rights – freedom of speech, freedom of assembly.
The people of Ferguson – brown, black and white – rallied together in other ways, too. Teachers volunteering to lead classes in spaces provided by the public library while the schools were shut down. Churches offering spaces for protesters and classes. Unions providing food and water for the activists.
People held vigils outside the Ferguson Police Department on the other side of town from where Mike Brown was killed. A business owner from an adjoining strip mall offered a section of his parking lot to the picketers. Protests and solidarity took many forms in Ferguson, as it has in other towns and cities. It's created a new awareness about racism as a system, its expressions towards all people of color, and of everyone's stake – white, black, and brown – in ending it.
This article is based on remarks delivered by People's World Associate Editor Teresa Albano at a forum held February 25 at Northeastern Illinois University in Chicago. It was organized by the NEIU Muslim Student Association, the African-American Resource Center, and the Departments of English and Justice Studies.
Photo: CoopEcon