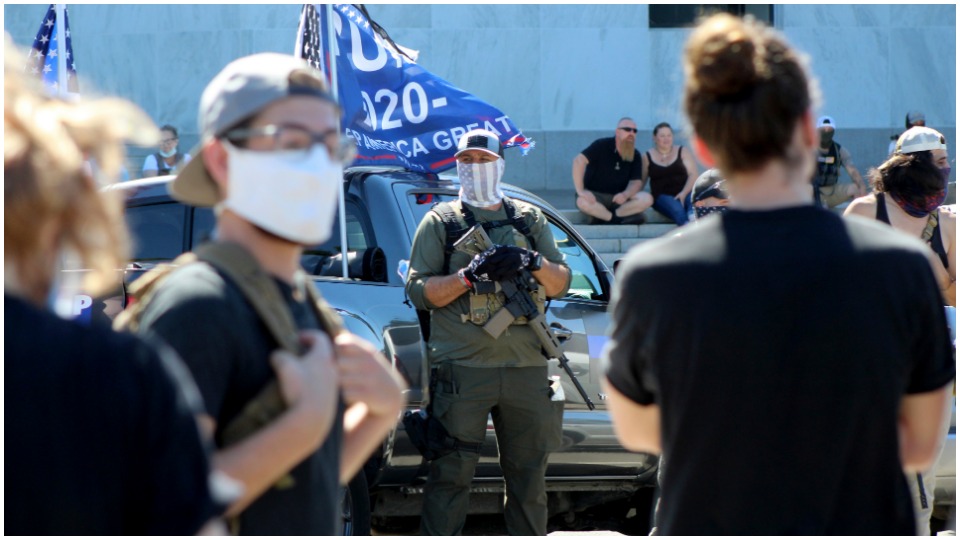 WASHINGTON—They call themselves "The Army For Trump." Their head, at least on their website, is the Oval Office occupant's son, Don Jr. And, thanks to the words—lies—from his dad about ejected "poll-watchers" in Philadelphia, their objective is clear: Electoral intimidation and, if that fails, turmoil and havoc.
"Defend your ballot!" their website blares. "We need every able-bodied man and woman to join Army For Trump's election security operation. We need you to help us watch them." No identification of "them" is given, but the racist dog-whistle is obvious.
The website and accompanying army tweets and Facebook posts "are clear calls for confrontation/intimidation at the polls," New York Times op-ed columnist Charlie Wurzel tweeted in response. And the army's later posting makes it clear intimidation and repression will continue after balloting ends on Nov. 3, extending to vote counting sites and beyond.
Physical interference from Trumpites—such as the group arrested Oct. 8 for planning to kidnap Gov. Gretchen Whitmer, D-Mich., and try her for "treason"—is just one threat to a clean election this year. And all those threats come from the GOP side of the spectrum. "When they [leaders] stoke and contribute to hate speech, they are complicit," Whitmer commented after the plot against her was foiled.
Add lawsuits to restrict who can vote. Add GOP governors mandating one ballot drop box per county in states like Texas, which has 254 counties, many of them large and rural. Throw in misinformation, intimidation, and disinformation directed at people of color, foreign interference via social media, and resurrection of Jim Crow-like anti-Black voting laws.
Not to mention Donald Trump's Postmaster General, big Republican donor Louis DeJoy, ordering the disassembly and destruction of 671 mail sorting machines designed to handle ballot-size return envelopes, along with restricting mail deliveries, cutting carrier hours, and yanking the U.S. Postal Service's ubiquitous blue mailboxes out of Democratic central cities.
Combine all that with Trump's own lies that mail-in voting equals non-existent fraud, and together, you have a voting rights crisis in the run-up to Election Day, Nov. 3.
"In the near term, things could get a little rocky," election integrity expert Matt Bennett told the pro-Democratic group newNewDeal in a Zoom session on the issue on Oct. 7.
That's putting it mildly. What could happen as Inauguration Day nears and the election's still up in the air? "Mayhem," Bennett replies.
Trump "is beginning to give up on the proposition that he can swing enough [popular] votes" in key states to win the election, Bennett adds. "So he wants to make sure not all the votes are counted or that not all who want to vote can do so."
The threat to democracy:

It's time to listen to Donald Trump

Trump admits crippling Postal Service to sabotage 2020 election

GOP voter suppression efforts pop up in Texas, Indiana, North Carolina courts
Trump, the White House occupant, not his son, is leading the charge. He wants 50,000 "poll watchers" for that army his son heads. And his campaign joined with Republican Party organizations heading to courts or legislatures in state after state to try to suppress the vote. Sometimes they've been successful. Pennsylvania is Exhibit A.
The Keystone State's 20 electoral votes may be the key to the presidential election. A classic swing state, Pennsylvania is often described as "Philadelphia, Pittsburgh, and Alabama in between," referring to the hard-right votes in the broad swath of rural counties in between the two heavily Democratic cities. They outvoted Philly and Pittsburgh in 2016; Trump won the state.
But Democratic presidential nominee Joe Biden, a Delaware resident but a Scranton, Pa., coal-country native, has made enough inroads that he leads Trump by seven percentage points in the average of Pennsylvania polls, 50.9%-43.9%, FiveThirtyEight.com reports. That's ten times Biden's narrowest lead, 0.7% on April 12. Trump has never led in the poll averages.
So the GOP-run legislature planned a so-called "Election Integrity Commission," empowered to impound ballots and do anything else it deems would produce a "fair" result. Since the panel was to have been heavily Republican, its fair result would have been a partisan one, for Trump.
But a dozen GOP state reps drew so much flak for the idea that they withdrew their support, depriving the measure of a majority. State legislative leaders had to drop the idea.
Meanwhile, the ACLU, the NAACP, the Brennan Center for Law and Justice, the Lawyers Committee, the Leadership Conference for Civil Rights, Common Cause, and labor unions are all marshaling members—at the polls and in court—against the GOP onslaught. The Biden campaign budgeted millions of dollars and recruited hundreds of lawyers to protect voters, too.
So is the AFL-CIO. It hosts a complete website on voting: WorkersFirstVoteUnion.org. And in Texas, where Trump's poll lead in the FiveThirtyEight.com averages is down to 1.1%, state federation President Rick Levy, a CWA member, said unionists will overcome right-wing Trumpite GOP Gov. Greg Abbott's ballot-box bans.
"All that working families need to know about our power to change Texas at the polls is the attempt by Abbott to rig his own rules at the 11th hour to suppress the vote. Poll after poll shows Republicans losing their decades-old grip on power. Abbott's desperate" one box per county "order must not stand, and working families will not stand for it."
"In the most important election of our lives, working families will vote in record numbers no matter what Abbott says or does," Levy said. The Texas NAACP and the Lawyers Committee for Civil Rights also sued to stop Abbott's scheme.
But it'll take more than just voting to overcome the Trump-GOP coordinated campaign to suppress the vote. Texas, again, shows that: A federal judge just stopped Harris County (Houston) from distributing absentee ballot applications—not the ballots themselves—to all of its two million voters.
To prepare voters to battle intimidation, Georgetown University Law Center created 50 state-specific fact sheets on what to do if voters encounter illegal militias—like Trump's "army."
"A private militia engages in law enforcement activities without [official] authorization," the law center warns. "Their members are often armed and wearing uniforms or identifying insignias, and they often believe they have legal authority to protect property or control crowds. But no private militia has that authority."
Common Cause is signing up election protection volunteers to monitor potential intimidation at the polls, aid voters, and report offenders. It and other groups set up three toll-free voter help hotlines: 866-OUR-VOTE for English-speakers, 888-VE-Y-VOTA for Spanish-speakers, and 888-API-VOTE for voters of Asian and Pacific descent.
Common Cause's petition is at ProtectTheVote.org, but in more GOP subversion, the party established its own website to recruit "volunteers" and named it ProtectTheVote.com. And in three rural GOP-run California counties, the party erected its own "ballot collection" boxes. The California Secretary of State stopped that brainstorm.
"Generally speaking, if you observe or experience any kind of disruption in or near a polling place, act quickly but calmly to report the situation," Common Cause advised. "Do not confront anyone who is engaging in actions that may be intimidating to voters."
"Instead, report the issue to election officials at the polling place, and call it in to one of our voter protection hotlines. Only call law enforcement if you believe it is absolutely necessary to ensure your safety or the safety of someone else."
The groups also chalked up legal wins against GOP voter repression. The ACLU got Mississippi to amend its law so someone quarantined by the coronavirus has a qualifying disability that allows an absentee ballot. ACLU's filing pushed Kentucky to drop "onerous" photo ID requirements that would have forced votes in person, despite the health hazard.
"People died for our right to vote and it is good to know that in 2020 no voter has to risk their life to cast their vote," said Louisville Urban League Executive Director Sadiqa Reynolds.
But those same groups lost a federal case challenging North Carolina's rule that an absentee voter needs a witness for a ballot application. Bringing in a witness increases the coronavirus health risk, especially for voters of color. And Tennessee, which had the lowest voter participation in the U.S. in 2018, erected more barriers, the Leadership Conference said.
The groups won a witness ban case in Alaska, and that could affect two statewide congressional races. "There are many Alaskan voters burdened by the witness requirement. Thankfully, they won't have to put themselves at risk this year," said attorney Natalie Landreth of the Native American Rights Fund. Some 15.6% of Alaskans are Native Americans. Alaska is also one of the most-unionized states.
For the first time in years, Alaskan races are close. The only recent polls show anti-worker GOP Sen. Dan Sullivan leads challenger Dr. Dan Gross (D), 47%-44%. Lifetime, Sullivan has backed workers on 13% of votes. And In her second run against him, Democratic challenger Alyse Galvin leads veteran, and irascible, GOP Rep. Don Young, 48%-46%. Both races are within the margin of error.
RESOURCES TO DEFEND THE VOTE:

AFL-CIO:  WorkersFirstVoteUnion.org

Georgetown University Law Center:  What to do if you encounter Trump voter intimidation militias

Common Cause: Voter Help Hotlines
Al Neal contributed material for this story.
---
Like free stuff? So do we. Here at People's World, we believe strongly in the mission of keeping the labor and democratic movements informed so they are prepared for the struggle. But we need your help. While our content is free for readers (something we are proud of) it takes money — a lot of it — to produce and cover the stories you see in our pages. Only you, our readers and supporters, can keep us going. Only you can make sure we keep the news that matters free of paywalls and advertisements. If you enjoy reading People's World and the stories we bring you, support our work by becoming a $5 monthly sustainer today.