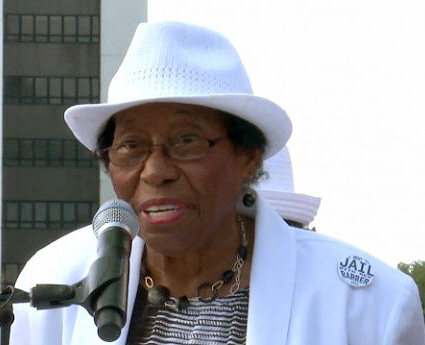 RALEIGH, N.C. – Less than an hour after North Carolina's Republican governor Pat McCrory signed the nation's most draconian voter ID measure into law yesterday, Rosanell Eaton , a 92-year-old African-American who has voted for 70 years sued the state for violating her constitutional rights.
The bill the governor signed requires voters to present a government-issued ID, cuts early voting days — including the Sunday before Election Day when 80 percent of the African American vote traditionally turns out, ends same-day registration, ends "straight-ticket" party voting, cuts most students off the rolls and gives poll watchers almost unlimited power to challenge voters.
The lawsuit, officially filed by the NAACP, says, "Mrs. Eaton, who was born at home, has a current North Carolina driver's license but the name on her birth certificate does not match the name on her driver's license or the name on her voter registration card. Mrs. Eaton will incur substantial time and expense to correct her identification documents to match the voter registration record in order to meet the new requirements."
North Carolina is the first state to adopt a discriminatory voting law since the Supreme Court struck down the key parts of the Voting Rights Act in June.
By signing the new law, the Republican governor essentially replaced one of the best voting laws in the country with one that is arguably now the worst. The law he replaced is credited with having encouraged huge voter turnouts in the last two presidential elections.
Advancement Project Director Penda Hair said yesterday that the new policies "harken back to the days of Jim Crow,"
The American Civil Liberties Union, the ACLU of North Carolina Legal Foundation and the Southern Coalition for Social Justice filed an additional lawsuit yesterday targeting provisions that suppress early voting, voter registration and "out of precinct" voting.
While the Justice Department has not yet moved on the case, observers believe Attorney General Eric Holder may argue, as he has in the case of the Texas voting law, that the new North Carolina law violates sections of the Voting Rights Act that the Supreme Court did not invalidate.
Photo: Rosanell Eaton