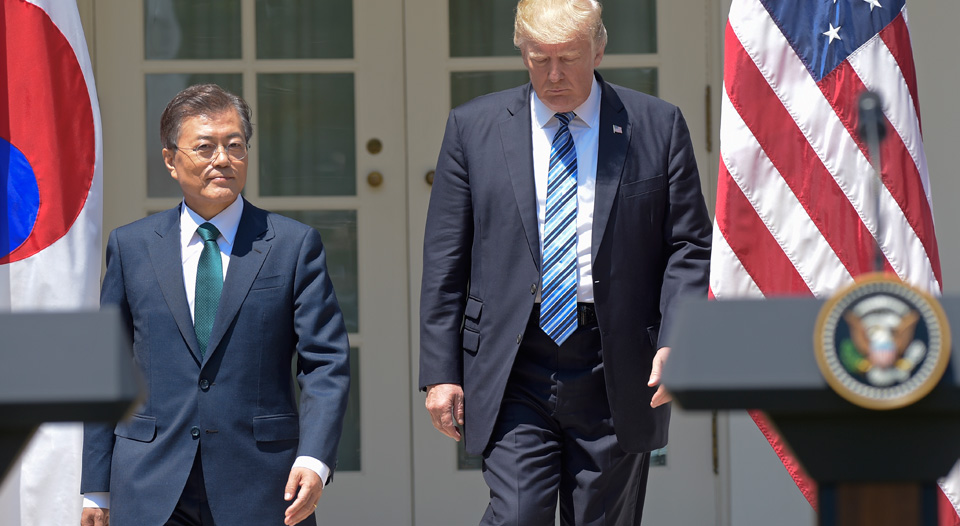 South Korean President Moon Jae-in has signaled his country will no longer stay quiet as tensions escalate between the U.S. and North Korea.
In a forceful speech Aug. 15, Moon asserted the right to veto any military action against Kim Jong Un's government in Pyongyang, saying that decision should be made by "ourselves and not by anyone else."
He vowed to prevent war at any cost—a statement that drew a sharp contrast with President Donald Trump, who has warned of "fire and fury" if North Korea continues to threaten the U.S. The speech was televised on the anniversary of World War II's end and the Korean Peninsula's liberation from Japanese colonial rule.
"Moon's speech speaks to his frustration, and his nation's wider frustration—and that is the perennial problem that they are not masters of their own destiny when it comes to North Korean geopolitics," said Euan Graham, a director at the Lowy Institute for International Policy in Sydney, Australia. "The U.S. now sees itself as the primary concern and the South Koreans as a secondary concern."
Kim was reported to have examined the [North] Korean People's Army (KPA) Strategic Force's plan for "enveloping fire" at Guam and said the U.S. should cease "arrogant provocations," according to the Korean Central News Agency (KCNA), the official media outlet of the North Korea.
U.S. Secretary of State Rex Tillerson, speaking to reporters in Washington, pushed all responsibility for finding a diplomatic solution onto Kim Jong Un. "We continue to be interested in finding a way to get dialogue, but that's up to him," he said.
President Moon, a former human-rights lawyer whose parents left North Korea during the Korean War, took power in May after nine years of conservative rule that ended in an impeachment trial for the ex-president amidst a sprawling corruption scandal.
During the campaign, Moon raised questions about a U.S. missile shield, pushed for dialogue with Kim Jong Un, and sought to mend ties with China, North Korea's main ally and benefactor.
Just a few months later, however, following North Korea's tests of intercontinental ballistic missiles, Moon signaled he was re-considering the missile shield and that he would agree to tighter sanctions against North Korea. Moon's calls for a peace treaty and dialogue have been drowned out by the war of words between Trump and Kim. His approval rating among South Koreans has stayed above 70 percent throughout the current crisis.
The U.S. has almost 30,000 troops in South Korea and protects it with a so-called nuclear umbrella. But North Korea may have little interest in talking to South Korea, in part because Kim Jong Un sees the U.S. and its nuclear capability as a much bigger threat to the continued existence of his government.
Another irritation for President Moon is that the U.S. still calls the shots if hostilities break out, a legacy of the Korean War from the 1950s. While plans to transfer full operational control to South Korea were agreed on in 2005, the transition has been repeatedly delayed. On a visit to the White House in June, Moon and Trump agreed to "expeditiously enable the conditions-based transfer of wartime operational control" of South Korean forces.
Some U.S. officials have signaled that they'd be willing to tolerate "collateral damage" (civilian casualties) in Seoul to protect the American homeland from a nuclear attack. Sen. Lindsey Graham, R.-S.C., told NBC News that Trump told him that "if thousands die, they're going to die over there."
Seoul's 10 million people are within firing range of North Korea's artillery, and would be likely to suffer the brunt of the first retaliatory blows in a U.S. strike.
KCNA reported Aug. 15 that Kim would wait "a little more" before carrying through with a threat to fire four missiles over Japan into waters near Guam, home to a key U.S. military base in the Pacific.
U.S. Defense Secretary Mattis, meanwhile, told reporters at the Pentagon Aug. 14 that any attack on the U.S., including Guam, "could escalate into war very quickly." "If they shoot at the United States, I'm assuming they hit the United States—if they do that, then it's 'game on,'" he said. Asked if he considers Guam part of the U.S., he said, "Yeah, it sure is."
Guam is an unincorporated U.S. territory with 162,000 residents situated in Micronesia in the western Pacific Ocean. The inhabitants of Guam are American citizens by birth. Indigenous Guamanians are the Chamorros, who are most closely related to natives in the Philippines and Taiwan. The Chamorros settled the island approximately 4,000 years ago. Under the Treaty of Paris, ending the Spanish-American War, Spain ceded Guam to the U.S. in December 1898. It is among the seventeen Non-Self-Governing Territories of the United Nations.
Tensions may yet rise again ahead of U.S.-South Korea military drills slated to start Aug. 21. Some 50,000 South Korean soldiers and about 25,000 U.S. troops participated last year over two weeks in the so-called Ulchi Freedom Guardian exercises.
Associated Press and Barbara Russum contributed to this article.