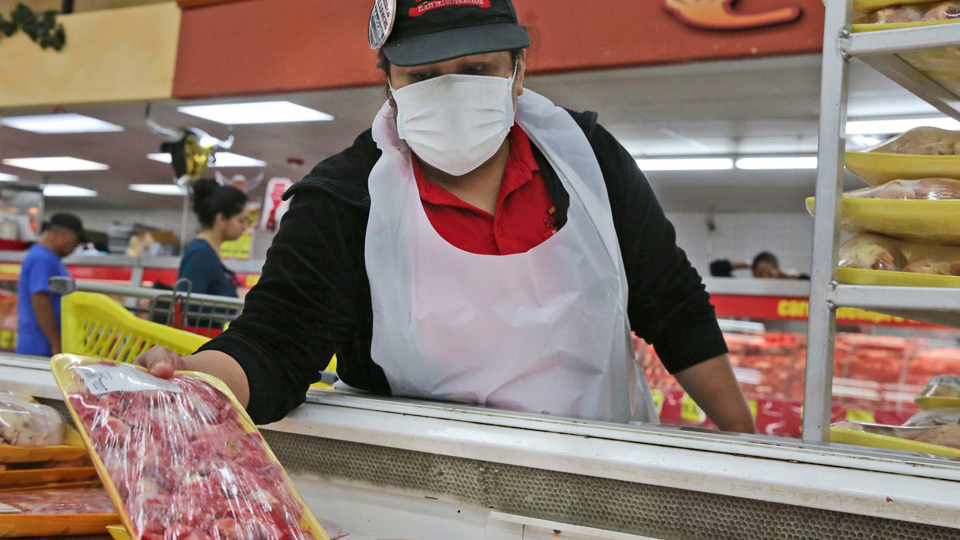 WASHINGTON—Senate Democrats' plans for the next big economic stimulus bill include a big pay hike for frontline workers – nurses, EMTs, grocery workers, sanitation workers, and their colleagues – who put themselves in peril to help battle the coronavirus pandemic.
The legislation, unveiled by Minority Leader Charles Schumer, D-N.Y., and his colleagues, would mandate each worker gets an approximate $13 hourly raise, for – in so many words – hazardous duty pay, retroactive to Jan. 27 and run through the end of the year. Each worker would gross about $25,000 more per year, the senators said.
That includes workers who toil on Native American reservations, said Sen. Tom Udall, D-N.M. It would also include front-line federal workers, such as Department of Veterans Affairs nurses and U.S. Postal Service workers – notably Letter Carriers – whose constant work with the public especially exposes them to the coronavirus threat.
Big firms would be strongly encouraged to pay their workers the extra funds first, before seeking the federal cash. And all firms would have to document who gets the money – by providing payroll records to the government – and "return any unspent funds," a fact sheet on the plan says.
And, sad to say, the minority leader noted, the proposal would include a death benefit for survivors of those workers who died in the line of duty: $25,000, equal to what their extra pay would have been had they survived the year.
The Democrats' April 7 proposal helping workers, not corporations, contrasts with plans the same day by GOP President Donald Trump's regime and its corporate cronies to feed at the trough of the prior $2.2 trillion economic relief measure Congress approved March 18, and grab for more.
Trump arbitrarily fired the acting Defense Department inspector general, who was to chair the oversight board monitoring the prior $500 billion business bailout within that big economic stimulus law. That could remove a big check on the corporate money grab. And last week, the lobby of some of the most notorious corporate raiders, hedge funds, demanded they get a piece of the prior pie, too.
And to top it all off, the same day the Senate Dems rolled out their plan to help workers, Trump Treasury Secretary Steve Mnuchin said he'd seek another $250 billion for "small business" in the next stimulus package.
Hedge funds are notorious for buying companies – notably newspapers – firing workers, cutting staff, selling real estate, shutting the firms and escaping with their ill-gotten gains. They claim they don't have many workers so they're "small." They also claim they've taken a bath as the stock market tanked.
Schumer and his allies want to make sure the frontline workers not only don't take a bath but get rewarded. And the Dems' plan includes $15,000-per-worker incentives to attract new hires, too, in "essential home and health care" occupations, like nurses, which face staff shortages – including shortages due to ill or dying workers. He estimated that would cover some 12 million current workers combined.
"Thousands of workers report to the frontlines of our nation's pandemic response each and every day, placing themselves squarely in harm's way to serve the needs of others," said Schumer.
The proposed "Heroes Fund' would provide premium pay to these essential workers — the doctors and nurses, grocery store workers, transit workers, and more central to fighting this crisis — and would establish an incentive system to retain and recruit the workforce needed for the long months to come."
"Essential frontline workers sacrifice daily for our collective health and well-being, and Senate Democrats are fully committed to supplying these heroes the financial support they deserve," he declared.
But the Dems' plan won't come up for at least a month. Congress is on recess for three weeks, though lawmakers of both parties – and officials at the other end of Pennsylvania Avenue – agree yet another stimulus package will be needed and passed. The question is what will be in it, and who it will help.
Trump himself has talked about including $2 billion for infrastructure, an idea that draws support from building trades unions. But the stumbling block, as usual, is how to pay for the construction, if at all. And progressive groups, including organized labor, are compiling their own lists of needed items – and preparing supporters to lobby by phone, text, e-mail and other electronic and social media for them.
The Democrats' plan is "clear, simple and particularly lifts up those workers making lower wages," Schumer's fact sheet says. It "would give each essential frontline worker $13/hour premium pay on top of regular wages for all hours worked in essential industries through the end of 2020" up to a maximum of $25,000 per frontline worker who earns less than $200,000 yearly and $5,000 for those earning more.
The pay is not just one-shot. It "must be for a specified and clear duration of time to ensure workers can rely on it for their economic security and plan for needs like additional child care," the fact sheet adds.
"Essential frontline workers in New Mexico, Indian Country, and across America are risking their own health to protect ours, to care for our loved ones, and to keep our communities safe and running. We owe these heroes – the health care workers, first responders, law enforcement, grocery clerks, delivery workers, and many others – more than just words of gratitude: we must make sure they are paid what they deserve," Udall said in the senators' electronic transmission.