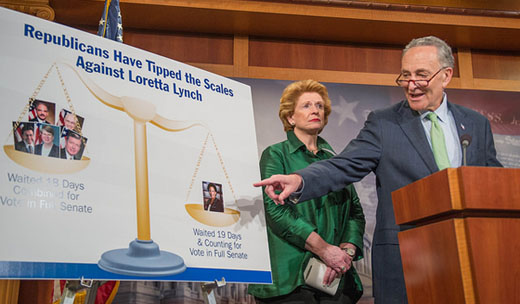 For 130 days now the Republican-dominated Senate has held up the confirmation of Loretta Lynch as U.S. Attorney General. Senate Majority leader Mitch McConnell had promised to bring the nomination to a vote over a month ago. Notwithstanding impeccable credentials and reputation, President Obama's nominee to replace the outgoing Eric Holder has barely the 50 votes needed to allow a tie-breaking vote by Vice President Joe Biden.
A new twist to this sad story of Republican blockage was added by the GOP demand that a separate bill to prevent human trafficking be brought to the Senate floor first. Democrats balked at supporting the legislation after discovering hidden anti-abortion language in the bill.
Race and politics are undeniably additional factors. Republicans don't like Lynch's judicial outlook in general and her support of Obama's executive order on immigration in particular. That the former Brooklyn DA would become the first black woman to hold the position as the national top law enforcement officer is another big reason.
The chairman of the Black Congressional Caucus Rep. G.K. Butterfield, D-N.C., said it plainly:"I think race certainly can be considered a major factor in the delay."
The White House has called the stalling "unconscionable."
Prospective Democratic presidential candidate Hillary Clinton weighed in with a tweet calling the spectacle a Congressional trifecta:" "1) Blocking great nominee, 1st African American woman AG, for longer than any AG in 30 years" Clinton's first tweet read, followed by "2) Playing politics with trafficking victims….3) Threatening women's health & rights."
They are all correct. The GOP is playing a cruel and twisted game. Whether they will be held accountable will depend how an informed electorate responds.
We urge our readers to make your outrage at the GOP delay known. Action will speak much louder than words.
Image: Creative Commons 3.0