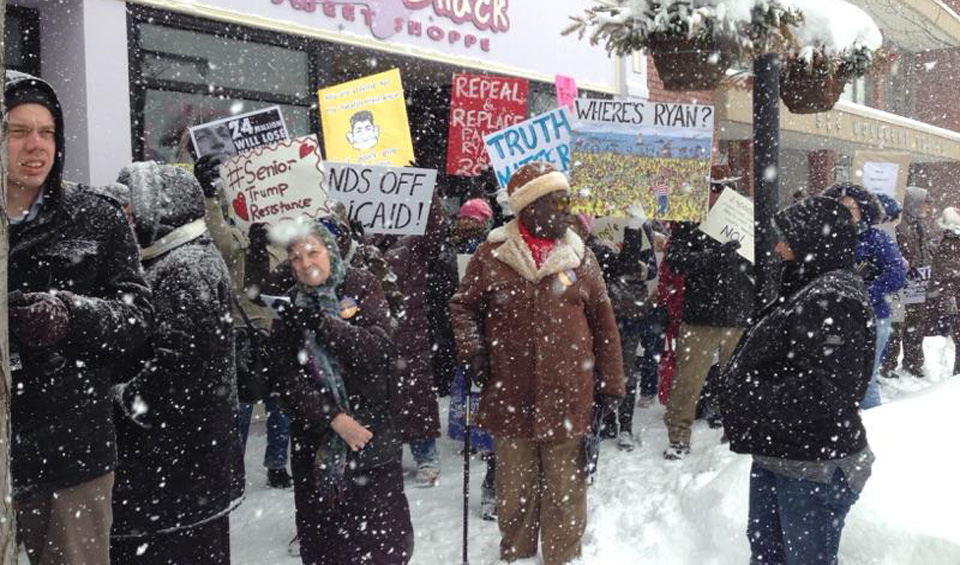 CHICAGO — Busloads of senior activists from Illinois and Wisconsin braved heavy snowstorms to protest at House Speaker Paul Ryan's office in Racine, Wisconsin, on March 14. "Kill your bill before it kills us!" they demanded, just hours after the Congressional Budget Office (CBO) revealed that 24 million people would lose medical coverage within a decade if the Trump-Ryan bill is allowed to pass. Within one year, as many as 14 million would become uninsured under this bill. Those with employment-based health care would also have much to fear. Seven million would lose that coverage by 2026.
The Chicago delegation to the Racine protest left from the offices of Jane Addams Senior Caucus, a grassroots group which was a major organizer of the action. In a statement to the press, Ann Marie Cunningham, a leader of the Caucus, said: "If the Trump/Ryan plan is adopted, the result will be that hundreds of thousands of Illinois children, single adults and families will lose the Medicaid coverage that they currently have in Illinois under the Affordable Care Act a.k.a Obamacare. Ryan gets money from the corporations, from pharmaceutical companies and lobbyists to get elected and push for a so-called 'health plan' that will make great profits for his sponsors but will leave millions without any health care at all. People are going to die from lack of healthcare. That's why we're going to Wisconsin, to tell Ryan that his health care 'plan' is no good and to tell him that Ryan Care has got to go!"
Jane Addams Senior Caucus board member Reggie Griffin added, "We're going to Wisconsin on this very snowy day with a strong message for Speaker Ryan and the Trump administration: Hands off our healthcare! We want Medicare for All!"
In Racine, the strongest testimony against the bill came from protesters whose lives were saved by the Affordable Care Act. They said they would die if the Trump/Ryan bill were passed and cut their Medicaid. One man was only 31 and had suffered from juvenile diabetes. Medicaid paid for the transplant he needed and the expensive drug that kept him going. A mother spoke for her daughter who was able to work and live a normal life with her medication. But the daughter's job paid only $25,000 a year, less than the cost of the med that controlled her epilepsy.
Another protester, Stephanie G. Collins, a retired member of the Chicago Teachers Union, said "the talk of defunding Planned Parenthood Bill is so disrespectful of women. It's a vital health service needed by millions of women. And March is supposed to be Women's History Month!"
Collins is a leader of IARA, the Illinois Alliance for Retired Americans. They work closely with the Illinois Federation of Labor, and also partner with community-based organizations, such as the Jane Addams Senior Caucus. IARA is also reaching out for joint action with young activists.
INTERGEN–New Retiree-Youth Coalition  
As part of the fight to save Affordable Care, the IARA is helping to form INTERGEN, a new intergenerational alliance of retiree and young activists. In the few months since INTERGEN was established, seniors, young workers and students have worked together on common issues including healthcare, support for Fight for 15 and Tuition Free Illinois. For the November 2016 elections, INTERGEN held a well attended press conference to urge early voting. They also organized an Early Voting Rally and took a busload of seniors and young health care workers to an Early Voting Center. On January 15, 2017, five days before Trump was inaugurated, INTERGEN brought seniors and young activists to an overflow rally to Save Our Health Care. Lakesia Collins, president of the Future Fighters, helped coordinate that action.
INTERGEN membership includes the Chicago-Metro Retirees, a chapter of the Illinois Alliance for Retired Americans. The retirees come from labor unions and faith-based and community organizations. Youth activists include members of SEIU Healthcare's Future Fighters, United Steelworkers (USW) Next Gen, Chicago Young Workers, Chicago Student Action and more.  The youth activists are fighting to save Medicare and Social Security because they want to help seniors. But they are also fighting so Medicare and Social Security will be there for them when they need it. In turn, retiree activists are fighting for a Tuition Free Illinois, supporting the Fight for 15 and the right to join a union.
Senior members of INTERGEN have learned much from the young activists. There was a focus on the need for Free Tuition from Chicago Student Action. Fight for $15 an hour is an important issue for SEIU Healthcare's Future Fighters. The Chicago Young Workers are working to build leadership for young workers and build bridges between public and private sector unions.
INTERGEN is also planning an intergenerational retreat in June 2017. This will be a pilot project for the Illinois Alliance for Retired Americans to further promote intergenerational coalition building.
Some years ago, the largely youthful Occupy movement swept the country and before that, the Gray Panther fight for senior rights left a big mark. As Tawanna Ellison, SEIU Future Fighter, said, "Wouldn't it be dynamite if we could unite the energy and the wisdom of those movements?"