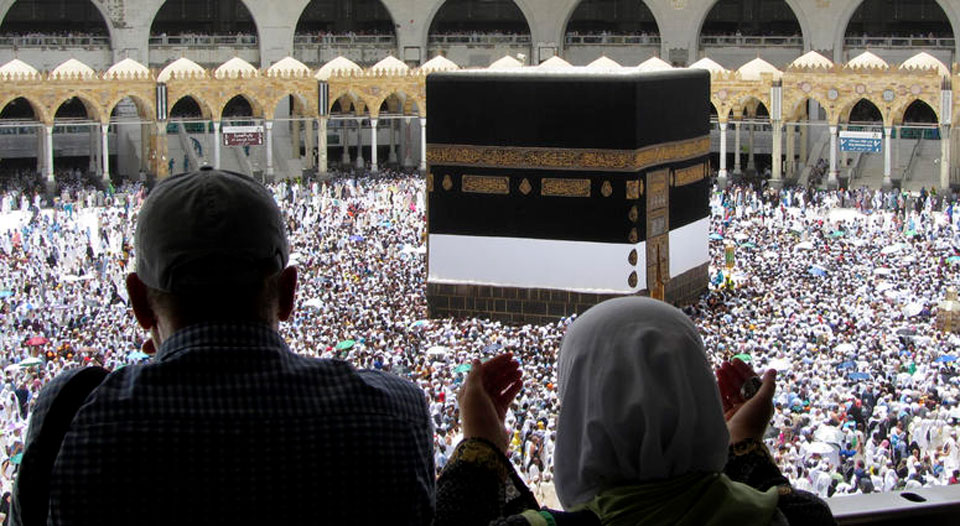 According to their faith of Islam, millions of Muslims around the world head to Saudi Arabia to perform the religious rituals of Pilgrimage (Hajj) and Omrah. It is one of Islam's five cornerstones to perform them at least once in a lifetime — for those who can afford them. Pilgrims for these two rituals bring Saudi Arabia billions of dollars annually.
Oil and religious tourism are the two main resources of Saudi Arabia's national income. Saudi Arabia is one of the top 20 economies in the world (G20), as it has the second-largest petroleum and the fifth-largest proven natural gas reserves.
Should Muslims give up performing their religious rituals and boycott Pilgrimage and Omrah to save their and other innocents' lives? Or is there another solution that allows then to protest Saudi repression and, at the same time, carry out their religious beliefs.
Some people think that pressure for internationalization of holy places unless Al-Saud's ruling regime stops using the money made from Pilgrimage and Omrah to harm Arabs and Muslims in Saudi Arabia and elsewhere, is a solution.
Despite a huge national income, millions of Saudis live in poverty, struggling on the fringes of one of the world's most powerful economies. The numbers of Saudis living in poverty were estimated at 12.7 to 25 percent by a range of sources, including The Guardian, Washington Post, and World Bank.
Official statistics on poverty in Saudi Arabia are not available because the Saudi government imposes a blackout on poverty figures. Saudi Arabia prevents calling attention to or complaining about poverty. In December 2011, the Saudi authorities detained reporters Feros Boqna, Hussam al-Drewesh, and Khaled al-Rasheed after they posted a video claiming that 22 percent of Saudis were considered poor in 2009 and 70 percent of Saudis do not own their own homes.
So, where does all that money go?
A part of Saudi Arabia's income is being spent on developing a few main cities while the rest of the kingdom is neglected. Another part is being invested in other countries especially in the West. The largest part of the Saudi national income is being distributed among the royal family of Al-Saud whose wealth is estimated at $100 billion, 16 times the wealth of the British royal family, which makes them the fourth richest family worldwide. Bloomberg reported.
The extended Al-Saud family is estimated to have 15,000 members, 2,000 of them controlling the majority of Saudi wealth.
In 2013, Forbes magazine estimated that former King Abdullah's personal fortune was $18 billion. Brand Finance estimated the wealth of King Salman bin Abdel-Aziz at $17 billion in 2018, while Bloomberg estimated the wealth of 33-year-old crown prince Mohamed bin Salman at more than $1 billion.
Saudi Vision 2030 is a plan the country has to reduce dependency on oil and diversify economic resources. Mohamed bin Salman has brought in multiple changes, including the raising of prices of gasoline and electricity, introduction of new taxes, and a policy of hiring Saudi workers over foreign workers.
While Saudi citizens suffer in poverty, Al-Saud's spending plans take money from welfare and transfer those funds to support luxury for the royals including private airplanes, palaces at home and abroad, artworks, yachts and more. The New York Times listed some of Bin Salman's properties on which he spent lots of money: $450 million for a painting by Leonardo Da Vinci, $500 million for a yacht, and $300 million for a French palace.
Like his predecessor Al-Saud kings, crown prince Mohamed bin Salman has been spending lots of money to buy legitimacy, support, and protection for his ruling regime from Western countries with the U.S. at the top of the list. He seeks protection against interior and exterior potential opponents or political competitors. In order to guarantee satisfaction and support, bin Salman invests in Western countries' economies, buys huge arsenals of weapons, and makes trade agreements worth billions of dollars. Included in his purchases of protection are huge loans to the likes of President Donald Trump.
In addition to persecuting his opponents, bin Salman has been wasting Saudi money on suppressing the "Arab Spring" developments in Tunisia, Algeria, Libya, Egypt, Sudan, and Syria – the 2011 uprisings in which Arab nations struggled for freedom and democracy. Furthermore, bin Salman is leading a war over Yemen, and rapidly normalized relations with Israel ahead of Palestinian interests. This money usage has led to the death of hundreds of thousands of innocent, mostly Muslim people, in all of those countries, particularly in Yemen.
Sheikh Alsadeq Algheriani, The Grand Mufti of Libya, has advised Muslims not to repeat Pilgrimage or Omrah so as to decrease Saudi Arabia's financial ability to harm innocent Arabs and Muslims. It will be interesting to see if other Muslim leaders, not necessarily because they back the Libyan Grand Mufti but because they agree on the need to pressure the Saudis, join in a movement to boycott the Pilgrimage. There is broad support in the Middle East for those who want to curb the murderous regime in Saudi Arabia.