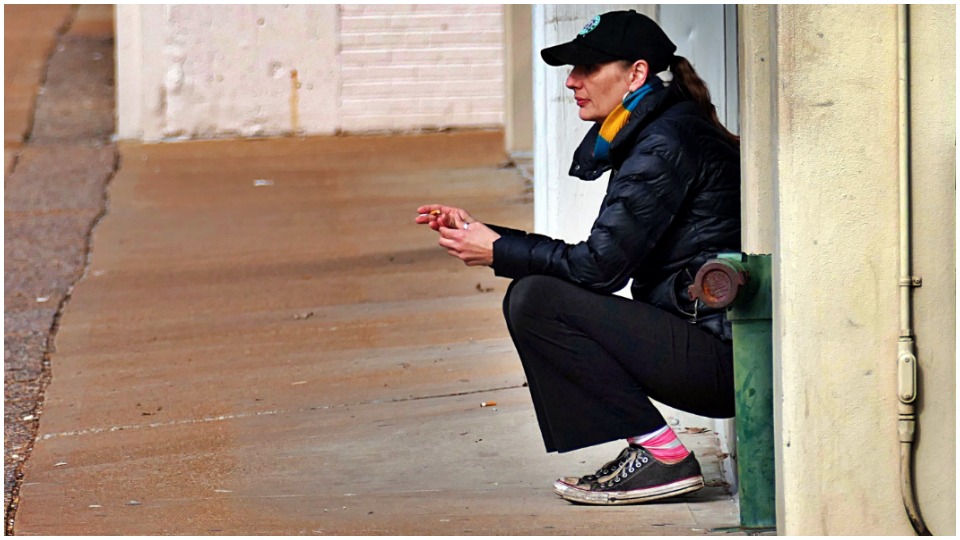 This is the second installment of a two-part series featuring interviews with the workers in the service, health, and other sectors who are still going to their jobs each day during the coronavirus crisis—the ones keeping our society functioning. Part 1 can be read here.
ST. LOUIS—They speak with their eyes. Who are they? The average service sector worker, trying their best to stay calm, to stay strong, and, above all, to keep living during a time of global crisis.
Their inner strength and resolve are beautiful, an inspiring example of humanity. But it is their eyes that betray them. In them, you will find a guarded truth: They're afraid and concerned about what tomorrow will bring.
"What are we supposed to do? Stop working, stop paying bills?" said Brandon, his bravado in the face of the COVID-19 pandemic contradicted by his heavy, dropping eyelids. "Rent will still be due, bills will still get sent out, and there's nothing we can do about it."
With the downtown area of St. Louis almost at a complete standstill—the shelter-in-place recommendation taking full effect—Brandon and his wife were, shall we say, doing something out of place for such unordinary times: setting up their hot dog cart for lunchtime.
"I don't think we'll get too much business," he said. "But there has been a somewhat slow but steady stream of customers…. With most restaurants closing down temporarily, those folks who still have to work downtown need something to eat."
"Aren't you worried about putting yourself at risk for coronavirus?" I asked.
"Nope, don't have time to be worried," he said. "People need to eat, plus after we finish up here, I have to get showered and dressed for my second job."
Brandon's full-time job is driving a Metro bus on the night shift. His family's hot dog cart is secondary income, a bit of spending and saving cash for his kids as they get older.
"I'm not worried about exposure, because I'm sure I'll be exposed," said Brandon. "Last night my bus was full, and while we do our best to stay safe, cleaning and disinfecting the busses every night, we'll never know if the person getting on is sick, and even if they are we can't just leave them. Everyone has to be able to get home from work."
The one thing he is worried about, he told me while laughing, was the weather. With rain in the forecast, the delay in getting his new canvas awning could spell disaster for his cart's dry goods.
We went to shake hands but realized it was a bad idea and opted for the elbow bump as a farewell.
"How do feel about working for Metro during this crisis?" I asked, before stepping off the curb.
"Proud," he said, "because what we do is a public service, and people need it now more than ever."
A particularly vulnerable community
St. Louis, along with most American cities, is now faced with the challenge of caring and providing for its homeless population amid the COVID-19 pandemic. On any given night, there are roughly 5,883 people sleeping in the streets across the state of Missouri. Roughly 1,000 can be found in the city of St. Louis.
Families, veterans, youth, the differently-abled, and those dealing with mental health issues make up a majority of the homeless—victims of a capitalist system that no longer has a need or use for them. Outsourced jobs lead to joblessness, and before you know it a family finds itself without a home.
For veterans, they served their country, gave blood and sweat for the supposed ideals of liberty and democracy. For many, it was also a way to pay for college and earn a degree and life skills. Once ties were cut with their service branch, though, they were largely left to fend for themselves, regardless of what their sacrifice entailed.
Without a proper health care system, others struggling with health challenges are left with few options other than trying to survive in the streets and rely on the occasional kindness of others.
Nationwide statistics from 2018 show the total number of people experiencing homelessness that year was 552,830. What about them?
As public spaces—libraries, parks, cafes—close down to curb COVID-19 spread, homeless individuals who are already at higher risk of disease, find themselves exposed to the elements—and the potential of catching the virus. While some shelters will stay open, it creates questions around how best to enact social distancing procedures and limit contact between people.
Shelters in St. Louis are cutting their housing capacity in half and running with a skeleton crew. The city added ten public handwashing stations in high-traffic areas for those who don't have access to running water.
Will that be enough?
Probably not. And again, we find ourselves taking a hard look at how society functions…or, more aptly put, doesn't function.
Sirens break through the downtown silence. Another call has come in. They've more than tripled since the COVID-19 outbreak.
A homeless individual was not responsive. A local shop, still open, called it in. Paramedics put him on his feet, give him a quick, but thorough check, and tell him to head towards the closest shelter in the hope he can find an open bed.
"How do you do this day in, day out?" I asked one paramedic as I passed by.
"Because it's our duty, and each of us has a personal mission and reason why," she responded.
On any 12-hour shift, paramedics are likely to be called out to over 15 locations. "Domestic violence, gunshot wounds, drug overdoses, you name it we've seen it," she said. "The hard part is when it involves kids."
She shook her head, as many of us do when attempting to regain focus. "This (pandemic) is just something more we will deal with case by case."
She and her partner jumped in their rig and headed off. Their siren sounded again—another call to get to.
As evening comes, sirens can be heard across the entire city. The flashing lights of emergency vehicles are a regular sight in front of homeless shelters and senior care facilities.
Maybe it's the heightened awareness from the pandemic fear, but it seems more and more ambulances and fire trucks are out and about. They've always been there, but how much attention were we paying then?
A short takeaway: As this crisis continues (and it, unfortunately, will with the White House's inept response), let's appreciate and thank the heroes—the grocery store clerks, the emergency responders, nurses, bus drivers, garbage collectors, social services staff, and everyone in between—dedicated to bettering daily life and helping us all make it through this.
Listen to People's World correspondent Al Neal discuss his "Silent Streets" series on Union City Radio's Labor History Podcast.