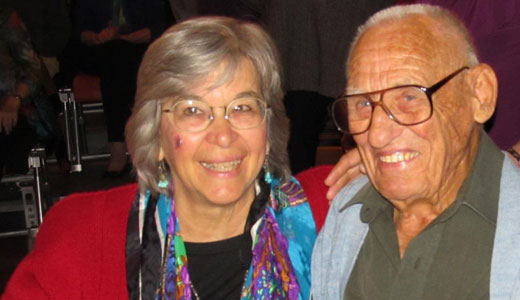 BERKELEY, Calif. – The Spanish Civil War ended over 70 years ago. But families and supporters of the Abraham Lincoln Brigade – Americans who fought alongside Spanish patriots and thousands of international volunteers before finally losing to Spanish fascists in 1939 – have never stopped their fight to end wars and crimes against humanity.
The May 27 celebration of the Brigade's 76th anniversary, by the Abraham Lincoln Brigades Archives (ALBA), honored Delmer Berg of Columbia, Calif., one of the four "Lincoln vets" who remain from some 2,800 who went to Spain.
Berg, now a vigorous 96, continues active in community and senior affairs. "I'm really happy to be among people who are concerned about what's happening now, and what was happening when we were in Spain," he told the audience.
Also honored was Kate Doyle, the National Security Archive's senior analyst of U.S. policy in Latin America and co-recipient of the second annual Award for Human Rights Activism, conferred by ALBA and the Puffin Foundation.
She shares the $100,000 award with Fredy Peccerelli, who heads the Guatemalan Forensic Anthropology Foundation.
The two have worked together for 20 years to expose the evidence of human rights violations in Guatemala during the 1960-1996 "internal conflict," during which an estimated 200,000 people were killed and 40-50,000 people "disappeared" by U.S.-trained government forces.
Doyle told the crowd the award will be used to further their work.
Doyle has researched formerly secret documents from the Pentagon and other national security agencies under the Freedom of Information Act, while Peccerelli has exhumed over a thousand bodies, working to identify victims buried as "XX" or "unknown," gathering evidence for use in court and helping family members gain closure.
Through linking documents and DNA from family members, she said, the researchers have identified five previously unidentified victims and are on the verge of identifying a sixth.
In a conversation after the program, Doyle credited Guatemalan Attorney General Claudia Paz y Paz, appointed in 2010, with permitting "extraordinary work" by evidence gatherers, and "leading the process of turning evidence into trials and convictions."
Among the results, she cited the 2011 conviction of five soldiers in the massacre of 201 people at Dos Erres in December 1982, with each sentenced to over 6,000 years in prison.
Doyle also cited the indictment earlier this year of Gen. José Efraín Rios Montt, who ruled Guatemala for nine months in 1982, the year during which nearly half the conflict's human rights violations occurred. Among other crimes, she said, Rios Montt is linked to orders to massacre Mayan Quiché farmers northwest of Guatemala City, the capital. "This was one of the worst," she said. "Thousands of farmers were killed. It was genocide, a crime against humanity."
Doyle said the work is proceeding through "the commitment of Guatemalans, including the family members of victims. As soon as crimes were committed," she said, "families started mobilizing, even in that climate of fear. They testified in church, and in refugee camps. With persistence and bravery, they insisted on knowing what happened."
The program also featured a multimedia presentation recounting the Spanish Civil War in music, spoken word and contemporary photos. A clip from the 2011 film, Granito: How to Nail a Dictator featured the work of Doyle and Peccerelli.
For over seven decades, Abraham Lincoln Brigade members, their families and supporters have kept up their struggle, from protesting Franco's Spain and serving in World War II to participating in all the peace and civil rights struggles that have followed.
The Abraham Lincoln Brigade Archives maintains a year-round schedule of activities, including seminars for teachers who return to their classrooms and teach about the Spanish Civil War, and a contest for the best student essay on the meaning of that war.
The Human Rights Project, initiated last year, connects the veterans' legacy with today's defense of international human rights.
Photo: Abraham Lincoln Brigade veteran Delmer Berg, with Judy Ann Alberti. Marilyn Bechtel/PW