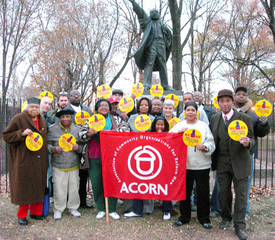 ST. LOUIS — Housing activists, religious leaders and concerned homeowners launched a campaign in this city's 18th Ward on Nov. 28 to stop predatory lenders and "fringe financial institutions" from taking advantage of low-income, working-class families here.
According to the Association of Community Organizations for Reform Now (ACORN), homeowners in St. Louis metropolitan area stand to lose $280 million to foreclosures on their mortgages. African American residents in North St. Louis, some of whom live in the 18th Ward, will likely be hit the hardest by this crisis, as most subprime and adjustable rate mortgages (ARMs) are concentrated in this area.
Nationally, according to a Center for Responsible Lending report, 19 percent of subprime home mortgages, involving nearly 2 million families, are expected to be foreclosed upon in the next 18 months. Homeowners stand to lose the equivalent of about $25 billion.
State Rep. Jamilah Nasheed (D) told the World, "We are in a housing crisis. Families who thought they were going to live the American dream are now stuck in a nightmare." Nasheed's district covers part of the 18th Ward.
According to ACORN, foreclosures increase neighborhood crime, lower property values (for remaining homeowners) and reduce property tax revenue used to provide public services like public schools, law enforcement and road repairs, along with many other social programs.
Jesse Todd, the 18th Ward's committeeman, told the World, "We've seen an increase in vacant properties and homelessness. As people get kicked out, property values decrease and crime increases. This a community issue, not just a issue between banks and borrowers."
While the availability of loans over the past couple of years have made it possible for many working-class families to become homeowners, subprime loans and confusing ARMs are causing an economic crisis.
According to ACORN, lenders and loan services should instead offer fixed-rate 30-to-40 year mortgages, along with streamlined and standardized methods for evaluating and modifying all delinquent loans to maximize prospects for long-term affordability for homeowners. Lenders should also provide increased funding for outreach, education and counseling to borrowers with subprime or ARM mortgages.
A central part of ACORN's efforts revolve around saving communities most affected by the crisis. The group says cities, counties and states should identify at-risk neighborhoods and implement emergency action to prevent foreclosures and economic decline. They should also increase funding to repair vacant and blighted properties and conduct foreclosure prevention educational programs.
Committeeman Todd added, "Wall Street investors and predatory lenders should be investigated and prosecuted" for their recent lending practices. Currently, he said, "we are doing a door-to-door education campaign to educate homeowners and provide assistance. We are also calling for a six-month moratorium on home foreclosures."