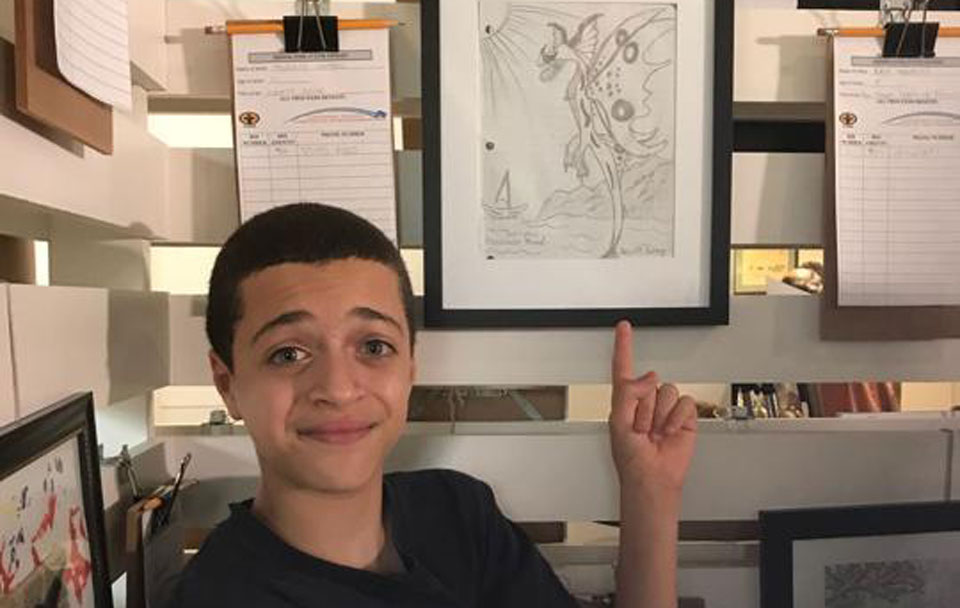 On Sun., July 7, 2019, Egyptian authorities arrested a U.S. citizen, Reem Desoky, and her child, Mustafa Hamed, when they arrived at the airport in Cairo. The mother and her son live in Lancaster, Penn. Reem was sent to jail and Mustafa was given to his uncle Noor Desoky. Reem was arrested over Facebook posts, and her charge is managing an anti-regime page.
Noor Desoky told People's World that Reem was born and raised in Egypt, received a bachelor degree in fine arts, and became a fine arts teacher and a union member. Reem got married to Esam Hamed, her son's father, moved to live with him in the U.S., where she studied Arabic-English translation and became a licensed translator and an American citizen. After she was divorced, Reem married again, to Ahmad Abu Zaid, who moved to the U.S. to live with her. Unfortunately, Abu Zaid mistreated Reem and her son, which led Reem to seek divorce for the wellbeing and safety of herself and Mustafa. Eventually, Abu Zaid was deported from the U.S. to Egypt over legal issues including domestic violence.
As retaliation for speaking out about Reem's situation to the media, Egyptian authorities arrested her brother Noor Desoky while he was trying to obtain permission to visit her in jail. Fearing similar retaliation, the rest of their family are too scared to follow up these two cases—both Reem and Noor.
Reem was scheduled for her first trial on July 31, but there is no information about what happened in court. Egyptian authorities imposed a media blackout on Reem's situation. The U.S. embassy in Cairo has done nothing at all to investigate and protect Reem as an American citizen.
After more than three weeks of being stuck abroad, Reem's son Mustafa sent People's World a video message. He briefly described what happened to him and his mother since they arrived at the Cairo airport. "My mother is a single mother who raises me very well on her own," Mustafa stated in his message. "We were excited to visit Egypt, so we could spend time with her family during the summer break. When we arrived, we were arrested. It was a horrifying experience, and I was so scared. Our phones were taken from us, and I was separated from my mother. For more than three weeks so far, I am no longer able to see my mother. I am going to eighth grade by the end of August, but I am stuck in Egypt. After my mother and uncle were arrested, my mother's family so scared even to request permission to visit them in the jail. They are afraid to end up with what happened to my uncle. I promised my mother not to leave her alone in Egypt. Please help me to get my mother back, and for both of us to come back home to the United States."
It was not only Mustafa who described his mother as the most beloved person in his life. Reem Desoky's friends and neighbors have similar opinions about her.
For example, Reem's close friend Mrs. F. H. told People's World that Reem has been raising her son very well. She encourages and helps him develop his talent for fine arts and crafts. Also, Reem teaches and motivates her son to enhance his self-esteem, personal skills, social interaction and communication abilities. For her son, Reem is not only a mother but also his closest friend, especially as he has been neglected by his biological father.
Regarding her social life, Mrs. F. H. added, Reem always maintains good relationships with her friends, neighbors, and community in several ways. "Reem is so supportive and helpful, she always there when someone needs help. Unless Reem's multiple supports when my son deceased, I wouldn't get over the trauma," Mrs. F. H. stated, and added another example of Reem's supportive and caring nature: Reem hosted her friend's children at her house and took care of their house when this friend was sick and hospitalized. In terms of community service, Mrs. F. H. said that Reem hosts a monthly handicraft workshop, in which she teaches dozens of ladies from diverse backgrounds how to make crafts and fine art products for home and for their kids. Reem also volunteers in other community services.
Also, in a message to People's World, Reem's next-door neighbor Mr. Kevin Naomi stated that "Reem is a kind and generous person with a spunky personality and a keen sense of humor. You always knew you were on her good side if she was poking fun at you in some way. She was concerned for the welfare of the people around her, but most acutely for the welfare and future of her son, Mustafa. The two of them were inseparable, and it breaks our hearts to know that they are now forcefully separated, and in great danger, all because of her exercise of free speech. Reem was a person who was difficult to 'out-give,' and I hope the nation can give back to her in this pertinent time by securing the soon release and safe return of her and Mustafa to the United States."
Mustafa, now 13, is stuck abroad with neither help nor hope, begging for assistance from U.S. President Trump, Congress, Secretary of State Mike Pompeo, human rights organizations, and anyone who can help save both his and his mother's life. Mustafa is pleading for his mother's release, and for safe transit back home to the United States.
Constitutionally, Mustafa is asking for his and his mother's rights as American citizens. He insists that President Trump is obligated by law to take every necessary action to release the U.S citizen Reem Desoky from an Egyptian jail.
U.S. Code, Title 22, Foreign Relations and Intercourse, Chapter 23, Protection of Citizens Abroad, Section 1732, "Release of Citizens Imprisoned by Foreign Governments," says that "Whenever it is made known to the President that any citizen of the United States has been unjustly deprived of his liberty by or under the authority of any foreign government, it shall be the duty of the President forthwith to demand of that government the reasons of such imprisonment; and if it appears to be wrongful and in violation of the rights of American citizenship, the President shall forthwith demand the release of such citizen, and if the release so demanded is unreasonably delayed or refused, the President shall use such means, not amounting to acts of war and not otherwise prohibited by law, as he may think necessary and proper to obtain or effectuate the release; and all the facts and proceedings relative thereto shall as soon as practicable be communicated by the President to Congress." (R.S. § 2001; Pub. L. 101–222, § 9, Dec. 12, 1989, 103 Stat. 1900.)
That same chapter in the U.S. Code, Section 1731, "Protection to Naturalized Citizens Abroad," states that "All naturalized citizens of the United States while in foreign countries are entitled to and shall receive from this Government the same protection of persons and property which is accorded to native-born citizens." (R.S. § 2000.)
Will President Trump interfere to release the U.S. citizen Reem Desoky and get her and her child back home to the United States as he did with Aya Hijazi in April 2017? Will he bother giving his friend Gen. Abdel Fattah El-Sisi a similar simple call that works that quickly?