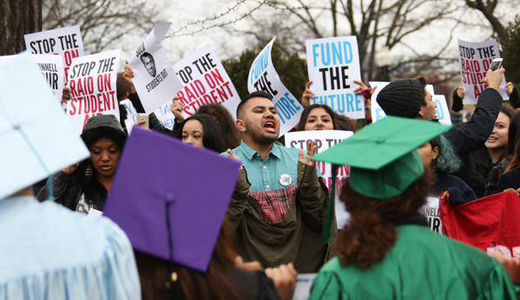 WASHINGTON – "It's kinda like going to war, right?" inquires Student Labor Action Project national coordinator Beth Huang with a bright smile to boot. The twenty-five students who have taken a knee in front of her respond with smiles of their own. On a piece of butcher paper that's been painters-taped to the wall, there's a color-coded diagram of the property surrounding the Capitol where students and allies of the United States Student Association plan on making their stand.
Huang and the 25 are here as part of the United States Student Association's 46th annual Legislative Conference or "LegCon," a three-day congregation of students from 14 states – all here to take a stand on issues, high on the list among them killer cuts to education and the $1.3 trillion in student debt hanging over an entire generation.
A few days earlier the House and Senate budget committees passed the Republican budget which, among other things, freezes Pell grants at their current maximum level of $5,775 for ten years and ends the Federal subsidized student loan program. In total, the education cuts will come out to $150 billion. The students call it a "raid on student aid" and on this cold and wet spring day in DC, students would not be deterred from making their voices heard.
The USSA is the country's oldest student group completely run by students (who are empowered to hire their modest staff, mostly recent college graduates). Their legacy, aggressive activism, is storied; from passing resolutions in 1967 to support the Black Power movement "by any means necessary" to the president of the organization finding himself on Nixon's infamous "enemies list" for exposing U.S. war crimes in Vietnam.
After half a century of being at the center of political movements the legacy continues. Aside from lobbying on and protesting around those issues one intuitively thinks of as student issues (such as access to affordable education and relief for student debt) the membership of the USSA sees student issues as intrinsically tied to economic, racial, and gender justice. They're working hard to change not only the laws of the land, but the culture. Workshops like "The Struggle for Racial Justice," "Un-Koch my Campus," and "Union 101" encouraged students, when addressing the space, to introduce themselves and to include their preferred gender pronouns for maximum inclusivity.
Ofelia Sanchez, a third-year student from the University of Central Florida, is at her second LegCon. She is currently president of her campus' Student Labor Action Project, or SLAP. SLAP is a joint project between Jobs with Justice and the United States Student Association. She facilitated the workshop entitled "Fighting for a Debt Free Future" that was centered on the Public Service Loan Forgiveness program.
"If you work in the public sector, and that can be a wide variety of things like teachers and faculty, and not even just faculty but staff, working at non-profit hospitals, as long as they're C-3 then they count." The program would allow those workers doing public service jobs to have the remainder of their student debt forgiven after 10 years of on-time payments and is one that private loan servicers are not eager to notify their debtors about. Today, 33 million people qualify for this program, but only 135 thousand have signed up. She is currently organizing at UCF for the administration to sign a pledge to notify all teachers, faculty, and staff about the program and since it costs the University nothing, she is optimistic about her group's chances.
Ofelia humbly admitted her self- interest when asked about what she considers the most important issue addressed at the conference. "Allowing a different variety of students to get an education is important. Allowing people of color, people from low income communities, immigrants, and non-traditional students to get affordable and preferably free education," she said. The United States Student Association unabashedly believes that education is a right and should be free, as reflected in some of their chants on the morning of the action.
The action plan began with student protestors rallying on a green space on Capitol property. Some 100+ students chanted slogans to Senate leadership like "Mitch! Step off it! Put students over profit!" and "No cuts! No fees! Education should be free!"
During the rally, Senator Bernie Sanders, the independent and self-described socialist senator from Vermont, spoke on the issue of educational access. "Education should be a right, not a privilege. We need a revolution in the way that the United States funds higher education. You are leading that revolution. Keep up the good work," he said to a crowd who pushed forward to snap photos of the possible Presidential candidate.
But even the progressive Bernie Sanders needs agitation on issues from constituents. Students from Vermont were vocal about wanting to confront Sanders around their state's education problem as, currently, Vermont ranks 48th in affordability with regard to public higher education. "We plan to lobby him on Monday," said a member of the Vermont delegation. Luckily, USSA provides lobby trainings as well. Students broke out by region for their training sessions and the regions further broke down by state or campus so as to put finer points on their action plans. The issues varied greatly, from campus sexual assault bills to fighting against the Trans-Pacific Partnership.
Marckervin Janvier and Corinne Reilly-Ferretto are senior and junior level students respectively and are visiting from New Jersey City University. Their focus is on Sen. Corey Booker (D) and Sen. Bob Menendez (D). According to Reilly-Ferretto, New Jersey students will "mainly be focusing on the Fund the Future campaign and sexual assault on campuses." They themselves are no strangers to advocacy, having advocated successfully for their state's Educational Opportunity Fund which fully funded the educations of close to 300 New Jersey students.
Janvier was honest in his assessment of the dynamics they'll face on the Hill, saying, "Based on the role-play, I think they are going to try to de-rail things or make us think about other things instead of what we came there to do to trip our game up… I feel like they're ready to slap a hand before they reach out and shake it". Reilly-Ferretto is fighting for her education, quite literally. Without Pell grants, she would not be able to graduate and she does not want to see a future without Pell grants. "Congress thinks it's okay to slash money from our education in order to pay off debt that wasn't from our generation and for any society to flourish, we need an educated population."
Coming from her and the other students at USSA, that opinion is not simply a platitude, but an actionable value as demonstrated on the day of the action. After Sanders spoke and students shared the stories of their struggles with our education system, the students took the intersection at 1st Street Northwest and Constitution Ave where 10 students dressed in graduation garb took arrests while receiving chants of encouragement from students and bystanders alike. Ideally, Monday's lobbying efforts will lead to total victory for student justice but the members of USSA are educated enough to know that this is a fight that will continue long after their diploma is finally earned.
Photo: United States Student Association Facebook. March 27.
Correction: In a previous version of this article the number of people who signed up for the Public Service Loan Forgiveness program was incorrectly stated. The correct number is 135,000 and not 108,000.