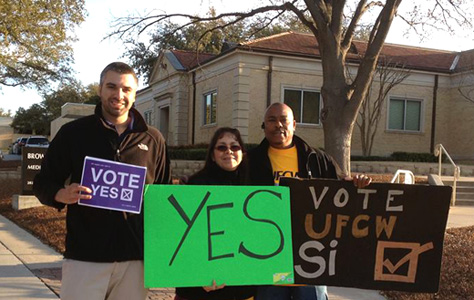 FORT WORTH – The Dallas AFL-CIO has announced a successful organizing drive at Texas Christian University.
Cafeteria workers, angry at cuts made by Sodexo management, had approached the United Food and Commercial Workers early this year. Local 1000 in Grapevine, Texas, sent professional organizers and the new leader of the Young Workers Council to the university.
Student government and other student organizations were asked to stand in solidarity with the low-paid cafeteria workers, and they responded enthusiastically, according to the Young Workers Director, Kooper Caraway.
All the committed students visited the cafeteria at least once each day to reassure the workers of their support. No boycott was called, even though Caraway says it would have certainly succeeded if it had been needed. Students remain committed to this struggle as the new Sodexo unit begins to bargain for its first contract.
The organizing drive also made use of social media. Their Facebook page was watched closely by North Texas progressives, who added their encouragement.
UFCW Local 1000 and the Sodexo workers triumphed at a National Labor Relation Board election on March 24. The Young Workers Council, with this their first win, is checking on other groups of organizable university workers, including college athletes.
Photo: TCU Sodexo UFCW Workers Facebook page.