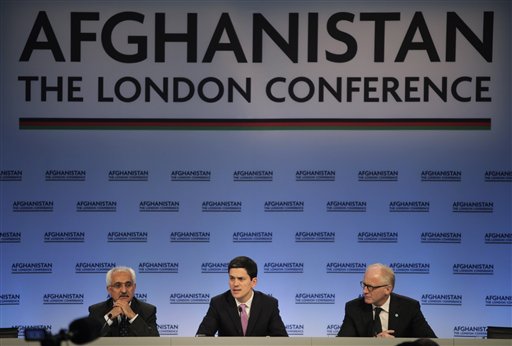 Talking with the Taliban emerged as the headline-grabbing themes at two international meetings on Afghanistan last week.
The two meetings were a regional conference of Afghanistan's neighbors and other key countries in Istanbul, Turkey, on Jan. 26, and a higher-profile conference in London on Jan. 28 attended by officials of 70 nations and international organizations such as the United Nations and International Monetary Fund.
At the Istanbul meeting, leading diplomats from China, Russia, Pakistan, Iran, Tajikistan along with Saudi Arabia, the United Arab Emirates, Britain, the U.S., NATO and the European Union, backed the idea of national conciliation, Reuters reported.
"We reaffirm our strong commitment to the sovereignty, independence, territorial integrity and national unity of Afghanistan," they said in a statement. "We support, therefore, the Afghan national process of reconciliation and reintegration in accordance with the constitution of Afghanistan in a way that is Afghan-led and Afghan-driven."
The London meeting featured talk of international support to bolster the Afghan government, including establishment of a fund to encourage lower-level Taliban fighters to lay down arms. Afghan President Karzai said his government would provide jobs, land and money for those who give up fighting.
But diplomats and others say involving Taliban leaders is necessary.
Afghan officials say they have been engaged in talks with the Taliban, although Taliban statements denied that.
In an effort to promote talks, the UN on Wednesday, the day before the London meeting, removed the names of five former Taliban leaders from the UN terrorism "black list," including the ousted Taliban regime's foreign minister Wakil Ahmad Mutawakil, who lives in Kabul.
New York Times reporter Dexter Filkins, writing from Kabul, reports that "American leaders have begun to search for a road that could eventually lead to a political settlement with the Taliban's leaders.
"Afghan leaders and American officials believe that ultimately the two sides will have to reach a political settlement for the fighting to end."
Dr. Ashraf Ghani, the former finance minister of Afghanistan and former candidate in last year's disputed presidential elections, told Al Jazeera on Jan. 30 that reconciliation talks with the Taliban are under way.
Ghani, currently a senior fellow at the Brookings Institution in Washington who said he is an adviser to Karzai, told Al Jazeera the Afghan conflict cannot be settled by use of force. "We must put politics first now," he said.
He said there is a need to "differentiate between the Taliban and al-Qaeda – al-Qaeda is the enemy and there must be a united front against it, but the Taliban are a local and national issue" and it is necessary to find ways of "reaching them and bringing them within the fold."
Ghani said Saudi Arabia and other Gulf states have been active in mediation efforts.
Karzai has asked Saudi Arabia to mediate with the Taliban and said it would host peace talks if the Taliban cuts ties with al-Qaeda, according to Al Jazeera.
Ghani also said, "We also need the engagement of China to make sure that regional arrangements are put in place" to end use of neighboring countries as sanctuary for armed attacks.
However a report by the Chinese news agency Xinhua expressed skepticism that reconciliation efforts would work, given the Karzai government's weakness and the problematic foreign military occupation.
"Afghans see little chance in bringing militants into mainstream of community and convincing them to lay down arms," the Xinhua article said.
It quoted two Afghan sources critical of the U.S.-NATO role there.
"Taliban would not accept any peace plan presented in London as the militants term the international troops deployed in Afghanistan as the occupying force," an Afghan analyst and former Taliban official Waheed Mughda told Xinhua.
"I do not see any change in the policy of the U.S. and NATO in war against Taliban and associated groups," another Afghan analyst, Qasim Akhgar, told Xinhua.
Akhgar, described by Xinhua as a human right activist and writer, said he doubted the U.S. is serious about conducting a war against terror. "If they (U.S. and allied nations) were serious in war on terror, definitely the Taliban and other militants groups have already been eliminated," said Akhgar.
The article also cautioned that anti-terror efforts require participation of Iran. Iran participated in the Istanbul regional meeting, but did not attend the London conference because of tensions with the British government.
Noting that the Afghan Parliament rejected 11 of Karzai's 25 Cabinet nominees, the Xinhua article says, "experts" believe this evidence of Karzai's weakness "could raise question" about his ability to achieve his ambitious stated plans for "peace through reconciliation, eliminating corruption and ensuring good governance."
Speaking at the Istanbul conference, Chinese Foreign Minister Yang Jiechi stressed the importance of regional efforts to end the Afghan war.
"Countries in the region have special associations with Afghanistan due to geographical, religious, ethnic and linguistic reasons," he said. "We should employ our unique influence to help Afghanistan realize peace, stability, economic development and social harmony at an early date."
Yang said regional and international efforts must "fully respect the independence of Afghanistan," and also said it is "imperative to respect the leading role of the United Nations in coordinating international efforts."
China is a leading force in the Shanghai Cooperation Organization, which is seen by many as an emerging Asian counterweight to NATO. Its members are China, Russia, Kazakhstan, Kyrgyzstan, Tajikistan and Uzbekistan. India, Iran, Pakistan and Mongolia are observers.
The SCO appears to be increasing its activity on Afghanistan. On Jan. 25, Russia hosted an SCO meeting on Afghanistan including deputy foreign ministers from Afghanistan, India, Iran, Kazakhstan, Kyrgyzstan, China, Pakistan, Russia, Tajikistan and Uzbekistan.
At an earlier SCO conference on Afghanistan last March, Secretary‐General Bolat Nurgaliev, of Kazakhstan, said, in an apparent message to the U.S.: "It is stability, not transformation imposed from outside, it is long‐term and steady international aid, not interference aimed to achieve unilateral interests, which Afghanistan needs the most."
Photo: Britain's Foreign Secretary David Miliband, center, listens during a joint news conference with Dr. Rangin Spanta, left, senior advisor to the President of the Islamic Republic of Afghanistan, and Kai Eide, special representative of the UN Secretary General, at the end of the London conference on Afghanistan, Jan. 28. (AP/Lefteris Pitarakis)