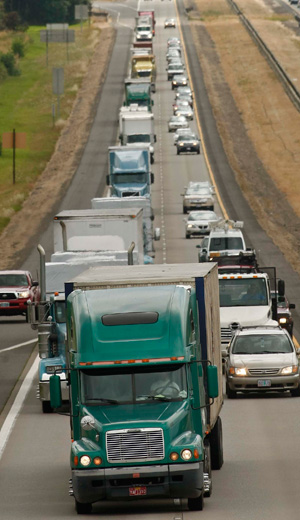 WASHINGTON (PAI) – Saying that lengthening the consecutive hours truckers could stay behind the wheel endangers both truckers and other drivers, the Teamsters are battling a Republican senator's scheme to do just that.
William "Jack" Dawson, a shop steward and safety trainer for Teamsters Local 745 in Dallas told the Senate Commerce Committee in late July that the longer hours would halt a federal plan to increase safety on the roads.
"We cannot afford to add to driver fatigue by rolling back hours-of-service (HOS) regulations which were carefully crafted over the course of more than two decades of rulemaking, several court challenges, thousands of pages of research and studies on proper sleep habits, rest periods, fatigue, and the best ways to ensure that truck drivers operate safely on our highways," Dawson told the committee.
The hours of service rules, governing how many consecutive hours a trucker may stay behind the wheel and how many hours of rest he or she must get before returning to the road, are important. Federal data consistently show that driver fatigue is a leading cause of fatal accidents involving trucks and cars – or fly-by-night interstate buses and cars, too.
"Without this limitation, drivers' hours can be increased from the current 70 to more than 80 hours a week – twice the 40-hour work week," Dawson said. "And the 34-hour restart is 14 hours short of a normal weekend that most people have off to rest and tend to personal business. Imagine returning to work Sunday afternoon rather than Monday morning."
The Senate committee ordinarily helps write laws governing the Commerce Department, including its Federal Motor Carrier Safety Administration (FMCSA), which regulates truckers' hours and rest time. But Sen. Susan Collins, R-Maine, took an end run around the truckers' hours of service rules. That sent Dawson and the Teamsters to the Commerce Committee.
Collins inserted an amendment in the Commerce Department money bill, which another committee approved, barring FMCSA from imposing two key HOS rules until the department "conducts a comprehensive scientific study assessing the operational, safety, health and fatigue impacts of the current restart provisions," she says.
Her amendment came just four days after an overly tired Walmart tractor-trailer driver fell asleep behind the wheel. His 80,000-pound truck hit actor-comedian Tracy Morgan's bus in New Jersey, killing one passenger and injuring four, including Morgan. The trucker "was just 28 minutes shy of the maximum 14-hour on-duty period when the collision occurred and had he reached his destination, likely would have exceeded his maximum on-duty limit,"
One Collins section "suspends the current limitation on the use of the 34-hour restart provision, while the other suspends the mandated two consecutive 1 a.m.-5 a.m. rest periods," Dawson said.
"Limiting the restart to once every 168 hours plays a key role in holding down the number of hours that a driver can work in a week. Without this limitation, the number of hours that a driver can work is increased from the current 70 hours per week to 80 hours per week – twice the number of hours that most Americans work in a week's time," he added.
Anne Ferro, the Obama administration's FMCSA administrator, agreed with Dawson and the Teamsters.
"We based this (HOS) requirement on the extensive body of research that shows the consequences of long work hours on driver health and the correlation between long weekly work hours and a higher risk of sleep loss and crashes," she said. "Scientific review concluded generally that long work hours were associated with poorer health, increased work-related and non-work related injury rates, increased illness, a greater risk of unhealthy weight gain, cardiovascular disease, and other ailments. "
Before the rule was revised, trucking firms could force drivers to toil up to 82 hours a week, and the drivers also sometimes had to sleep during the day, which is less effective than nighttime rest, she added.
FMCSA's final rule on trucker fatigue "strove to strike a fair balance that maintains a safe work environment for drivers and yet isn't overly burdensome to the operations of motor carriers," Dawson explained. Actually, he reminded senators, the Teamsters wanted even tougher rules.
The union went to court over FMCSA's initial plan to increase consecutive "driving time from 10 to 11 hours and took issue with the 34-hour restart provision," which lets truckers get back on the road after that break," he noted. And the 34-hour restart does not cover drivers under the union's National Master Freight Agreement, he noted – because the Teamsters felt so strongly that it is inadequate that it successfully pushed the firms to agree not to send truckers back on the road so soon.
Dawson, who had never been to Washington – much less testified – said he did so at the union's request "because it's important for lawmakers to hear from real drivers who live with the consequences of laws passed in Washington.
"They definitely do not understand how this change would affect the drivers and the industry," he said, adding that the current rules "are where they are to protect drivers."
The Senate committee took no action on the issue. It used the hearing to gather evidence in preparation for writing a long-term highway safety law covering FMCSA and other agencies. That effort isn't expected until the next Congress.
Meanwhile, the Teamsters have helped assemble a coalition of public safety advocates and truck crash victims who oppose a congressional effort to gut rules governing roadway safety. Another proposal, which the trucking industry is pushing, would allow longer and heavier tractor-trailers on the nation's roads.
Photo: Tractor-trailers head north along Interstate 5 north of Albany, Oregon. Oregon Department of Transportation inspections found that 26 percent of truck drivers spent too much time on the road or too little time at rest. Timothy J. Gonzalez /Statesman-Journal/AP