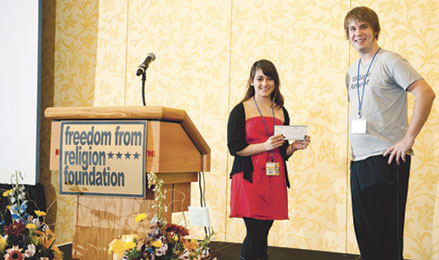 After a protest led by a young atheist, a federal judge has ordered the removal of an inappropriate prayer banner from a high school auditorium in Rhode Island.
Teen atheist Jessica Ahlquist, 16, a student at Cranston High School West, had campaigned for the banner's removal, joined by the American Civil Liberties Union of Rhode Island. She sued the city of Cranston and its school committee in April 2011, on the grounds that the banner made her feel offended and ostracized. She stated that the school was in violation of the Establishment Clause of the Constitution's First Amendment, which prohibits the government from promoting one religion over another.
The school argued that the eight-foot-tall banner was intended to serve as a historical memento, reported Reuters.
U.S. District Judge Ronald Lagueux rejected this claim, as the banner's message opened with "Our Heavenly Father," and closed with "Amen." As such, "No amount of debate can make the School Prayer anything other than a prayer," said Lagueux, "and a Christian one, at that."
Furthermore, read the judge's 40-page decision, "No amount of history and tradition can cure a constitutional infraction."
Lynette Labinger, a volunteer attorney for the ACLU who represented Ahlquist, praised the judge for his decision. "Placement of a public government display of a religious message in a place with impressionable young students has not been upheld," she declared triumphantly.
Ahlquist has been an atheist since the age of 10, and remarked that when she first saw the banner, she knew it was wrong, and knew that protesting it was "the right thing to do."
She had subsequently made a Facebook page to support its removal. The page received a number of heartfelt responses to Ahlquist's campaign, including those from people who were given hope and inspiration by her actions.
At that time, she also won the support of secular Americans: The Freedom from Religion Foundation recently honored her with the Thomas Jefferson Youth Activist Award.
She told the Freedom from Religion Foundation, "I've started becoming much more open about my atheism and feeling a lot more confident saying that [I'm an atheist]. Now I'm trying to start a secular group in my school."
When asked who showed her support, Ahlquist responded, "There are kids [who] I've gone to school with for years, and they're now telling me they're atheists and support what I'm doing. That's a great thing."
After the federal court ruling, Ahlquist is now facing a barrage of threats and abuse from angry, self-proclaimed Christians. Many of these threats have hit Ahlquist's Facebook, and some of them are currently under investigation by Rhode Island police.
A report by the Examiner noted that Ahlquist's ability to demonstrate her opposition to religion in a civil and intelligent way, as well as her passion and decision to stand up for the rights of others, ought to mark her as a role model for all young Americans.
Photo: Jessica Ahlquist is honored with the Thomas Jefferson Youth Activist award of $1,000. (Freedom from Religion Foundation website)