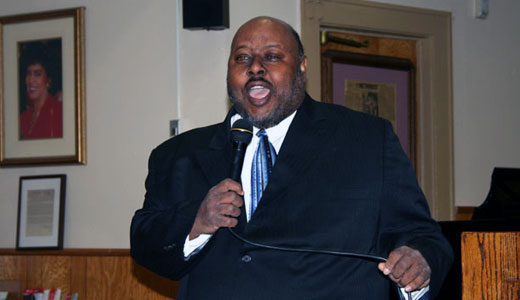 DALLAS – The Rev. L. Charles Stovall, a highly respected local civil rights leader, hosted an action-oriented meeting here last week to prepare a fight against anti-democratic laws and political practices in Texas.
"We are in a new era, a new situation, which none of us have ever seen before," Stovall said at the Jan. 26 meeting at St. Luke's United Methodist Church. He then outlined some of the negative effects expected from the voter ID law passed in the last legislative session and signed by Gov. Rick Perry.
The law requires all Texas voters to have a state-issued photo identification card in addition to their usual proof of voter registration before they can vote. Older people, blind or disabled people, and a lot of people not proficient in the English language do not hold driver's licenses. In order to exercise their democratic rights at the polls, they will have to go through the expense and bother of getting a special identification card from the driver's license office. Texans with experience dread the long waits at those offices!
Students living away from home might also find themselves disenfranchised because they will not be allowed to use their student identification cards to establish their residency. Not many years ago, hundreds of students from Prairie View A&M University, a traditionally African American college, marched miles in the rain to protest an elections office that would not let them use their student identification. The embarrassed elections office reversed the order and let them vote! But the new Texas law would mean that the only way they could vote would be to travel home to the precinct where their driver's license was issued, no matter how far!
The excuse being given for voter ID laws is that they prevent fraudulent voting at the polls, but supporters of the bill have not been able to produce any actual cases of such fraud. Furthermore, the Texas voting laws governing absentee voting, where fraud is much more likely, have not changed. Clearly, the voter ID laws being introduced in Texas and other states should be named what Rev. Stovall calls them: voter suppression.
One of the first speakers introduced by Rev. Stovall at the Jan. 26 meeting was Peter Johnson, who was originally sent to Dallas as a Southern Christian Leadership Conference organizer by Dr. Martin Luther King Jr. himself. Johnson said that his experience with the fight for fair voting laws began in 1957 when labor leader A. Philip Randolph called a march on Washington. Johnson cited the many martyrs of that struggle, several of whom he knew personally. "We paid for this in funerals, and blood," Johnson said.
Johnson is known around Dallas for original ideas in civil rights struggles. He pointed out that people can also use their driver's license to carry concealed firearms. Johnson speculated, "If we had 500 African American students show up at a gun show, and buy automatic weapons, I think it would cause some consideration."
Texas' voter ID law is not the only ongoing voter suppression activity in the state. The Republican-dominated Texas Legislature evaluated the 2010 Census data, which showed most of the state's population growth has been among the minorities, and managed to draw redistricting maps that actually diminished minority voting power! A federal court overturned the redistricting maps and made others, but Republicans have appealed all the way to the Supreme Court for the power to ignore the 1965 Voting Rights Act.
Peter Johnson summarized what is happening with an allusion to the Ku Klux Klan: "This conspiracy today against the right to vote is being led by the same people who used to wear their bedclothes!"
Photo: Rev. L. Charles Stovall. Jim Lane/PW