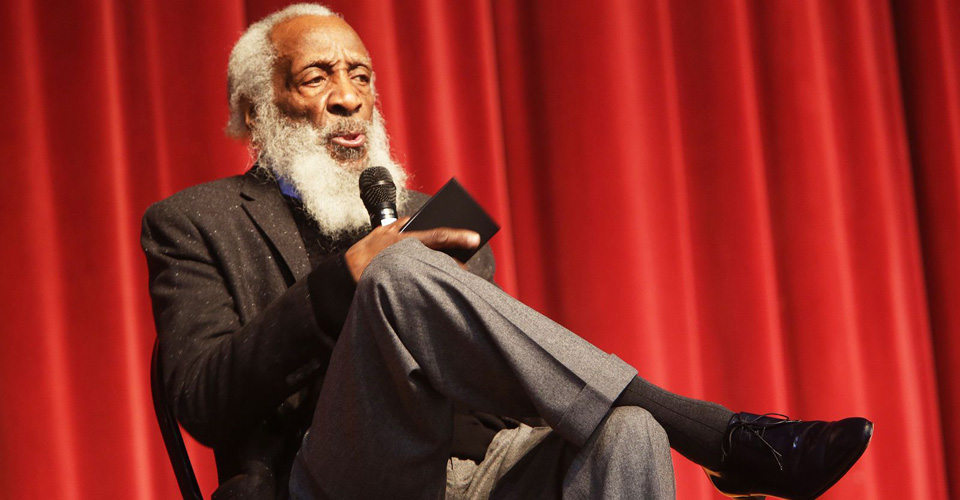 Dick Gregory changed my life. No, I never met him, and I saw him on stage just one time. No, I was not a fan in the usual way of following a public figure's career over decades. It happened like this.
I grew up on the white side of Stockton, the Central Valley town 50 miles east of San Francisco, which everyone referred to as The City, and 50 miles south of Sacramento, the state capital. "Fifty miles from everything," as we said as teenagers. Provincial doesn't quite catch the essence of my childhood. More sheltered, as in fundamentalist religion, a monastery, narrow, and inhaling the same air almost all white people breathed in this country at that time — racist.
Somehow at the end of my first year in community college, I heard that Dick Gregory was headlining at the "hungry i," a very hip bar-lounge-jazz joint in San Francisco's North Beach beatnik district. I wanted to go. My parents got wind of the idea and told me in no uncertain terms that I was not to go there. My mother even said that going to hear "that man" was evil. So my girlfriend and I told them we were going to Sacramento—and drove to San Francisco.
We scored tickets to a full house, where Vince Guaraldi opened with a set that included his chart-topping "Cast Your Fate to the Wind," followed by a young Episcopal priest named Malcolm Boyd, who told stories about the civil rights struggle in the South while sitting on a bar stool, smoking a cigarette. Then came Gregory himself.
Gregory's humor never preached, never condescended, never compromised. He made white people laugh out of their chairs and swallow at the same time. He helped us see how ludicrous, how absurd, racial segregation was without smearing our faces in guilt. He took us places we'd never been, and showed us ourselves.
He called his first book nigger so everyone using the word, as he wrote to his late mother, would be advertising it. He told stories that became famous:
"Last time I was down South I walked into this restaurant, and this white waitress came up to me and said: 'We don't serve colored people here.' "I said: 'That's all right. I don't eat colored people.'"
And lines that became indelibly imprinted on our minds:
"I never learned hate at home, or shame. I had to go to school for that."
Besides opening me to a new way of understanding my life as a white man, the experience introduced me to a world far beyond what I had known. Jazz, a white clergyman sitting on a stool talking tales I had never heard before, a black man doing stand-up from a core of total integrity. I did not know what my life would hold, but I cast my fate into a huge wind that night.
Later, Malcolm Boyd became a friend, a colleague and a neighbor. Later, I sat on a stool and gave sermons. Later, jazz became a core musical interest. Later, nonviolence became a way of life as well as a committed path to justice. Later…really for my entire life, now, I have struggled for a conscious way of being a white male without needing to depreciate another human being or another group of people.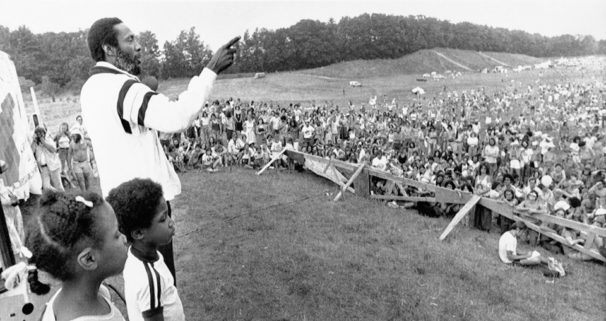 Not all my contemporaries have been struck that way. The director who made Dunkirk somehow missed the reality of the evacuation, that a large percentage of the troops who escaped those beaches—British and French—were people of color from India, Morocco, Algeria, and other colonies. Too many people still find their identities in statues of white men who fought for slavery. Too many white people don't get why Colin Kaepernick is a hero for kneeling—an act of prayer—instead of standing for the national anthem. So far it has only cost him his career. But as a white responder wrote on my Facebook page: "He's not courageous."
Dick Gregory spoke so clearly:
"If all you can do is judge a person by their appearance because you don't have the spirit to judge someone from within, you're in trouble."
Reprinted by permission of the author and Capital & Main. Copyright Capital & Main.