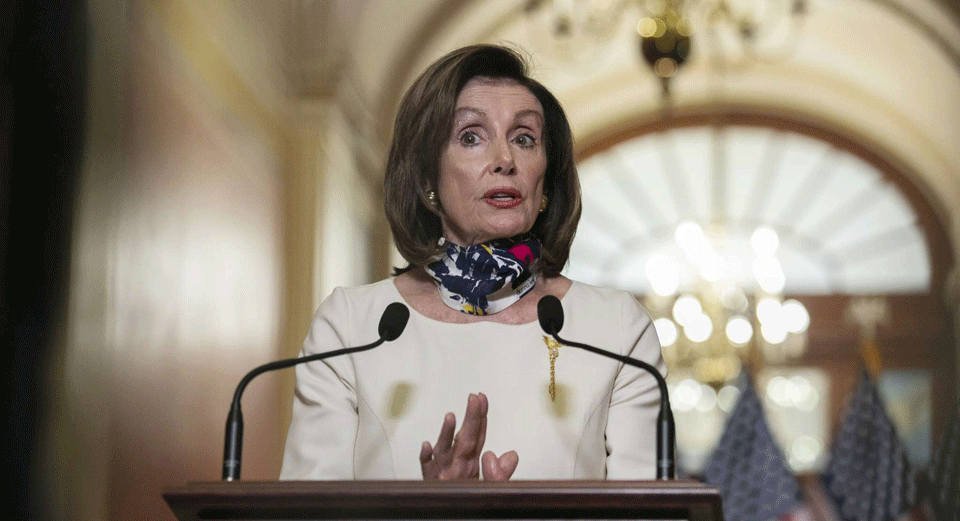 WASHINGTON—Upset by what was left out of the House Democrats' $3 trillion economic stimulus bill – notably guaranteed payments to every worker, jobless or not – the 95-member Congressional Progressive Caucus wants to delay a House vote on the legislation scheduled for tomorrow.
But while Progressive Caucus co-chair Rep. Pramila Jayapal, D-Wash., and her colleagues campaign for the pro-worker sections omitted from Pelosi's 1,815-page measure, major progressive groups, including MoveOn and two big unions, apparently abandoned them. They back Pelosi's "vote-now" demand instead.
The lawmakers, led by Jayapal  – author of the biggest, an income guarantee of all of a worker's wages up to $90,000 a year, plus health coverage  – and Mark Pocan, D-Wis., also told their members to stay undecided on the bill. The two, however, did not threaten to lead a revolt.
"These concerns – from how we end mass unemployment and ensure access to health care during a pandemic to getting relief to all businesses and their workers – need to be addressed…at the scale necessary to fully respond to this crisis and deliver certainty to the American people," the progressives wrote to House Speaker Nancy Pelosi, D-Calif. She wants a vote on May 15.
But given Republican racism and opposition to doing anything, the Service Employees, the Teachers, the Working Families Party, United We Dream, Indivisible, and their allies retorted, a vote now is imperative so the House can confront Senate Majority Leader Mitch McConnell, R-Ky., with its own stand. McConnell, however, calls the House measure "dead on arrival."
The legislation's pro-worker moves currently include a reported payment of up to $6,000 per family per month to help stave off financial collapse.
And it includes $1.8 billion to buy more personal protective equipment (PPE) for front-line "essential" workers, along with a mandate that GOP President Donald Trump's OSHA order health care facilities to create and implement anti-virus protection plans.
It also includes $25 billion for the U.S. Postal Service, $15.75 billion for mass transit, and $915 billion to aid cash-strapped state, local and tribal governments. But it doesn't have Jayapal's cash guarantee or the Essential Workers Bill of Rights, a comprehensive pro-worker labor law the progressives also push.
The PPE and the OSHA demand are key goals of National Nurses United, while AFSCME and the Teachers push the state and local government aid, transit unions lobby for those funds, and postal unions – along with the Postmaster General – actually want three times as much for the USPS.
All that led the progressive groups to back a vote, now, on Pelosi's bill.
"This is a historic, once-in-a-generation crisis. It requires a historic response. This proposal is an important step," they said in a joint statement.
"We urgently need" Pelosi's bill, they added. "More than 80,000 people have died, more than 1.3 million have been infected, more than 33 million have filed for unemployment, and millions more are struggling to pay bills, hold on to housing and put food on the table," due to the coronavirus pandemic and the accompanying forced economic shutdown.
"And predictably, generations of racist, anti-immigrant and anti-worker policies that created inequality in work, health, wealth and education are now allowing the coronavirus to attack Black, Latinx, AAPI, undocumented and Native American people at far greater rates, and are deeply disrupting life for communities of color.
"We have suffered for months as President Trump has downplayed the coronavirus threat, pointed fingers, shirked responsibility, and made reckless decisions intended to improve his reelection chances.
"Republicans have done nothing but push 'relief' that bails out corporations but gives too little, too late to essential workers, small businesses, and everyday people."
By contrast, Pelosi's measure "is responsive to the needs of the people," including undocumented people. And "no matter their party affiliation, people support responses to the pandemic that put people first and actually meet the scale of the crisis and protect workers, families and the economy."