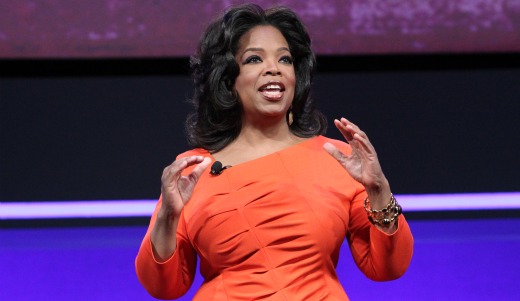 CHICAGO – As Oprah Winfrey says her long goodbye to fans of her 25-year daytime TV talk show, the media is churning out a mountain of terms to describe Winfrey and her impact. "Most influential celebrity" "most powerful woman" and "richest African American" are popular along with "pioneer," "self-made" and "queen of talk."
One phrase has escaped the attention of most entertainment reporters, "union employer and member."
That's right. The most influential celebrity, a woman who wields so much power the beef industry felt threatened when she said she wouldn't eat a hamburger, an African American billionaire whose biography reads like a classic rags to riches storyline, has produced her show with union contracts.
The self made pioneer who revolutionized daytime talk is also a union member of the American Federation of Television and Radio Artists, AFTRA.
"From the beginning 'The Oprah Winfrey Show' has been produced under an AFTRA contract," said Christopher de Haan, AFTRA director of communications. "Anytime she has a performer on her show they are paid and covered under an AFTRA contract."
As the union name indicates, AFTRA represents on and off camera professional performers, called "talent" in the entertainment business, explained de Haan.
The industry is highly unionized with a myriad of collective bargaining agreements covering union members from actors to writers and directors to stage hands.
Winfrey's company Harpo signed a contract with AFTRA, as did Winfrey's new network, OWN.
AFTRA's largest contract is with the big five networks: ABC, NBC, CBS, FOX and the CW. That contract expires Nov. 15, 2011. Contract talks begin in September.
Winfrey's fans aren't the only ones who will miss the union-made show. AFTRA's de Haan said the talk show provided union jobs for 25 years for the Windy City. "What's good is programming coming in after the show goes off the air is also union," he said.
Although her show is union made, Winfrey never chose to be a "union maid" and use her status to amplify any union causes.
On education, for example, Winfrey finds common cause with other billionaires by promoting the anti-teacher union documentary, "Waiting for Superman," and supporting charter schools. Winfrey's charity, Oprah's Angel Network, donated $6 million to charter school programs, despite there being no evidence that charter schools out perform public schools.
While millions of Winfrey fans champion her personal story-driven, self help approach, admire her tenacity through her own battles with weight, sexual abuse, poverty, gender and racial discrimination, and applaud her breaking through on topics from rights of children to positive portrayals of gays and lesbians, she has her share of critics.
Author Janice Peck, a media studies professor at the University of Colorado at Boulder, wrote "The Age of Oprah, cultural Icon for the Neo Liberal Era." Wanting to put Winfrey's rise and impact in a political-economic setting, Peck argues that Oprah's show, at its essence, reinforces the tried and true talking points of corporate America: there are only individual problems and solutions.
"We can be personally generous with others when we find people who are the deserving needy but we don't ask questions about the way our society is organized and the way resources are distributed," Peck said in a 2008 interview with Black Agenda Radio.
Peck situates Winfrey's influence in the developments of the last 30 years with the rise of a "neoliberal" economic model that shifted the role of government from a New Deal approach to the Reagan Revolution of privatization of public resources, tax cuts for the super-wealthy and corporations (trickle down economics), deregulation of industries and large cutbacks to any and all social spending.
"My argument is that the way to understand the journey of this woman is to understand neoliberalism as a political and economic project," Peck said.
"[I]t argues that any political or social issue that we encounter today must be seen through the lens of the free market. It turns all problems into individual ones that can be solved in the market. If there's contamination of the water table, for instance, we should buy bottled water. That we should solve problems with the market and through individual activity, and individual transformation is ultimately the same message that Oprah Winfrey sells to us."
However, Winfrey fans swear by the improvement of their lives by connecting to others through her show, and breaking out of isolation, realizing they aren't the only ones who have faced a particular problem, and every individual has value.
Like AnnieX30 who commented on oprah.com, "I've been a loyal viewer all 25 years that your show has been on. I can't count how many times you've gotten me through a tight spot, a tough decision, including 3 suicide attempts, and numerous 'a ha' moments … At age 52, I find myself unemployed, and suffering from horrible lifelong depression. I continue to wonder why I am here and 'is that all there is?' But, in all the life lessons I have learned from and through you over the years, I know I will continue to fight for the happiness I deserve in life."
Winfrey's shows have had recurring themes of resiliency, forgiveness and redemption through individual – and group – action. Coinciding with the 50th anniversary of the Freedom Riders first bus rides, Winfrey celebrated these brave Americans by reuniting 178 of them on a recent powerful show.
The debate and analysis of the impact of "The Oprah Winfrey Show" and of Winfrey herself will continue beyond the last episode on May 25. "Contradictory" and "complex," along with the others, are sure to be part of the Oprah lexicon.
Related links:
"The Great Debaters," a must see
"Precious" is outstanding and controversial
AFTRA congratulations the 2010 Kennedy Center Honorees
Photo: Oprah Winfrey (AP Photo/OWN, George Burns)