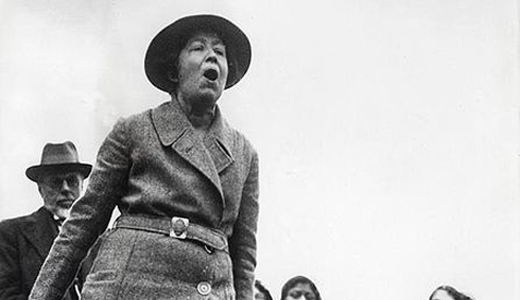 Most people don't realize that a legendary suffragette, Sylvia Pankhurst, lived well into the mid-20th century. Pankhurst, British advocate for women's right to vote and a socialist who championed the inclusion of working class women in the struggle, died in Addis Ababa, Ethiopia, on Sept. 27, 1960, at the age of 78.
Born in Manchester, England, in 1882, Sylvia Pankhurst was the daughter of Emmeline Pankhurst, a famous champion of woman suffrage. But unlike her mother, Sylvia Pankhurst maintained a relationship with Britain's labor movement. She believed that working-class women would never be liberated until they were freed from poverty, and she insisted on involving working-class women in the suffrage movement. Because of this she eventually broke with the Women's Social and Political Union which she and her mother and sister Christabel had founded in 1903.
Sylvia Pankhurst, a pacifist as well as a socialist, also differed with her mother and sister in opposing World War I, which she saw as contrary to the interests of workers, male and female.
In London's impoverished East End, she led the East London Federation of Suffragettes and published a working-class women's paper, the Woman's Dreadnought. She became regarded as a leader of working-class men as well as women and convinced some labor organizations to oppose the war. Because non-agricultural male laborers had also not yet been granted the vote, the ELFS was renamed the Workers' Suffrage Federation in 1916, and then became the Workers' Socialist Federation. in 1917 the Woman's Dreadnought became the Workers' Dreadnought. She corresponded with Russian revolutionary leader Vladimir Lenin and in 1920 was a founding member of the Communist Party of Great Britain. In 1921, however, she was expelled from the party when she refused to merge the Workers' Dreadnought into a single CPGB paper.
As Britain phased in universal suffrage for both men and women in the 1920s, Sylvia Pankhurst shifted her energies to opposing racism and the rise of fascism in Europe. In 1935, she campaigned against the invasion of Ethiopia by fascist Italy and founded publications to publicize the plight of the Ethiopians and other victims of fascism. She later helped settle Jewish refugees from Germany.
In 1956, Ethiopian Emperor Haile Selassie invited her to live in Ethiopia. In her 70s, she founded the Ethiopia Observer and edited the paper for four years. On her death in 1960 the Ethiopian government gave her a state funeral in recognition of her service to the country.
Photo: Sylvia Pankhurst protests British imperialism in India, at Trafalgar Square, London, Jan. 18, 1932. Wikimedia Commons