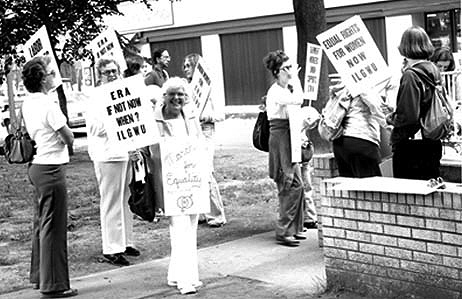 On this day in 1972 Congress sent the Equal Rights Amendment (ERA) to the states for ratification. The amendment fell three states short of being ratified before the 1982 deadline required by Congress.
The amendment for women's rights has a long history and is intertwined with the struggle for democratic and civil rights. Having failed to include women in the 13th (abolition of slavery), 14th (citizenship to former slaves) and 15th (voting rights to former slaves) amendments after the Civil War, which suffragists supported, the 19th amendment (voting rights for women) was passed in 1919. Then in 1923, Alice Paul authored the Lucretia Mott Amendment that mandated "Men and women shall have equal rights throughout the United States and every place subject to its jurisdiction." This bill was the first edition of the ERA.
The ERA was subsequently introduced to Congress in each session. During the 1930s and 1940s, the legislation was opposed by labor unions and others including Eleanor Roosevelt for fear it would undercut existing legislation protecting women workers. Roosevelt during the 1950s became a supporter of the law.
While Republicans were early supporters, in 1960 Democrat John F. Kennedy was elected president on a pro-ERA platform. In the 1960s the National Organization of Women (NOW) became a major sponsor. Shirley Chisholm's 1969 Equal Rights for Women speech in Congress was a major impetus for the ERA's passage. During the first year after Congressed passed the bill 22 states ratified it. Indiana was the 35th state to do so. There have been no subsequent ratifications. Senator Edward Kennedy was a champion of the legislation in the 1980s and 1990s. A few weeks ago, the ERA was reintroduced as S.J.Res.10 by Sen. Robert Menendez, D-N.J.
Photo: ILGWU Western PA District Council Equal Rights Amendment demonstration, 1978. CC BY 2.0