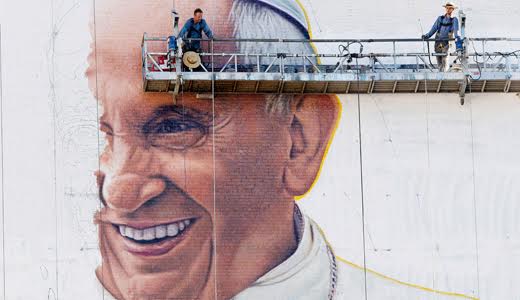 WASHINGTON – Asked here last night what he hopes Pope Francis will say when he addresses a joint session of Congress in two weeks, AFL-CIO President Richard Trumka was emphatic: "He should repeat the key message he has delivered many times, that the economy should serve human beings and that we should direct a loud 'shall not' at any financial system that perpetuates poverty."
Trumka added that for many years, "we've been told that the economy is like the weather – there's nothing we can do about it. But Pope Francis has reminded the world that economies are merely sets of rules established by men and women. Today, these rules are titled against the vast majority of people.
"But, as Pope Francis says, the rules were made by people and can be changed by people to be more fair to people."
Trumka was participating in a panel hosted by Georgetown University, a Jesuit institution. Titled "A Dialogue on Economic Pressures and Family Life Amidst Pope Francis' U.S. Visit," the session was the first of many events being conducted by Catholic Church affiliates in advance of the Pope's visit here.
Along with Trumka, the panelists were: Catholic University Prof. Maryann Cusimano Love, Unite Here union organizer Tarshea Smith and Michael Strain, the American Enterprise Institute's deputy director for economic policy studies.
Panel moderator John Carr, director of the Initiative on Catholic Social Thought and Public Life explained that his organization has joined with others to highlight for American Catholics a discussion initiated by Pope Francis for a Synod of bishops soon to take place in Rome. Carr said the Pope has asked the bishops to focus on the proposition that lack of moral values is not the main cause of family instability and dissolution. It's the economy, stupid."
Carr said, "it's not that we think many of our bishops in the U.S. are stupid, it's just that we feel they've been 'distracted.'"
The panel was the latest in a series of "Dialogues" on social issues the Initiative has sponsored since it was founded at Georgetown a year ago.
Tarshea Smith, an organizer with Unite Here said she hopes that when the Pope gives speeches during his U.S. visit, he will "address the right of workers to organize."
She said, "The only way to insure that working families can earn enough to stay together and be secure is for workers to join unions and build power."
Smith also said that today many single mothers must work two or three jobs to make ends meet. "They are often too tired to cook healthy meals for their children," she added, "and often they can't afford good food in the first place."
Prof. Love said that across the world, women are the people responsible for keeping families together, but they own just one percent of all property and earn just ten percent of all income.
"If we want to preserve families," she said, "we must gain economic empowerment for women."
The Enterprise Institute's Michael Strain said he hopes that while in the U.S., the Pope will "embrace capitalism and the free market" as the best systems for "lifting people out of poverty." He said that capitalism has been proven to "reward work."
Prof. Love agreed that gross national products rise when free markets are established; but, she said, statistics show that very few people actually benefit from this growth.
"The free market economy today is killing families," she said.
Trumka added that in theory capitalism might work, but in reality "under today's system, work does not lift people out of poverty; it traps people in poverty."
Asked his opinion about raising the minimum wage, Strain said that doing so would "unfairly" burden corporations like McDonald's with the responsibility for reaching the "social good" of lessening poverty.
Trumka countered that "it is unfair that some 70 percent of all wealth now goes to the wealthiest one percent of the population. Workers should get a bigger share of the wealth they produce."
At the end of the discussion, Carr said that "the leadership of the Holy Father is important in moving the Church toward working for social and economic justice. But it's more important that the laity put their faith into action."
He pointed to an example that the Pope's message is being taken to heart: Georgetown University, without any opposition, recognized unions chosen by the University's adjunct professors and cashiers.
"The Catholic community should seize the moment of promise created by Pope Francis," Carr concluded. "We should show our pride by getting our act together. We should dialogue and reach working agreements on social and economic issues."
Photo: Sign painters move their scaffolding into position to continue painting a portrait of Pope Francis on the side of a New York City office building. The Pope visits the U.S. beginning Sept. 22 with stops in Washington D.C., New York and Philadelphia. | Mark Lennihan/AP