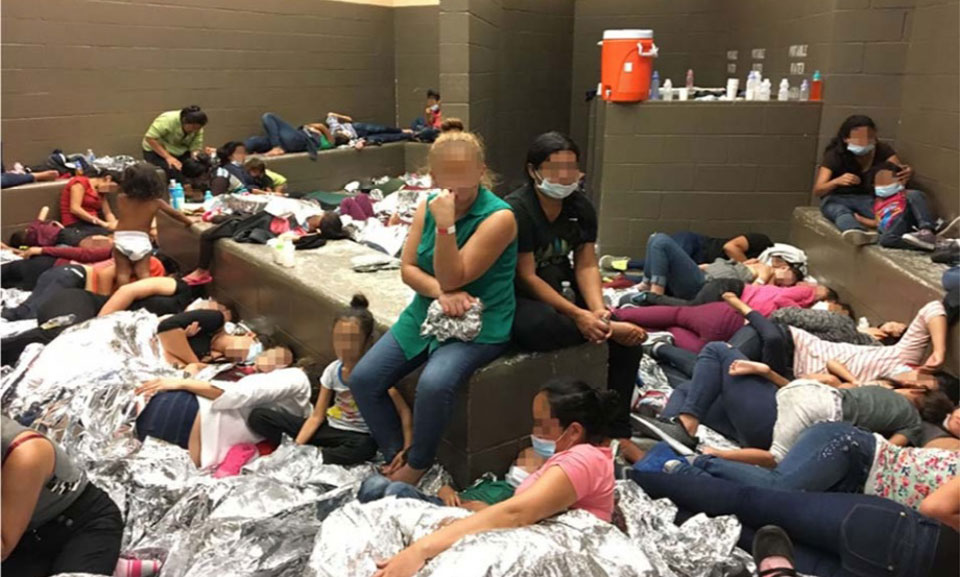 WASHINGTON—In yet another manifestation of Trump administration hatred for non-white migrants seeking to cross into the U.S., top Trump officials announced a new detention rule to split migrant kids from their parents – with no specified time limit on the splits.
"A child is no longer a free pass" into the U.S. for the parents, Kevin McAleenan, Trump's acting Homeland Security Secretary, told an August 21 press conference.
GOP President Donald Trump and his minions want the rule to take effect in 60 days, after a required comment period that starts August 23, but migrant rights groups promptly vowed to challenge their scheme in court. The ACLU already has.
Right now, Border Patrol agents forcibly split kids – including screaming babes in arms – from their parents when the families cross the U.S. border. The kids are sent to detention centers which even a Homeland Security warning report describes as squalid. The parents are transported to separate holding facilities, some of them thousands of miles away.
So-called private prison firms run many of those detention centers, for both the kids and the adults – including a "baby jail" near downtown Houston – and make hefty profits from the practice while leaving the kids without basics such as showers, soap, toothbrushes, toothpaste, and books and education for those of school age.
And there's little to no medical care. Since the splits started, six kids have died – including one teenager who died of the flu, highlighting that risk to other kids and the adults in the centers.
The American Civil Liberties Union's immigrant rights project and ACLU of Texas went to court to demand Trump and his agencies let the kids – and the adults — see lawyers, and to get a court a order to stop the abuses or release the migrants.
"The Constitution applies to everyone in the United States, regardless of their immigration status," said Andre Segura, legal director for the ACLU of Texas. "Detaining migrants for absurdly long periods in deplorable facilities meant only to hold people for a few days" while barring them from asking lawyers to challenge their mistreatment "is a fundamental miscarriage of justice."
Other pro-migrant rights groups blasted the Trump scheme, too.
"Despite the supposed termination of the family separation policy in June 2018, families crossing the border are still being separated for vague or baseless reasons," National Immigrant Justice Center staffers Joann Bautista and Alejandra Oliva wrote on the Chicago-based center's website.
"When this happens, children are designated 'unaccompanied' and are placed into shelters," run by another agency, the Office of Refugee Resettlement. "Adults are transferred into ICE or Department of Justice U.S. Marshal custody. If families are kept together, they may be released from Border Patrol custody to await their proceedings, or put into one of three detention centers ICE maintains to hold family units."
McAleenan said the new rule would be the Trump agency's replacement for a 1997 court ruling, the Flores Agreement, governing detention of kids. U.S. District Judge Joyce Gee oversees the agreement, which applies to all kids crossing the U.S. border – those with families and those without. Trump wants to end the Flores Agreement, McAleenan said.
The Flores Agreement says the government can hold the kids a maximum of 72 hours before placing them elsewhere via the Office of Refugee Resettlement, an agency in Trump's Health and Human Services Department.
In reality, the 72 hours is a minimum stay for many of the thousands of kids grabbed at the border. DHS's own Inspector General found 31% of the kids held at five detention centers his office probed had been jailed for longer than that three-day period.
McAleenan said the new rules include standards for better conditions at the centers, and laid out some of the requirements. The inspector general warned just last month that current conditions for the kids are horrible. And the adults aren't much better off, the IG's report added.
"Children at three of the five Border Patrol facilities we visited had no access to showers, despite standards requiring 'reasonable efforts' be made to provide showers to children approaching 48 hours in detention," the IG reported.
""Children had limited access to a change of clothes (and) Border Patrol had few spare clothes and no laundry facilities. While all facilities had infant formula, diapers, baby wipes, and juice and snacks for children, two facilities had not provided children access to hot meals…until the week we arrived."
""Instead, the children were fed sandwiches and snacks for their meals…10 Border Patrol management at these facilities told us there were too many detainees on site to microwave hot meals, and it had taken time to secure a food contract."
"Additionally, while Border Patrol tried to provide the least restrictive setting available for children, by leaving holding room doors open, the limited space for medical isolation resulted in some unaccompanied children and families being held in closed cells."
Not only that, but news reports indicate federal officials are now refusing to vaccinate the kids against the flu, leaving them open to its spread – and exposing Border Patrol agents and other workers at the "baby jails" vulnerable to it, too.
The IG also found "serious overcrowding and prolonged detention among adult detainees." Federal requirements say "under no circumstances should the maximum [cell] occupancy rate, as set by the fire marshal, be exceeded."
"However, at one facility, some single adults were held in standing room only conditions for a week and at another, some single adults were held more than a month in overcrowded cells."
"I don't have any beds, because we're meant to be short-term processing — not even holding," one Border Patrol official told the Washington Post last month about agency centers in the Rio Grande Valley. He reported some of the kids sleep on mats on the floor, because "I have stools and benches, but I have no beds…Our facilities are not built for long-term holding, and they're certainly not built to house children for very long at all."
Other officials at that center also reported the kids aren't getting vaccinated or provided medicines they need. Since the administration instituted its policy of splitting kids from their parents, five kids have died at Border Patrol centers, of treatable diseases, including a 16-yar-old who succumbed to the flu. Another died after a week in an El Paso hospital.
Conditions at the centers are so bad that National Nurses United activated its volunteer Registered Nurses Response Network and sent the RNRN volunteer nurses to the center in Tucson, Ariz., starting on May 31.
The union usually sends its RNRNs to disaster sites, such as Puerto Rico after the hurricanes hit two years ago.
"As a mother of multicultural children, I personally have had to make difficult decisions to keep my family intact based on immigration policy," Lacey Diaz, a California RN who volunteered, told NNU. "I understand the sense of obligation migrant parents feel to do whatever it takes to remove their children from an unsafe environment with poverty-stricken conditions. As an RN, I feel blessed to have the opportunity to volunteer my services to the asylum seekers on their journeys."
Nurses from previous RNRN deployments to Tucson quoted detained migrants had their medications taken from them, and shared stories of inadequate medical care while in custody.
Many migrants show signs of post-traumatic stress disorder, trauma, dehydration, and exhaustion, as well as cold and flu symptoms.
"Some of the migrants' deteriorated medical states appear to have been exacerbated by unhealthy conditions while in federal detention. Migrants have told RNRN volunteers that they were housed in fenced cages with concrete floors and cold temperatures without adequate bedding or clothing for warmth. Many migrants described a lack of sufficient food and water available for them in federal detention facilities," NNU said.