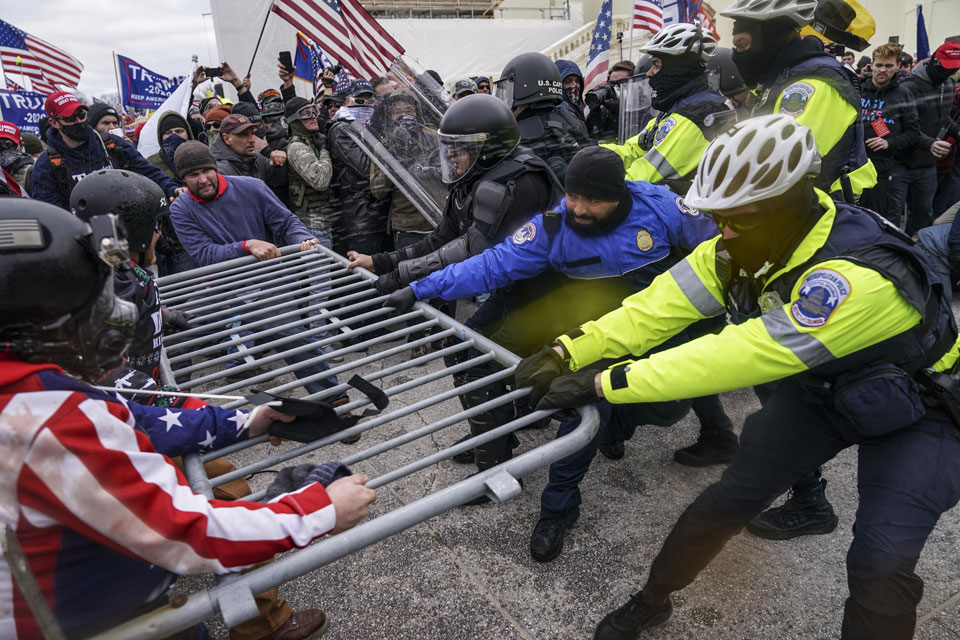 WASHINGTON—Donald Trump's troubles keep piling up, pointing the way ever more towards holding the former Republican Oval Office occupant accountable for his misdeeds and malfeasance in and out of the White House.
On Nov. 29 alone, the Supreme Court, in a one-sentence order, ended Trump's long struggle to keep six years of his tax returns away from the tax-writing House Ways and Means Committee, which needs them to help write legislation closing huge tax write-offs Trump and the corporate class routinely abuse.
Federal tax law allows the two tax-writing congressional committees, House Ways and Means and Senate Finance, to demand, and receive from the Treasury Department, any single tax return, from a person or a corporation, if needed for legislative purposes. Armed with Trump's tax returns, Ways and Means Chairman Richard Neal, D-Mass., said the panel would "now conduct the oversight that we've sought for the last three and a half years."
The same day, after a five-day trial, a federal district court jury in D.C. convicted two leaders of the Oath Keepers—one of two white nationalist groups which led the Jan. 6, 2021 U.S. Capitol invasion, insurrection and Trump coup d'etat try—of seditious conspiracy to commit treason and lesser charges. Three other Oath Keepers were found guilty of lesser counts.
Oath Keeper founder and leader Stewart Rhodes and his deputy each face sentences of up to 20 years in jail. The three others could get as much as five years. Leaders of the other white nationalist group which led the insurrection, the Proud Boys, face a trial in December on seditious conspiracy to commit treason.
The Proud Boys, of course, became nationally notorious when Trump, in the first 2020 presidential debate with Democratic nominee Joe Biden, ordered them to "Stand back and stand by!" They interpreted that as a call to war. Proud Boys leader Henry "Enrique" Tarrio will be lead defendant.
"Today the jury returned a verdict convicting the defendants of criminal conduct, including two Oath Keepers leaders for seditious conspiracy," Attorney General Merrick Garland said in a statement. "The Justice Department is committed to holding accountable those criminally responsible for the assault on our democracy on Jan. 6, 2021."
On top of that, the South Carolina Supreme Court on Nov. 30 ordered former Trump Chief of Staff Mark Meadows, who ran the White House and served as a Trump contact with plotters, to testify to an Atlanta grand jury about his—and Trump's—role in the coup plot.
After the November election, Trump pressured Georgia to "find" 11,780 non-existent votes for him, thus giving the state to Trump, not Biden. Meadows flew to Atlanta on the same mission.
That Atlanta grand jury, which has already called other top Trumpites, including defrocked attorney-turned-consigliere Rudy Giuliani and golfing buddy Sen. Lindsey Graham, R-S.C., is investigating Trump's plot to divert Georgia's electoral votes to Trump. Giuliani flatly lied to the Georgia legislature about non-existent vote fraud.
All this is on top of Justice Department investigations of both Trump's "fake electors" plan in Georgia and other swing states and the voluminous evidence of Trump's construction and coordination of seven different schemes—culminating in the invasion—to steal the 2020 election.
And, after long delays, other leading Republicans now finally condemn Trump for hosting and for breaking bread with a known anti-Semitic blogger and with anti-Semitic rapper Ye, formerly known as Kanye West.
Of course, the leaders waited until after voters weakened Trump's clout via the Nov. 8 mid-term elections, when they rejected most of Trumpite election liars/deniers, including an anti-Trump sweep of top state offices and the legislature in Michigan.
Put it all together, insert both the trial of Trump's company, and his kids, in New York courts, and the House January 6th Committee's pending report, which will lay out in black and white all the Trump plots to crash the Constitution by stealing the election, and it adds up to a whole lot of trouble for the former chief Republican.
None of this deters Trump, who on Nov. 15 announced his candidacy for the 2024 Republican presidential nomination. Not even a well-funded foe, Gov. Ron DeSantis, R-Fla., stops Trump. DeSantis espouses Trumpite policies but without Trumpite bluster and bombast. He lies and dog whistles on social issues, pushing a "Don't say gay" bill against teachers through the legislature, for example.
But at some point, Trump's baggage may become too great, even for the GOP leadership, if not its rank-and-file. When party grandees reach that point, they may utter a variation of the infamous insult British parliamentarians levelled at Neville Chamberlain in 1940 after the debacles of Munich, the start of World War II and a failed invasion of Norway:
"You have sat here too long for any good you have been doing. In the name of God, go!"