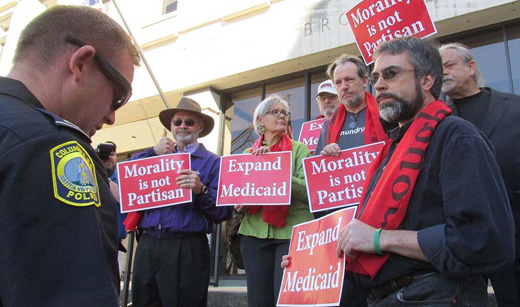 COLUMBIA, S.C. – With all the attention being given to the Moral Monday movements in North Carolina and Georgia, the Truthful Tuesday coalition in South Carolina has been almost entirely overlooked. Nevertheless, a broad grassroots coalition of labor and progressive groups, including the South Carolina AFL-CIO, the state NAACP, the S.C. Legislative Black Caucus, and the S.C. Christian Action Council, has come together to fight the regressive tea party agenda. And even in this deepest-red of red states, it is having an impact.
"A goal of our Truthful Tuesday protests was to get people talking, change the dialogue, and reduce the tea party influence on Republicans. That is happening," said Brett Bursey, director of the South Carolina Progressive Network.
Community activist Anastasia Moore echoed the need for action. "I hear so many people saying they are embarrassed by our state," she said. "Instead of hiding we need to stand together to fix it!"
The coalition's demands are as diverse as its members. Among its primary concerns are the expansion of Medicaid, ending cuts to public education and social services, and stopping voter-suppression efforts.
The movement kicked off with a rally on the steps of the statehouse to coincide with the first day of the legislative calendar on Jan. 14, which was attended by a raucous crowd of hundreds of activists from across the Palmetto State. This has been followed by gatherings every week since. The coalition's methods have thus far included teach-ins outside Senate chambers, in-person lobbying efforts, and acts of nonviolent civil disobedience that have resulted in the arrests of dozens of activists, including a number of ministers.
The pressure has been having an impact. H 3101, the blatantly unconstitutional "Nullify Obamacare" bill, died in the state Senate on March 19th on a lopsided 33-9 vote. Nineteen Republicans joined the 14 Democrats in rejecting it, a result hailed by Bursey as "a rare victory for rational thought."
The fight is far from over, but as longtime South Carolina activist Becci Robbins is fond of saying, "The South is rising, y'all!"
For more information on the Truthful Tuesday movement, or to donate or get involved, go to the coalition's website.
Truthful Tuesday, March 18, 2014, South Carolina Senate lobby:
Photo: Truthful Tuesday, March 11, 2014, Columbia S.C. Becci Robbins/Progressive Network