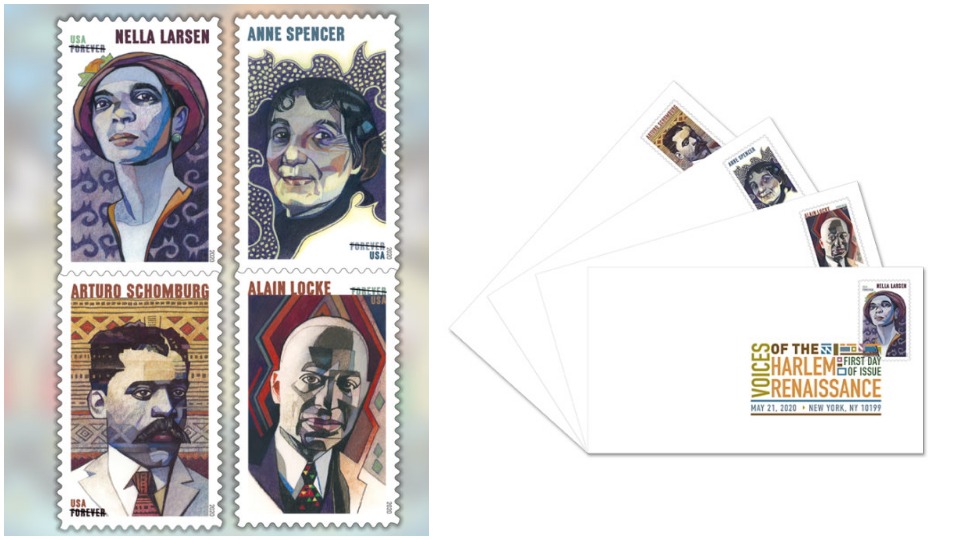 On May 21, the U.S. Postal Service is issuing a sheet of forever stamps honoring four of the lesser-known figures of the famous Harlem Renaissance. More familiar, of course, are writers such as Langston Hughes and Claude McKay, but here is the opportunity to get to know some of the others.
The new postal honorees include novelist Nella Larsen, bibliophile and historian Arturo Schomburg (for whom the well-known Harlem Branch of the New York Public Library is named), the writer, philosopher, educator and arts advocate Alain Locke, and poet Anne Spencer (1882-1978), a forerunner for African-American female writers. The philatelic artist is Gary Kelley.
Not to slight any of the others, but for now, let's take a closer look at Anne Spencer.
Born in Henry County, Va., on February 6, 1882, Annie Bethel Bannister was the only child of Joel Cephus Bannister and Sarah Louise Scales. After her parents' marriage ended, Sarah took Annie to Bramwell, W. Va. Bad times came, and Sarah's financial expenses forced her to place Annie in the home of William T. Dixie, an upstanding member of the Black community.
Reading dime-store novels and newspapers taught the precocious youngster about the power of language. While she was illiterate herself, Sarah Scales sent Anne to the Virginia Seminary in Lynchburg, and she graduated in 1899. This period was also significant because Anne met classmate Edward Spencer. The couple married on May 15, 1901, and had three children.
While Spencer befriended many Harlem Renaissance artists, her most fruitful relationship was with James Weldon Johnson. Not only did he discover her, but he also selected her pen name, Anne Spencer. Also, Johnson introduced her to writer and publisher H. L. Mencken who, like Carl Van Vechten, aided Black writers. While Mencken helped Spencer publish her first poem, "Before the Feast at Shushan," she later declined his patronage.
Spencer published most of her poems during the 1920s in the period's most prestigious collections: James Weldon Johnson's The Book of American Negro Poetry (1922); Robert T. Kerlin's Negro Poets and Their Poems (1923); Louis Untermeyer's American Poetry Since 1900 (1923); Alain Locke's The New Negro (1925); and Countee Cullen's Caroling Dusk (1925). One of her last poems, "For Jim, Easter Eve," was published in Langston Hughes and Arna Bontemps's The Poetry of the Negro, 1746-1949 in 1948.
Many of Spencer's poems convey a romantic concern with the human search for beauty and meaning in an unfriendly universe, as well as people's unstable attempts to impose order on God's earth. Poems in this vein include "At the Carnival" and "Change." However, Spencer cannot be viewed solely as a "nature" or "religious" poet, for her complex work is very diversified.
"Black Man O' Mine," for instance, uses erotic imagery to celebrate Black love. While Spencer did not write "protest" poetry—she wrote Johnson that "The Tom-Tom forced into poetry seems a sad state to me" (quoted in J. Lee Green's biography)— she was aware of white oppression. The persona of "White Things" addresses racism metaphorically: "They [white things] turned the blood in a ruby rose/To a poor white poppy-flower." In addition, she worked fervently with NAACP secretary Johnson and helped establish the Lynchburg chapter of that organization in 1918. Thus, an unequivocally Black, feminist voice coexisted with one enamored of the earth's splendor.
Anne Spencer loved to work in her garden. She was a horticulturist by nature. Her rare green thumb allowed her to cultivate a garden that attracted several members of the Black artistic community for over half a century: W.E.B. Du Bois, Langston Hughes, Georgia Douglas Johnson, Paul Robeson, Gwendolyn Brooks, and Maya Angelou are just a few of the artists to visit her Lynchburg home. Her devotion to illuminating the beauty of God's garden and humankind's place in it similarly appears in the works of writers such as Alice Walker, who also sees a cosmic and spiritual relationship between human beings and the earth. Though many of her writings were lost, critics continue to rediscover the voice of Anne Spencer—a voice that pulsates through Black women's writing in the latter half of the twentieth century on into the new millennium.
Following are three of Spencer's poems.
Letter To My Sister
It is dangerous for a woman to defy the gods;
To taunt them with the tongue's thin tip,
Or strut in the weakness of mere humanity,
Or draw a line daring them to cross;
The gods own the searing lightning,
The drowning waters, tormenting fears
And anger of red sins.
Oh, but worse still if you mince timidly—
Dodge this way or that, or kneel or pray,
Be kind, or sweat agony drops
Or lay your quick body over your feeble young;
If you have beauty or none, if celibate
Or vowed—the gods are Juggernaut,
Passing over . . . over . . .
This you may do:
Lock your heart, then, quietly,
And lest they peer within,
Light no lamp when dark comes down
Raise no shade for sun;
Breathless must your breath come through
If you'd die and dare deny
The gods their god-like fun.
* * * * *
White Things
Most things are colorful things—
the sky, earth, and sea.
Black men are most men;
but the white are free!
White things are rare things;
so rare, so rare
They stole from out a silvered
world—somewhere.
Finding earth-plains fair plains,
save greenly grassed,
They strewed white feathers of
cowardice, as they passed;
The golden stars with lances fine,
The hills all red and darkened pine,
They blanched with their want of power;
And turned the blood in a ruby rose
To a poor white poppy-flower.
They pyred a race of black, black men,
And burned them to ashes white; then,
Laughing, a young one claimed a skull,
For the skull of a black is white, not dull,
But a glistening awful thing
Made, it seems, for this ghoul to swing
In the face of God with all his might,
And swear by the hell that sired him:
"Man-maker, make white!"
* * * * *
Black Man O' Mine
Black Man o' Mine,
If the world were your lover,
It could not give what I give to you,
Or the ocean would yield and you could discover
Its ages of treasure to hold and to view;
Could it fill half the measure of my heart's portion . . .
Just for you living, just for you giving all this devotion,
Black man o' mine.
Black man o' mine,
As I hush and caress you, close to my heart,
All your loving is just your needing what is true;
Then with your passing dark comes my darkest part,
For living without your love is only rue.
Black man o' mine, if the world were your lover
It could not give what I give to you.
Reposted from All Poetry, with slight edits for formatting and style. Poems under copyright and shared for educational purposes. More of Spencer's poems also appear on this site.