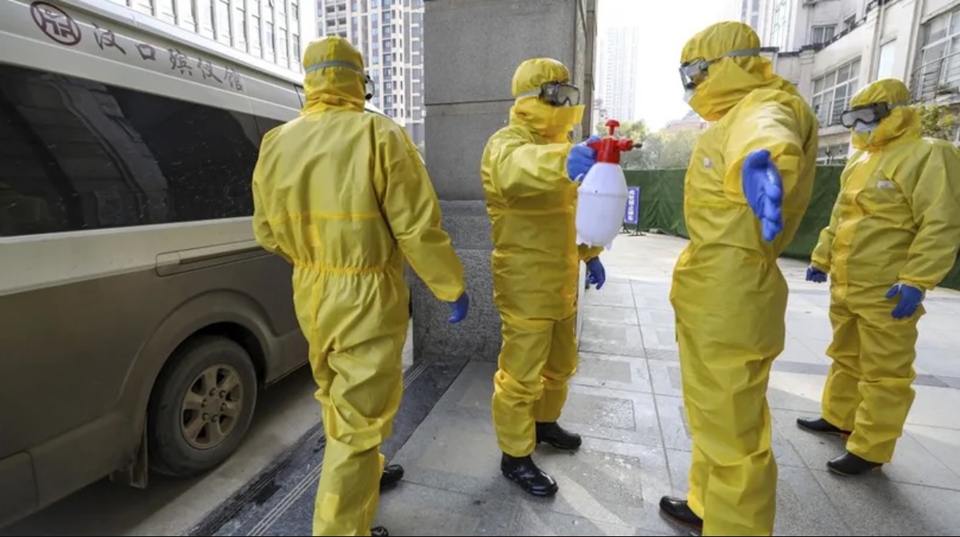 The World Health Organization, an agency of the United Nations, declared the outbreak ignited by a new strain of the coronavirus (2019-nCoV) in China that has spread to over a dozen countries as a global health emergency Thursday after a rapid spike in the number of cases this past week.
To date, more than 7,800 cases of the virus have been confirmed worldwide, most in central China, and has caused 170 deaths in the Hubei province.
China first reported to WHO about the virus in late December 2019, and 18 other countries have since reported cases, as medical experts race against time to understand how the virus is spreading, and how severe it is.
A medical doctor who treats patients on Chicago's South Side said "one of the frightening things about this virus is that it apparently can be transmitted from one infected person to another individual even when the infected person is not yet showing symptoms, meaning people will not even know when they are being infected.
"It's another reason why it is so bad that we have tens of thousands of people, because they have no health insurance, who don't see doctors even when they are sick.
"I would expect," the doctor said, "that it will take a year or maybe even more before a vaccine is developed."
The United States was the first country to confirm a case of person-to-person coronavirus transmission, which led the U.S. State Department to raise the advisory against traveling to China to level four: Do Not Travel—the department's highest.
In Europe infections have been reported in Germany and France.
Experts say there is. now significant evidence that the virus  spreads rapidly from person to person. In the early days of the outbreak there was fear that it was transmitted from animals to people and it was believed that it originated at a seafood and live animal food market.
Speaking to reporters in Geneva, following the second meeting of the International Health Regulations Emergency Committee, WHO director-general Tedros Adhanom Ghebreyesus addressed the concerns about the spread of the virus between people outside of China.
"The main reason for this declaration is not because of what is happening in China but because of what is happening in other countries," he said. "Our greatest concern is the potential for this virus to spread to countries with weaker health systems that are ill-prepared to deal with it."
Ghebreyesus continued: This declaration is not a vote of non-confidence in China, on the contrary, WHO continues to have the confidence in China's capacity to control the outbreak."
A global emergency declaration by the WHO usually results in an increase in financial and medical support, but also creates new tensions, and escalates outstanding tensions, between governments as they begin to restrict travel and trade to affected nations.
As several airlines cancel flights and businesses, including Starbucks and McDonalds's, close down stores, the WHO said it was not recommending limiting travel or trade to China.
"There is no reason for measures that unnecessarily interfere with international travel and trade," Ghebreyesus said while adding that Chinese President Xi Jinping had committed to help stop the spread of the virus beyond its borders.
"During my discussion with the president and other officials, they're willing to support countries with weaker health systems with whatever is possible."
Russia announced it was closing its 2,600-mile border with China, joining Mongolia and North Korea in blocking all crossings as a precautionary measure against the outbreak.
A second, socially troubling side effect of this latest global viral outbreak and health scare is the escalation of racism and xenophobia. As panic spreads, racism follows in its wake.
The front page of a French newspaper last weekend announced a "Yellow Alert" beside the image of a face mask clad Chinese woman. Here in the west "Yellow peril" was a racist ideology targeting East Asians, embodying the worst of anti-Asian, anti-immigrant stereotypes.
Here in the U.S., old government propaganda spread inaccurate images of Chinese immigrants as unclean, uncivilized, and a threat to Western society.
With the initial reports of animal-to-human transmission of the coronavirus, tweets such as, "Because of some folks in China who eat weird shit like bats, rats, and snakes, the entire world is about to suffer a plague" the public discourse has turned from concern to vilification of the victims and patients in Hubei.
The spread of viral misinformation is too a global crisis and one which must be confronted amidst the waves of heightened discrimination already taking place at our southern border.
In a statement confirming the first case of the coronavirus in Los Angeles County, California, the local health department said, "people should not be excluded from activities based on their race, country of origin, or recent travel if they do not have symptoms of respiratory illness."
The 2019-nCoV virus has now infected more people in China than were infected during the 2002-2003 SARS outbreak—severe acute respiratory syndrome, a cousin of the new virus. Both are from the coronavirus family, which also includes those that can cause the common cold.