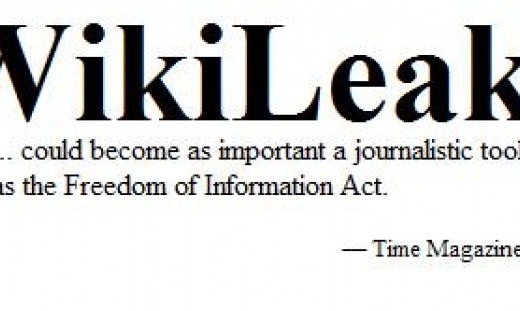 With Cablegate being the center of attention on the international stage, and Julian Assange in jail, everyone is talking WikiLeaks.
We've already heard about the governments of the world trying to stifle the site and Assange, but what is more interesting is their attempts to prevent American citizens from reading the website.
With all the complaints about countries like China who strictly regulate Internet use, interestingly enough, as soon as the the World Wide Web poses a challenge to the American government they immediately try to find a way to shut it down. They successfully bullied Amazon.com from carrying the site on its servers forcing WikiLeaks to be moved to Luxembourg under the protection of the Pirate Party.
Now the government is bullying Americans into fearing reading it, posting about it on media sites, or even talking about it.
This manifested first in the U.S. military where their Internet use was altered so that a soldier would receive a page telling them that they were about to commit a crime if they attempted to find WikiLeaks content, which is of course a blatant disregard of First Amendment rights to our most dedicated citizens.
While the military makes the point to mention that the page is not blocked it simply gives them a warning that it's not suitable content.
The Library of Congress followed suit by adding a similar firewall for their employees and offices and even the wireless service visitors use.
The warning reads:
"Ad or Website blocked by LC DNSBH. Advertisements or websites that may be malicious are blocked. If this message appears in lieu of an advertisement (i.e., on part of the page), the advertisement site may be malicious. However the website is safe to use. If this message appears on a page by itself, the website is blocked due to potential malicious content. More information – LC IT Security"
The Social Security Administration is also warning its employees that the cables "remain classified and SSA employees should not access, download, or transmit them. Individuals may be subject to applicable federal criminal statutes for unlawful access to or transmission of classified information."
Now reports of colleges warning their students that if they "post links to these documents nor make comments on social media sites such as Facebook or through Twitter" that it would "call into question your ability to deal with confidential information, which is part of most positions with the federal government." As if every college student in America is a member of the intelligence services and it's their job to keep these secret! The emails were confirmed at Columbia University sent by their "office of career services" and rumored to be in other Ivy League schools as well.
If the government wants to intimidate young college students now is the time, they could threaten to throw them in jail or waterboard them. But the worst thing in America right now is being a law student at a very expensive school and being told you might not be able to get a job to pay off that school when you graduate.
With the unemployment rates among youth staggering all around the country this is a very easy threat to make to really intimidate and bully these vulnerable young citizens of the U.S..
We here in America are used to taking a lot, but being told that we're not allowed to read something just seems un-American. It's the 21st century equivalent of a state-sanctioned book burning.
Despite many citizens' lack of general interest in politics, the war or global diplomacy, youths from all over the country feel rebelliously inclined to read them just because they are being told not to.
State Department spokeswoman Nicole Thompson widened the debate beyond just students looking to work for the state department saying, "I don't think that's a good move for anyone. Not Julian Assange, not WikiLeaks, and not any U.S. citizen."
Assange, the founder of WikiLeaks, was arrested in the UK. He is also currently claiming that if any one kills him a supposed "poison pill document" would be released that would supposedly embarass the U.S. and the U.K. and reveal information about the BP oil spill in the Gulf of Mexico.
Despite Assange's super-villianesque tactics and reputation as a former hacker, the bottom line is that if such information exists and would enrage the public, it should either be public so that we know what is being done under our flag or they just plain shouldn't be doing them.