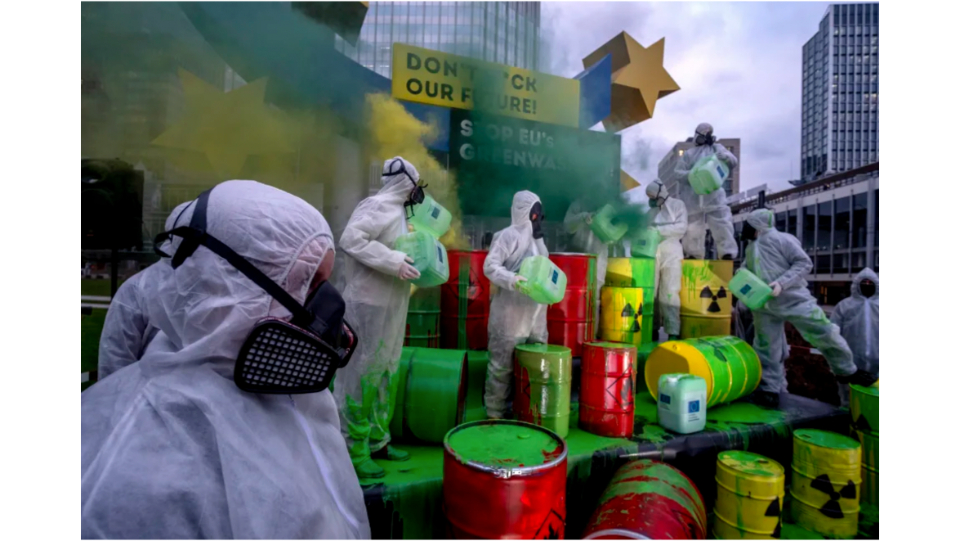 NEW YORK—The next time you see an oil company ad touting its investment in clean energy, don't believe it.
The next time a big bank declares it's yanking financing for fossil fuel production, such as oil refineries and coal mines, know that claim is often, if not always, a lie. Because it is.
And the next time a city or state government claims it's forcing firms to cut carbon emissions, treat the statement with skepticism. Show us the proof.
In so many words, those are warnings in a new report by a panel of climate experts the United Nations convened.
Integrity Matters: Net Zero Commitments By Businesses, Financial Institutions, Cities And Regions, paints a picture of the failure—and duplicity—of private sector actors when it comes to measures to combat the carbon emissions which cause global warming. Governments get a share of the blame, too, but the firms come to the fore.
"The bad news is that too many of the net-zero pledges are…little more than empty slogans and hype," panel chair Catherine McKenna told reporters. "Why is greenwashing so bad? In part, because the stakes are so high. It's not just advertising. Bogus net-zero claims drive up the cost that ultimately everyone would pay. Including people not in this room, through huge impact, climate migration and their very lives."
McKenna's panel issued its report on Nov. 17 as world leaders at Sharm-el-Sheikh, Egypt, wrangled over what to do next about the worldwide carbon menace. The UN report was meant to push them into action. At 4:15 am on Nov. 20, they finally agreed to establish a special fund, with money from developed nations, to become available to developing nations to help them shift away from fossil fuels.
Left unspoken: Republican climate change deniers who will rule next year's U.S. House could sabotage the pending detailed agreement by refusing to fund it.
But the UN report's really aimed at banks and companies who preach pious words about cleaning up carbon emissions but actually make matters  worse, said McKenna, a former Canadian Environment Minister. The report slams private sector "greenwashing," including corporate false advertising and lobbying and financiers' lies about disinvesting in fossil fuel production.
"Citizens, consumers, environmentalists and investors" told the panel they worried the firms and banks use net zero pledges on carbon emissions to make greenwashing possible.
"Non‑state actors cannot claim to be net zero while continuing to build or invest in new fossil fuel supply. Coal, oil and gas account for over 75% of global greenhouse gas emissions. Net zero is entirely incompatible with continued investment in fossil fuels. Similarly, deforestation and other environmentally destructive activities are disqualifying.
"Non‑state actors cannot buy cheap credits that often lack integrity instead of immediately cutting their own emissions across their value chain. As guidelines emerge for a high-integrity voluntary credit market, credits can be used," especially to help decarbonize developing countries and "under-invested areas" achieve the worldwide goal of limiting global warming by 2030 to 1.5 degrees Celsius above current temperatures.
"Non‑state actors cannot focus on reducing intensity of their emissions rather than their absolute emissions or tackling only a part of their emissions rather than their full value chain."
And in a particular slam against the manipulation of corporate financial clout to protect themselves at the expense of the planet, McKenna declared "non‑state actors cannot lobby to undermine ambitious government climate policies either directly or through trade associations or other bodies.
"Instead they must align their advocacy, as well as their governance and business strategies with their climate commitments. This includes aligning capital expenditures with net zero targets and meaningfully linking executive compensation to climate action and demonstrated results."
And if firms don't stop greenwashing, ensure a level playing field for non-carbon energy sources and voluntarily cut emissions, the panel's report stated governments must step in with regulations forcing them to do so, the report recommends. Indeed it expects the governments to act.
"This is why we call for regulation starting with large corporate emitters, including assurance on their net zero pledges and mandatory annual progress reporting," said McKenna.
The developing nations also can't cut emissions on their own, McKenna's panel points out. They don't have the cash, capital or infrastructure. So developed nations and international financial institutions must step in with aid and help to invest in "clean energy and climate resilience." Then, there will be "a just transition" to net-zero emissions worldwide, she added in the report's introduction.
The report is unusual in the debate over cutting the emissions which cause global warming. That's because governments around the globe, including those meeting in Egypt, have been the main focus of action—or inaction.
What McKenna is saying is the corporate class and the big banks bear a lot of blame for the mess, too—and now must provide the resources to clean the globe up, and to act rather than just mouth words, or use the words to cover up their actions.
"What happens in the next decade will be decisive, and those with the power to do so must act now. Ensuring net zero pledges by corporations, banks and investors, cities and regions deliver ambitious, immediate, and verifiable emissions reductions is critical," she concluded.
The corporate coverup and greenwashing doesn't surprise one organized labor "green" group, the Labor Network for Sustainability. It also links greenwashing and increased carbon emissions to union-busting, using Starbucks as an example. It's circulating an online petition at www.actionnetwork.org to Starbucks CEO Howard Schultz telling him to both stop union-busting and to start living up to company promises to cut its carbon emissions in half by 2030.
Since that Starbucks promise in 2019, "Starbucks has actually emitted MORE global warming pollution every year, even when the pandemic forced them to close stores and reduce operations," Labor Network Executive Director Larry Williams e-mailed.
"At the same time Starbucks is polluting the world, it's raking in billions of dollars in profit while engaging in a major union-busting campaign…We support the striking Starbucks workers because worker power and climate action go hand in hand. With a strong movement for livable wages on a healthy planet, Starbucks workers can be the vanguard of the movement for a Green New Deal from below.
"But first, Starbucks needs to make good on its promises."