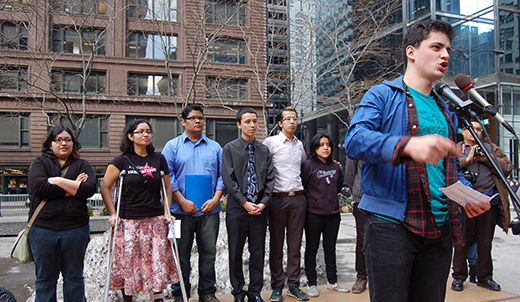 CHICAGO – Hundreds of students rallied here at the Federal Plaza Wednesday in a "National Coming Out of the Shadows Day" for comprehensive immigration reform. The rally was followed by 1,000 people marching throughout the streets of Chicago chanting, "No papers, no fears, immigrants are marching here!"
Undocumented and unafraid, youth at the rally publicly announced their status even at the risk of being deported.
"My name is Tania and I am undocumented," said one student activist with the Immigrant Youth Justice League, the group that organized the event.
"This is my home. I am not a citizen but I am also not a foreign exchange student," said Tania, 26, who came to the U.S. from Mexico as a child with her family in 1994.
"In this country I am not free and the risks we are taking today are necessary," she said.
Organizers said the "coming out" rally was partially inspired by the gay-rights movement. They hope their courage will inspire the estimated 12 million undocumented immigrants living in the U.S. to become activists in the fight for reform.
Similar actions took place in New York, Michigan and Massachusetts.
"I have been living here for 20 years and I am tired of living in fear," said one student named Hugo. "Today I put my life on the line and I'm breaking the silence." It's not right that our community has to live in fear, he said.
Eight college-aged immigrant students braved the fear of deportation and proclaimed their status to the crowd of mostly students. Each talked about missing out on typical high school experiences including not being able to apply for a driver's license. They said their parents brought them to the U.S. as children, that they grew up here but eventually found doors to higher education and careers shut because of their status.
The event was part of a national youth-led network called United We Dream, which refers to the DREAM Act, a stalled federal bill that would give undocumented students access to higher education and a path toward legalization.
Each year, about 65,000 immigrant students graduate from U.S. high schools. Some researchers estimate the young adult population, those aged 18 to 24, is approximately 3.2 million, leaving undocumented immigrants in limbo.
Samuel, 22, is a fourth-year college student and said he has been living in the U.S. for the past 14 years. He's concerned about future job prospects.
"We need a fair legislative process for reform so people like us can become productive members of society," he said. "I attend college to further advance my career but because I am undocumented my options are limited."
Those at the rally are demanding that President Obama make good on his promise and tackle immigration reform this year. They're also calling on Sen. Dick Durbin, D-Ill., to use his leadership as the Senate majority whip to move legislation forward.
Many at the rally said they plan to get on buses next week from Chicago to participate in a national "March for America" demonstration at the nation's capital March 21. The event is being led by labor unions and national immigrant rights groups and organizers are hoping 200,000 people will turn out.
Student Judith Landeros, 21, said she will be one of them.
"I plan to march for my family and friends who have the same dreams as I do, to get an education and give back to my community," she said. "I want to continue the dream my parents had when they came here as immigrants for a better future because we all deserve equal rights," she said.
Photo: Pepe Lozano