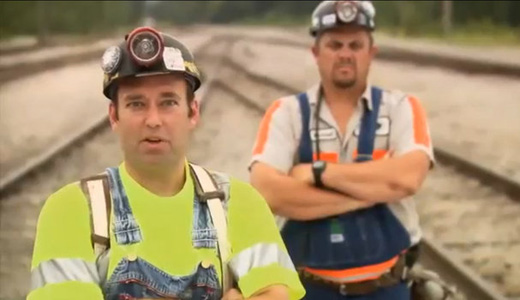 A regional vice president of the United Mine Workers of America has condemned a new Republican TV ad airing in coal country because it features a coal executive masquerading as a miner.
In the ad, Heath Lovell, the vice president of River View Coal in Kentucky, accuses incumbent Democratic congressional representatives and President Obama of trying to destroy the coal industry. Lovell is wearing a t-shirt, bib overalls and a coal miner's helmet with no mention made of his position as a coal company executive.
"I've never seen anything so appalling and deceitful from the coal industry and from the Republican campaign," said Steve Earle, a regional vice president of the UMWA in Kentucky. "You have a pencil pusher acting like a coal miner."
The Romney campaign is running the ad also in the Western part of Virginia, which like much of Kentucky, West Virginia and Ohio, is part of "coal country." Romney is behind in the polls in Virginia and Ohio with conventional wisdom being that he must win one, if not both of those states in order to get on a path to victory in the Electoral College.
In the ad running in Kentucky, Lovell talks about the decline of coal trains in the Congressional District represented by Democratic U.S. Rep. Ben Chandler. Lovell, who has endorsed Chandler's Republican opponent Andy Barr, says Chandler, President Obama and the Environmental Protection Agency "are destroying us.. They are putting the coal industry out of business, and it's just devastating."
Lovell has officially contributed $2,500 to Romney's campaign.
The UMWA is supporting the Democrat, Chandler, because of his efforts to promote safety in the mines. "If the UMWA did not think Ben Chandler was pro-coal, then we wouldn't have endorsed his campaign," said Earle, adding, "Andy Barr is so out of touch with Central Kentucky that he had to bring in an outsider who is a coal company executive and Republican donor to masquerade as a blue collar worker from Estill County."
Many in the region, including the union that represents coal miners, have expressed concern over the effect of EPA regulations on the industry but they do not consider those regulations or job safety regulations designed to protect miners as the main cause of the coal industry's problems.
They understand that exploitation of cheaper than ever natural gas by the nation's utility giants is much more to blame than EPA regulations. Natural gas was supplanting coal as America's source of electricity all through the years of the Bush presidency. What has occurred during the Obama years, they understand, is only a continuation of an established trend.