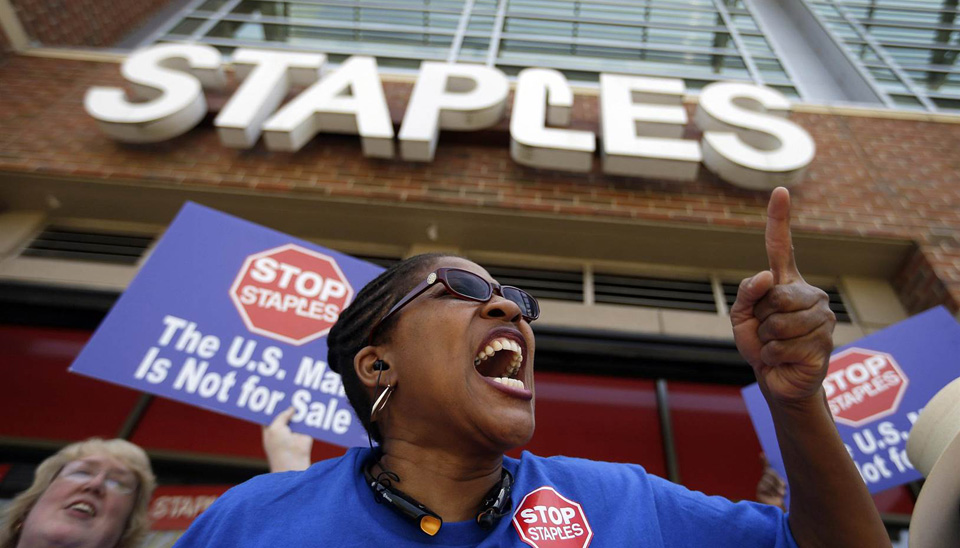 Responding to years of collective action and boycott, the Postal Service has ended a deal with Staples to place full-service postal offices into stores and include them in their Approved Shipper Program, a move that undermined the future of a public post office.
A Grand Alliance, the coalition of hundreds of national and local groups at the forefront of the struggle against privatization of the post office has maintained that the Staples Approved Shipper deal would lead to the closing of post offices and "undermined the right of postal customers to have services performed by trained and accountable public servants committed to the privacy and sanctity of the mail."
Additionally, putting the mail in the hands of low-wage, non-union workers threatened decent union jobs.
A boycott of Staples by member groups of A Grand Alliance, including the AFL-CIO, Coalition of Black Trade Unionists and Jobs with Justice, began in 2014.  NLRB proceedings revealed the privatization scheme for what it was back in August after USPS refused to provide the American Postal Workers Union APWU with information about the program.
An audit has since further vindicated their concerns by showing that the USPS has lost revenue because of Staples employees, and the employees of other Approved Shippers, accepting packages with insufficient postage.
Staples customers mailed hundreds of thousands of postcards to the CEO of Staples expressing solidarity and protestors leafleted in front of staples stores to educate their communities.
"This is a big win," said American Postal Workers Union President Mark Dimondstein. "Staples is out of the mail business, which they should never have gotten into. Our members take great pride in their training and their responsibilities; they swear an oath; they perform a public service. The quality of service at a Staples store isn't comparable. The public should have confidence in the mail. Important letters, packages and business correspondences shouldn't be handled like a ream of blank paper."
According to reporting by Josh Eidelson at Bloomberg, "the union says it reached an agreement last summer which for one year bars USPS from further expanding the Approved Shipper Program, and restricts the union from protesting participating companies other than Staples. That deal expires in July." Companies like UPS, Walgreens and CVS continue to offer approved shipping at select locations.