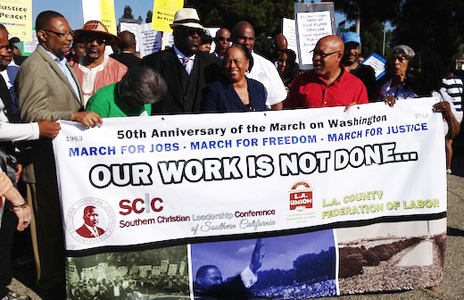 LOS ANGELES – Black, brown, Asian and white marched together down Martin Luther King Blvd here on Aug. 24 to commemorate the 50th anniversary of the March on Washington. Organized by the Southern Christian Leadership Conference and joined by many unions. The march ended at Leimert Park where the commemoration continued with a rally.
Among the speakers were the first African American City Council president, Herb Wesson, who thanked all for coming, but especially non African Americans.
Also speaking was the first African American speaker of the California State Assembly, Karen Bass, who said that there was much to celebrate because 50 years ago there was only one appointed African American state official, and today there are many people of color holding offices in many areas of the legislature and in other positions of leadership.
Another first among the speakers was the first openly gay member to be speaker of the California State Assembly, John Pérez.
California Black Caucus Chairwoman Holly Mitchell, who is featured in the video, challenged all not just to celebrate but to continue the fight.
Maria Elena Durazo, executive secretary of the Los Angeles County Federation of Labor, called to continue the fight for a comprehensive immigration reform and that undocumented workers too have the right to be represented at their work place. "We want good jobs for people in this country; this is why labor is here today and was there 50 years ago," she said.
Photo: PW/Rossana Cambron